During the next few days we'll take some time to review the first half of the season and look at which Yankees are meeting expectations, exceeding expectations, and falling short of expectations. What else is the All-Star break good for?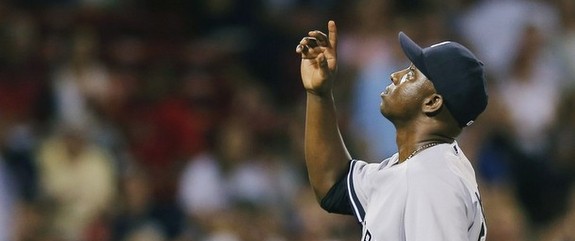 Any time a team in any sport wins a championship or even sits in first place for a prolonged period of time, there's always a few players on their rosters exceeding expectations. Talent can only take you so far, it's those unexpected contributions that push one team ahead of the rest. The Yankees have the best record in baseball and comfortable lead atop the AL East, and as you'd expect they have some players on their roster doing more than expected.
Rafael Soriano
When Mariano Rivera crumbled to the ground in Kansas City, all of Yankeeland held their collective breath. The worst case scenario played out — Rivera had torn his ACL and is expected to miss the rest of the season — and New York was suddenly without the one undisputed advantage they had over every team. No matter who they faced, regular season or playoffs or whatever, the Yankees have always had the advantage in the ninth inning thanks to Mo.
Replacing Rivera's brutal effectiveness is impossible, but the Bombers had the pieces in-house to get by. David Robertson got the first crack at the closer's job but almost immediately hit the disabled list with an oblique strain. That's when Soriano, the 2010 AL saves champ who signed on as a setup man prior to last season, stepped in. Since Rivera and Robertson hit the DL, Soriano's pitched to a 1.25 ERA (2.00 FIP) in 21.2 innings while going 20-for-21 in save chances. He's allowed just three runs total during that time and has held hitters to a .210/.273/.272 batting line. Soriano has avoided the disabled list and after a rocky first season in pinstripes, he's settled into a crucial role for the team. He's not Mariano, but my goodness has he been effective as his replacement.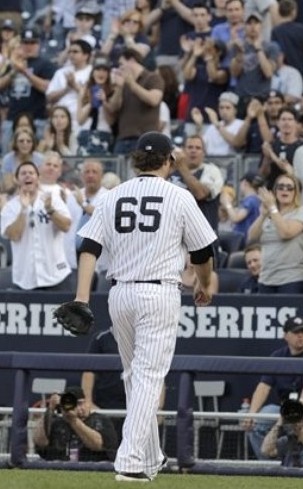 Phil Hughes
When the season opened, it was more of the same from Hughes. He allowed 22 runs in his first five starts (21.2 IP) and batters were tagging him for a .298/.365/.617 batting line. After a second-half fade in 2010 and a disastrous 2011 season, it seemed that the Phil's days as a starter were number.
The Yankees stuck with him though, and Hughes has rewarded them by pitching to a 3.46 ERA (3.91 FIP) in his last dozen starts. Only thrice in that span did he allow more than three earned runs in a start, only four times more than two earned runs. His strikeout (8.31 K/9 and 21.5 K%) and walk (2.08 BB/9 and 5.4 BB%) numbers are so good that he's actually fourth in the league among qualified starters with a 4.00 K/BB. The only guys ahead of him are Colby Lewis (7.50), Justin Verlander (4.27), and Jake Peavy (4.15). That's pretty great.
Hughes still has a homerun problem — fourth in the league with 19 allowed (1.72 HR/9) — but that's just going to be who he is. He's a fly ball pitcher (just 33.7% grounders), but because he walks so few the majority of them has been solo shots. Only six of those 19 homers have come with men on base, and five of those six were two-run shots. The Yankees have remained patient with Phil and he's rewarded them in the first half by (finally) becoming a solid and sometimes dominant starter.
Raul Ibanez
Considering his age (40), his performance last year (.245/.289/.419), and his Spring Training showing (.150/.190/.333), it was very easy to write Ibanez off as a non-factor just before Opening Day. Rather than burn out and get released by June 1st like we all expected, Raul was the team's most reliable hitter for the first six or seven weeks of the year and has settled in as a very nice weapon against righties — .250/.311/.484 vs. RHP — in the lower third of the lineup.
Furthermore, Ibanez has had to step in for the injured Brett Gardner and has effectively been the everyday left fielder for the last three months or so. He's started 45 of the team's 85 games in the outfield and has only been the DH a dozen times. That's hard to believe. Ibanez has certainly had his share of lol-worthy moments on defense, but just being able to step in and play everyday while maintaining a reasonable level of offense is far more than we could have expected. Raul was supposed to flame out and have the Yankees hunting for a new DH at the deadline, but he's instead provided very real impact.

Eric Chavez & Dewayne Wise
The bench has been one of the team's strengths this year, thanks in large part to Chavez. He had an okay year in 2011 while missing lots of time due to injury, but this year he's stayed on the field — minus a seven-day concussion hiatus — and legitimately mashed. Chavez owns a .282/.336/.504 batting line with seven homers already, two more dingers than he hit from 2008-2011. Gardner's injury has forced him into the lineup a little more than expected, but he's produced both at the plate and in the field. I don't think I'm alone in saying that Chavez has been one of the biggest surprises of the season so far.
The trickle down effect of Gardner's injury is quite substantial; it forced Ibanez into the outfield, Chavez into a healthy amount of at-bats, and it brought Dewayne Wise up from Triple-A. The team's fourth outfielder has 13 hits in 50 at-bats, but two are doubles, one's a triple, and three (!) are homers. He's also six-for-six in stole base chances. With the Yankees struggling to score runs and having lost six of their previous seven games, Wise laid down a perfect bunt hit against the Royals to load the bases and ignite a game-winning rally on May 22nd. They won the game and have won 30 of 42 since. Dewayne Wise's bunt turned the season around. Okay, maybe not. But he's been awesome.
David Phelps & Cody Eppley
The Yankees went into camp with six starters for five spots, but Michael Pineda's injury opened the door for Freddy Garcia to return to the rotation. It also created a competition for the final bullpen spot, a spot Phelps won in Spring Training. He shined in six long relief appearances before taking Garcia's place in the rotation, at least until Andy Pettitte showed up. Phelps returned to the bullpen and has since bounced back and forth between the big leagues and Triple-A, mostly notably striking out eight in 4.1 innings in a spot start last Wednesday.
Overall, Phelps has pitched to a 3.05 ERA (4.37 FIP) in 41.1 innings, striking out a ton of batters (9.15 K/9 and 23.6 K%) while doing a respectable job in the walk (3.70 BB/9 and 9.6 BB%) and ground ball (43.8%) departments for an AL East rookie. He generated buzz in Spring Training with improved velocity and it carried over into the season, to point where he not only looks like he can get big league hitters out, he looks like a potential long-term starting pitcher.
Joining Phelps in the bullpen has been Eppley, who the Yankees plucked off waivers from the Rangers back in April. He assumed a regular spot on the roster once Rivera got hurt and he's seized the opportunity by pitching his way into Joe Girardi's late-game mix. The sinker-slider sidearm guy has pitched to a 2.70 ERA (3.84 FIP) in 23.1 innings, holding right-handers to a .226/.298/.308 batting line. Eppley's 65.2% ground ball rate is the fifth highest in the baseball (min. 20 IP). The Yankees do as good a job of find useful arms in unusual places as anyone, and they've dug up another good one in Eppley.