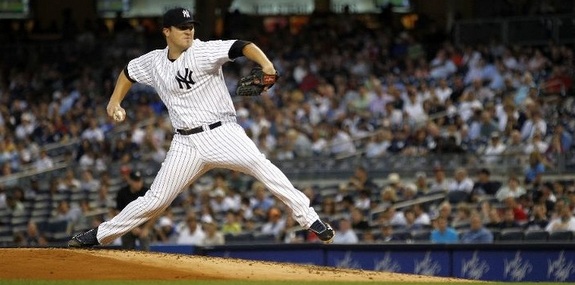 It has been fascinating, and at times frustrating, to watch Phil Hughes develop from a prospect into a rotation mainstay.  At the time he was drafted, Hughes was a big kid who projected to have solid fastball velocity and a good slider.  Within a year or two, he developed a true plus curveball after being forced to shelve his slider, and used the hook along with impressive fastball command to carve up his minor league opposition.  His ability to develop the curveball into a dominant pitch after not using the pitch much in high school was impressive, and indicative that he had a good feel for pitching (whatever that means).
After a dominant minor league career, Hughes made his major league debut at the tender age of 20, and tantalized Yankee fans in his second start with 6 1/3 no-hit innings against the Texas Rangers.  In that outing, Hughes looked like the future ace many of us hoped he could become.  He commanded his fastball well, and made good use of his curveball and changeup to keep hitters off balance.  In particular, I remember him making future teammate Mark Teixeira look silly on several breaking balls. Then of course came the infamous, possibly career-altering injury.  After striding too far in an attempt to get a little more oomph on a curveball, Hughes badly injured his hamstring, limped off the field, and never really achieved that degree of dominance again.
The rest of Hughes' Major League career has been consistent only in its inconsistency.  His velocity and weight fluctuated, he suffered several injuries, and otherwise struggled to fulfill his potential.  His curveball regressed, becoming a loopy creampuff instead of a snappy strikeout pitch.  The changeup didn't really develop as hoped, leaving Hughes primarily as a two-pitch pitcher.  Consequently, Hughes faced countless long at-bats as hitters were able to sit on his fastball and foul off pitch after pitch, driving up his pitch count and tiring him out.  He also frequently pitched up in the zone, causing him to allow fly balls at a high rate.  Particularly in hitter-friendly Yankee Stadium, these fly balls had a high probability of turning into home runs, and this problem has plagued Phil in recent years.  He also tried to add a cutter to give left-handed batters a different look, but it never became an effective out-pitch for him.
Despite the inconsistency, Hughes has been an important fixture in the Yankee rotation over the last few years.  He has had his successes, including a sparkling stint in the bullpen in 2009, an All Star appearance in 2010, and truth be told a pretty solid 2012 (even though his FIP and xFIP are less impressive than his 4.02 ERA).  2012 has been an interesting season for him because he got off to a rocky start, giving up four or more runs in three of his first five starts.  Thereafter, Hughes has only given up more than three runs four times.  While he may have tired a bit as his innings count rose, he has been a fairly reliable piece in a rotation that suffered injuries to three starters.
It is interesting to see how Phil has tinkered with his approach throughout the season, rather than just sticking with his regular repertoire and hoping that things will fix themselves.  Michael Eder of The Yankee Analysts has some great posts (complete with gifs) documenting this transformation.  Early in the season, Hughes scrapped the ineffective cutter and began featuring the changeup more prominently.  He started making use of a sharper 11-5 curveball that featured more horizontal movement, resulting from a lower arm slot.  And just in his last start, he resurrected the mythical slider, which served as an effective weapon against same-sided batters (who have been giving Phil trouble this year).
There are certainly positive and negative spins that one could put on Hughes' constant changes to his repertoire.  On the negative side, one could point to the inconsistency of his secondary pitches, and his inability to develop any one of them into a reliable above-average offering.  The fact that he has to keep tinkering is evidence that his regular repertoire is not good enough to be a consistently effective big league starter.  The flip side of this is that Phil is hard-working and resourceful enough to constantly add to and modify his repertoire, which gives us hope that he may continue to make adjustments in the future.
Hughes is still somewhat of an enigma, but I think at this point in his career Yankee fans know what to expect from him.  He is a solid #3-#4 starter who can eat innings, is capable of the occasional awful outing if his fly balls are leaving the yard, strike batters out at a respectable clip (about 7.5/9 this season), and keep them off base by limiting his walks.  While he is unlikely to morph into the ace we dreamed he would become, it is nice to hear that he is still working to hone his craft, and try to become the best pitcher that he possibly can.  Considering he is only under contract for one more season after this one, it will be in the Yankees' interest to track Hughes' evolution closely, to see if he can find a mix of pitches that will allow for more consistent effectiveness.