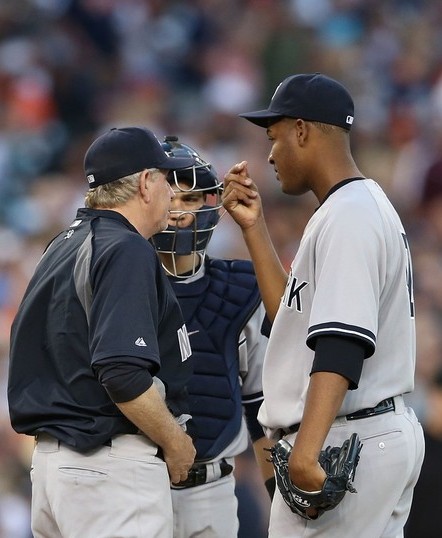 There were a number of reasons to be optimistic about Ivan Nova coming into this season. The 25-year-old put together a dynamite second half and deservingly served as the Yankees' number two starter in the postseason last year, leading to some over-sized expectations for 2012. It looked like Nova had a chance to develop into that solid, homegrown starting pitcher both the fans and the organization have been aching to see since even before the days of Chien-Ming Wang.
Instead, Nova has developed into another A.J. Burnett. The New York version, not the Pittsburgh version. He has good stuff but not the requisite command, plus a knack for allowing that big hit … over and over and over again. Like Burnett in 2010-2011, Ivan's only redeeming quality right now is his ability to take the ball every five days and soak up innings without missing a beat. Through 22 starts he owns a 4.81 ERA (4.54 FIP) and leads the world with 71 extra-base hits allowed*. Starts like last night, seven runs on eleven hits in 5.1 innings, have unfortunately become the norm.
"I'm not the only pitcher in baseball who is going through a bad time right now," said Nova after last night's dud. "I know I'm going to get out of this one … I'm not worried about (losing my rotation spot). I'm not worried about ERA or anything like that. I just want to help the team to win games. That's the most important thing, help the team to win games. I'm not worrying about ERA. The ERA is more like a personal thing. I want to win games, no matter how, just win games for this team."
Someone should probably tell Nova that ERA correlates directly to helping the team win games, and right now the only team Nova is helping is the one in the other dugout. The only two things he has going for him other than his innings-eating ability are beyond his control — Andy Pettitte's injury and the Yankees' big lead in the division. If Andy was healthy or if the Yankees weren't six games up in the loss column, there's a decent chance Ivan would be plying his trade in Triple-A, where he couldn't hurt the big league team. Brian Cashman & Co. may have pursued a starter more aggressively at the deadline if the division race was closer. Instead, Nova will get a chance to right the ship in games that impact the standings.
Is that a good idea? No, not really. No team wants to start a bad pitcher every five days but sometimes it's unavoidable. Nova took his demotion like a champ last season and came back a better pitcher because of it, but the Yankees lack alternatives at the moment. Pettitte is hurt, Michael Pineda is hurt, David Phelps is no longer stretched out enough to start — plus it would hurt the bullpen since he's one of the few non-matchup options out there — and Adam Warren inspires no confidence after he fell on his face in his big league debut. For better or worse, the Yankees are stuck with their young right-hander.
To the team's credit, they stuck with Phil Hughes through a similar stretch of awfulness in April and he's rewarded them by pitching pretty darn well since May. Perhaps this is just a rough patch for Nova, though it's very obvious that his command and location are the problem. We first noticed it back in Spring Training, so this isn't something that just popped up last week. Look at his month-by-month splits — he's had one good month this year, and that was against NL lineups during interleague play in June. Nova has, unequivocally, been a major letdown this season.
It seems clear that poor command and location have dogged Nova pretty much all year, but the cause of those command and location problems is unknown. At least to you and me, anyway. Perhaps he's hurt, maybe it's a mechanical thing, maybe it's mental, maybe it's one of a million other things. Whatever it is, it's up to Nova and pitching coach Larry Rothschild to get it straightened out as soon as possible because the Yankees can't really afford to absorb Ivan's stinkers ever five days with seven weeks to go in the season. He's the weak link in the rotation and he's prevented the team from getting on any kind of winning streak of late.
* Just to give you an idea of how bad that is, Nova is only 15 extra-base hits away from tying 1989 Andy Hawkins for the most allowed in franchise history. There's a chance he could break the record this month, before we even get to September.