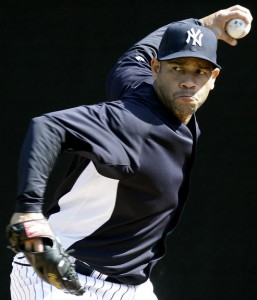 The calendar flips over to September this Saturday (already?), meaning teams will be able to supplement their roster with players from the minors for the final month of the season. The Yankees need some extra pieces due to all of their injuries, though not all of the call-ups happen at once. The first wave is usually a third catcher, an extra position player, and an arm or two. Once the Triple-A (and sometimes Double-A) season ends, more players join the big league club. Some might even get to play in a game later in the season.
Assuming the Yankees stick to a similar script, we'll probably see Frankie Cervelli, Eduardo Nunez, and Cory Wade rejoin the team this weekend. Pedro Feliciano will make one more minor league rehab appearance today, and rumor has it that if all goes well, he'll come off the DL on Saturday to provide another left-handed reliever. I've already lobbied for Chris Dickerson to be called up in the wake of Mark Teixeira's injury, but the problem there is that he is not on the 40-man roster. That's a problem for Feliciano as well. In fact, it's a problem beyond those two.
At the moment, the Yankees have 48 players on the 40-man roster thanks to a whopping eight players on the 60-day DL. Feliciano is one of those eight and so is Andy Pettitte, so the team will have to clear two spots just to activate those two next month. Calling up Dickerson or any other non-40-man player — Mark Montgomery? Chase Whitley? Ronnie Mustelier? — will require more moves. There isn't a lot of dead weight that can be dumped, just a bunch of a Grade-B/C prospects like David Adams and Zoilo Almonte, who are are interesting enough but not quite yet ready for the big leagues. Those guys are really gumming up the works.
The easiest way to clear one 40-man spot would be to promote Dellin Betances to the big leagues and place him on the 60-day DL. He was placed on the Double-A DL with shoulder tendinitis last week, though we don't know the severity of the injury or the timetable for his return. I doubt the Yankees will be anything but conservative with him though, especially since he's had shoulder issues in the past. If Betances is going to miss more than a month, calling him up and sliding him to the 60-day DL is the easiest way to free up a 40-man spot for Feliciano. Things will get real tricky if it's a minor injury and he'll be able to return to action in a week or so.
Left-hander Justin Thomas stands out as an obvious candidate to be taken off the 40-man roster, though he may be safe because he is one of just three healthy pitchers on the 40-man roster and not in the big leagues (Wade and Adam Warren are the others). A healthy return from Feliciano makes Thomas expendable though, so consider him to be on the chopping block conditionally. Ramiro Pena should be among the next in line to lose his spot, especially with other infielders like Nunez, Adams, and Corban Joseph also on the 40-man. Both Thomas (a left-hander who is stretched out to throw 80+ pitches) and Pena (speedy, defense-first infielder) are useful pieces to carry in September, but they might be out of luck this season.
After Betances, Thomas, and Pena, the only other player on the 40-man roster who stands out as a prime release candidate is Chris Stewart. The Yankees have two younger catchers on the 40-man in Cervelli and Austin Romine, so they could cut their season-long backup catcher and still be able to carry three backstops in September. Will they actually do that though? I highly doubt it. They seem to love Stewart's defense (I'm skeptical) and he's hit for just enough average (.252) to come off as not useless offensively. It would be a surprising move, but at that point it would be the only one they could make. I suppose the Yankees could opt to remove either Casey McGehee or Steve Pearce from the 40-man next month, but that would surprise me since there really isn't any internal option who would be an upgrade.
There isn't a ton of help coming in September, but that's typical. Feliciano might give the bullpen a little boost and Wade could do the same, but the other guys are depth pieces to pinch-run, play defense, and soak up playing time in blowouts. You know, the blowouts the Yankees never seem to play anymore. Anyway, the 40-man roster is overstuffed at the moment and the Yankees are going to have to make some tough decisions just to get Feliciano and Pettitte on the club next month. Add more pieces beyond those two will require some serious roster machinations.