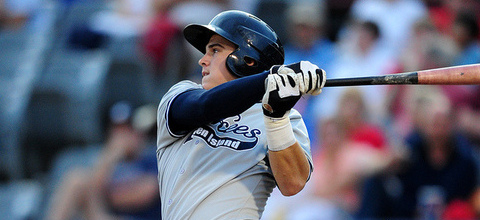 This has been a down year for the farm system for the most part, though the most notable exception is the emergence of Tyler Austin from interesting guy to high-end prospect. The Yankees signed the 20-year-old for $135k as their 13th round pick back in 2010, and he's rewarded them by hitting .322/.404/.583 with 15 homers and 18 steals (in 20 tries) across two levels of Single-A this year. Both Baseball America and Keith Law recently ranked him as one of the 50 best prospects in the game.
The numbers certainly pass the sniff test and at 6-foot-2 and 200 lbs., Austin passes the eye test as well. ESPN's Kiley McDaniel, a former Yankees intern, scouted him during a recent High-A Tampa game and published the write-up yesterday. It's an excellent and lengthy Insider-only read, so I can't give away too much. Here are the most relevant points…
He's a below-average runner with choppy steps and some thickness to a 6-foot-2, 200-pound frame. Austin's arm is slightly above-average, so he can play right field, and he's quick enough to stay there for now …  There is a risk for barring his lead arm and/or a loopy path in how he moves his hands, but Austin has good enough feel for his swing that this hasn't been a problem in games I've seen … Austin's strength, bat speed and hips combine to create above-average to plus raw power that is most natural to the opposite gap, an encouraging sign for power showing up in games and translating at higher levels … The separator for Austin is his advanced plan, feel and plate coverage that is fueled by his quick hands and allows him to tap into his raw power in games. Austin has a tough profile and little margin for error, but he's got a good chance to reach his ceiling of .275-.280 average with 25 homers.
Mike Newman passed along a similar report when he caught Austin a few weeks ago, saying the stolen base totals — 36-for-38 in steal attempts for his career — are not indicative of his actual speed and athleticism, and that the swing can get a little flat. Both guys agree that the (hard to find) right-handed pop and opposite field stroke are for real though, ditto the advanced approach that allows Austin to wait for his pitch and take ball four (11.3% walk rate) if he doesn't get anything to hit.
The long-term concern here is position. Austin was drafted as a catcher and moved to third base almost immediately. He shifted to right field this season in part due to a lack of hot corner quickness, but also because of the presence of Dante Bichette Jr., last year's first rounder. McDaniel notes that Austin may have to move to first base long-term, though hopefully he can stave off that fate for a few years ago. Either way, Austin's carrying tool is his bat and if ever reaches the big leagues, it'll be because he hit his way there. Don't count on defensive value.
Scouting director Damon Oppenheimer has a bit of a spotty track record when it comes to first round/top picks, but he and his scouting staff just kill it in the late rounds, particularly on the mound. They consistently find power arms to feed the bullpen pipeline and dangle in trades, but Austin at least has the potential to be their best late-round find yet as an impact hitter from the right side of the plate. The Yankees are going to need to add some cheap bats to the lineup in the coming years, and Austin could have himself on the big league radar by 2014 if he stays healthy and progresses as hoped.
Just FYI, McDaniel also commented on outfielders Slade Heathcott ("shows big tools with above-average left-handed power and above-average speed that makes for a potentially enticing center-field package") and Ramon Flores ("the tools are short for big league impact"). Last week he covered Mason Williams and some of those bullpen arms.