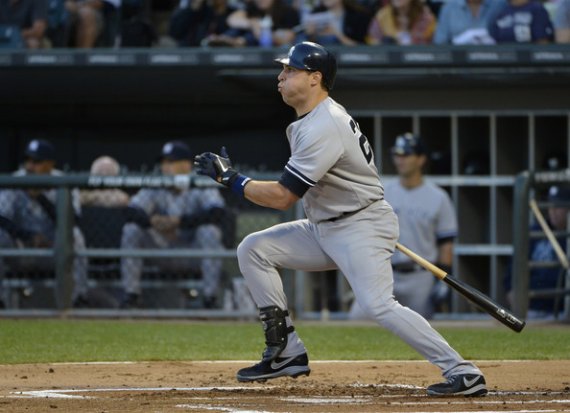 The Yankees needed the 2009 version of Mark Teixeira in 2012, but instead got something more closely resembling his rookie campaign. After two years of disappointing performances, Teixeira has turned in his weakest one yet. It doesn't matter which stat you choose; they all look lousy compared to the expectations he set from 2004 through 2009. His 2012 campaign looks even worse now that he's spent almost all of the last month on the shelf.
At the same time, the Yankees are desperately missing Teixeira's bat in the middle of the lineup. That is, they're missing what the healthy Mark Teixeira produced in 2012. While his overall numbers don't reflect it, he was, for a stretch, a productive member of the lineup. Given the failings of other middle of the order hitters this month — Robinson Cano was hitting just .250/.353/.398 and A-Rod .256/.305/.384 going into yesterday's game — they could use some more power behind Derek Jeter and Ichiro.
The Cough
Early in the season Mark Teixeira came down with some kind of cold, and without regular rest it lingered. It might seem like a small thing, a mere cough, but think about it from a hitter's perspective. You're at the plate with a guy hurling a ball at you, and you have this burning in the back of your throat. It takes an insane amount of concentration to hit a baseball as it is. Now imagine having that concentration distracted because you have a cough coming up. It's no simple task, and Teixeira certainly suffered for it.
Instead of the slow starts to which we've become accustomed, Teixeira slogged through the first month and a half of the season. He hit just .228/.283/.386, and his numbers were greatly propped up by his one great performance, 3 for 6 with 2 HR in Boston. In mid-May Girardi gave him a weekend off, and it seemed to do the trick. Since then he has hit .270/.361/.526 — not quite 2009 Teixeira, but certainly quality numbers given his depressed numbers in 2010 and 2011.
Things actually looked a bit better for a while, but then another injury struck.
The Wrist
On July 30th Teixeira left the game against the Orioles after hurting his wrist. The timing couldn't have been worse, and not just because the Yankees had just lost Alex Rodriguez a few days prior. Teixeira had been on an absolute tear since that weekend on the bench. In 256 PA he was hitting .277/.371/.568. Considering the overall league offensive decline, these numbers lined up pretty well with his 2009 production.
Wrist injuries are notorious for sapping power, and that's exactly what happened to Teixeira. After returning on August 3rd he hit .250/.330/.408 in 88 PA. Worse, he re-injured the wrist in a game on August 16. He returned just four days later, but went 5 for 22 with a lone double before the calf injury.
The Replacements
Since the calf injury Yankees first basemen have hit .225/.343/.393, a downgrade from even Teixeira's full-season line of .255/.336/.478, never mind a healthy Teixeira. Yet even those numbers are a bit high; they don't consider the game that Teixeira himself played first base, in which he went 1 for 4 with a walk and a double. Absent that game Yankees first basemen are hitting .223/.340/.388.
There's a trickle-down effect, too. Nick Swisher has taken many of those at-bats at first base. While he hasn't had a banner September, hitting .212/.316/.388 prior to yesterday, his absence is noted in right field. Since the Teixeira injury right fielders are hitting just .204/.282/.312, and while some of that is certainly Swisher's doing, clearly there are others bringing down the numbers in right.
The Postseason
The hope is that the Yankees can get Teixeira back in time for the postseason. We had heard that he might be ready for this weekend's series in Toronto, but given his progress it doesn't seem likely. He has been progressing in the last week or so, though he did take a planned day off from running yesterday. He still hasn't gone full speed, and says he is still experiencing tightness and soreness in his calf. As Joe Girardi said this week, "The concern is that you rush him and then he has that one play and then you know he's probably gone for the season. You have to make sure." It sounds like a longwinded way of saying that Teixeira is back against Boston at the earliest.
Getting Teixeira back for the postseason could be huge, especially if his time on the shelf has given his wrist ample time to heal. Yankees fans might not be excited about the prospect of Teixeira in the postseason; he's hit just .170/.276/.302 in 123 postseason PA for the Yanks. Yet we've seen other Yankees postseason heroes falter in the postseason. Tino Martinez hit .183/.294/.290 in his first 109 PA as a Yankee in the postseason before hitting .280/.351/.430 from the World Series, 1998, through the World Series, 2001.
Tino hit well enough for the Mariners in the 1995 playoffs, .273/.360/.364 against New York and Cleveland. Teixeira actually hit better in his lone pre-Yankees postseason series, going 7 for 15 with four walks against Boston in the 2008 ALDS. This isn't to say that Teixeira will turn around his postseason performance in the same way Tino did. But it is to say that Teixeira's failures as a Yankee in the postseason don't necessarily doom him to the same fate in the future.
If you only look at Teixeira's 2012 season, you'll only get part of the story. You'll see his overall poor numbers and how they've hurt the team relative to expectations. You'll see a third straight year of declining numbers, certainly a cause for concern for the final four years of his contract. But you won't see how the season unfolded. The stat sheet doesn't document his struggles early in the year, his resurgence when healthy, and his post-injury production. It's not an excuse for his performances; rather, it's a clarification of them. The Yanks could sure use that healthy mid-May to late-July Teixeira in the lineup in the postseason. It could make a huge difference in the offensive production.