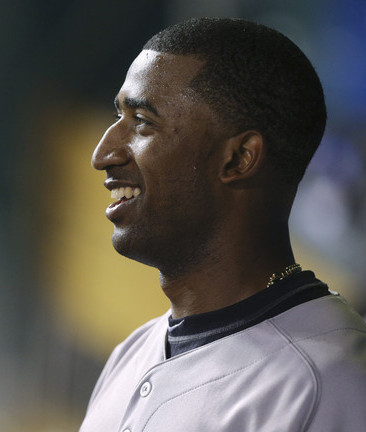 This has been a bit of a nightmare season for Eduardo Nunez, who had a chance to really establish himself as a useful player for the Yankees going forward. Instead, he lost his utility infielder's job in mid-May because he struggled with the routine play, then suffered a thumb injury that cost him two months after being demoted to Triple-A. He resurfaced when rosters expanded in September and was used sparingly at first, but this past weekend he took over the shortstop position while Derek Jeter nursed his left ankle injury.
Nunez, 25, took advantage of the opportunity by going 4-for-13 (.308) with a double, a homer, a walk, and three stolen bases. He would have had another double had Jerry Meals not gotten in the way, plus he made a nice baserunning play on Thursday by aggressively advancing to third from second a routine ground ball to short. Eduardo Scissorhands did show up and whiff on a routine grounder that led to an insurance run for the Rays on Friday, but otherwise he played short quite well over the weekend. He even made two very nice plays going into the hole to his right and showing off his strong arm.
I have to think that both Nunez and the team are happy with his play over these last four games, as he provided some nice offense from the bottom of the lineup while adding some of the speed they've sorely missed since Brett Gardner got hurt in April. The Yankees have been a very station-to-station club these last few months and Eduardo's energetic legs really did stand out. Add in his ability to make contact — just a 10.3% strikeout rate as a big leaguer — and you get a player that provides a much different dynamic than the rest of the lineup.
The Yankees are reportedly committed to using Nunez at shortstop and nowhere else following his defensive lapses as a utility player, hoping that sticking to one position will improve his glovework. With Jeter expected to return to his usual shortstop position later this week, perhaps as soon as tomorrow, Eduardo is suddenly a man without a place to play. Joe Girardi did indicate yesterday that he will consider giving Nunez at-bats as a DH against left-handed pitching, a move that seems beyond obvious given Andruw Jones' brutally ineffective second half. Frankly, at this point they should consider playing Nunez against right-handers as well. Raul Ibanez is 3-for-51 (.059) over the last month and looks completely worn out after spending way too much time in the field earlier this summer.
By no means do I think Nunez is a budding star or anything like that, but the players the Yankees have been using at DH most of the season have completely cratered in the second half. With Mark Teixeira on the shelf and not close to returning, the Bombers need as much offense as possible right now. Ibanez and Jones aren't getting the job done, not even close really. Nunez doesn't fit the typical DH profile — the big, lumbering slugger type — but he does have a productive offensive game built on contact and speed. The Yankees can use more of that and fewer hitless games from their regular DH combo down the stretch.