The 2012 minor league season officially came to an end for the Yankees' organization over the weekend, closing out a decidedly negative season for the farm system. Top prospects got hurt, others disappointed, and few stepped up their game and raised their prospect stock. There's no way to sugarcoat it, this season took a lot of luster out of the minor league system.
Although none of the six domestic affiliates were able to capture their league title, Double-A Trenton did play in the Championship Series. Triple-A Empire State spent the entire season on the road due to extensive renovations to PNC Field in Scranton, but they still managed to win their division for the fifth time in six years. That was particularly impressive. All told, the six stateside affiliates combined for a 366-326 record (.529), at least the 30th consecutive season they've put together a combined winning record.
These awards are not intended to be any kind of prospect ranking. It's just a recognition of who had strong years in the minors regardless of their age or prospect status. Once a year it's worth it to just sit back and appreciate what the fellas did this season. Here are my 2007, 2008, 2009, 2010, and 2011 awards post for reference. Just as a reminder, the Player of the Year is disqualified from the Pitcher and Hitter of the Year awards just the shake things up. Nothing personal.
Minor League Player of the Year: OF Tyler Austin
I mentioned earlier that very few players stepped up and raised their prospect stock this summer, but Austin was the overwhelming exception. The club's 13th round pick in 2010 hit .322/.400/.559 with 17 homers and 23 steals (in 25 chances) while advancing from Low-A Charleston to High-A Tampa, plus he also made a late-season cameo with Double-A Trenton. Among hitters with at least 300 plate appearances, Austin led the system in AVG, SLG, OPS (.960), and doubles (35). The 21-year-old did all of that while learning a new position, moving off third base permanently and settling into right field. A concussion did shelve him for a month, but otherwise Austin dominated the most advanced pitching he's ever faced and put himself on the fast track to the big leagues. He was simply marvelous from start to finish.
Minor League Pitcher of the Year: LHP Nik Turley
The history of the Yankees is littered with quality left-handed pitchers, so it's only fitting that their top minor league pitcher was a southpaw. Turley, 23, shook off the broken hand that ended his 2011 season prematurely to pitch to a 3.00 ERA in 117 innings for (mostly) High-A Tampa. He did get a late-season promotion to Double-A, and overall posted a 9.0 K/9 with 3.5 BB/9. Turley did miss some time with blister problems, but it wasn't anything too serious. He allowed more than three runs just thrice in his 22 starts, and he surrendered just three homers total in his first 18 starts. From start to finish, Turley was the best pitcher in the organization this year. Not bad for a kid who was the third to last pick of the 2008 draft, the 1,502nd overall selection.
Honorable Mention: LHP Vidal Nuno & RHP Brett Marshall
Minor League Hitter of the Year: UTIL Ronnie Mustelier
Outside of Austin, no hitter was as consistently excellent as Mustelier this season. The 28-year-old Cuban defector hit .314/.371/.488 with 15 homers in 499 plate appearances spent mostly at Triple-A. He struck out just 68 times (13.6%) and never more than twice in a single game. Mustelier finished third in AVG and SLG while placing second in hits (133) among players who came to the plate at least 300 times. He's been older than the competition since signing with the Yankees in the middle of last summer, but that doesn't guarantee success. Ronnie hit his way onto the radar this summer, no doubt about it.
Honorable Mention: DH Jack Cust
The Edwar Ramirez Award (Breakout Player of the Year): 2B Angelo Gumbs
No affiliate in recent memory backed as much prospect star power as Low-A Charleston when the season opened, so it was easy for the still just 19-year-old Gumbs to get lost in the mix. He responded by hitting .272/.320/.432 with seven homers and 26 steals (in 29 attempts) in 278 plate appearances, including a five-game stretch in mid-May that featured 11 steals (in 12 attempts). Gumbs only came to the plate 278 plate appearances due to an elbow injury that ended his season in late-June, but by then he'd done enough to rocket up prospect lists and cement his status as a top middle infield prospect.
Best Pro Debut: RHP Nick Goody
I never like giving this award to a reliever because it's so easy for them to put up gaudy numbers in such a short time, at least in theory. Goody earned it though, as the club's sixth round pick pitched to a 1.12 ERA with 52 strikeouts and just nine walks in 32 innings (23 appearances) after turning pro. For comparison's sake, Mark Montgomery had 51 strikeouts and 13 walks in 28.1 innings in his pro debut last summer. The 21-year-old Goody climbed from Short Season Staten Island to Low-A Charleston to High-A Tampa in less than three months, establishing himself as potential impact reliever on the fast track.
Honorable Mention: OF Taylor Dugas
Comeback Player of the Year: IF David Adams
A major ankle injury limited Adams to just 68 total games from 2010-2011, but the 25-year-old recovered to hit .306/.385/.450 with eight homers and 23 doubles in 383 plate appearances for Double-A Trenton this summer. He managed to make 65 starts in the field, the final 23 of which came at third base in an effort to increase his versatility. Adams did miss some time with a neck issue, but overall it was an extremely productive season after two years that were effectively lost. He didn't miss a single beat despite losing two years to a severe injury.
Bounceback Player of the Year (started slow, rebounded): OF Slade Heathcott
I'm kinda cheating here, because Heathcott didn't play at all in the first half. He was still rehabbing from his second left shoulder surgery, but he returned to game action in July and hit .302/.380/.461 with five homers and 19 steals (in 23 attempts) in 265 plate appearances. Heathcott was unable to play the field everyday due to his shoulder, but he did manage to make 19 starts in the field and show the same defensive skills that got him drafted in the first round three years ago.
Honorable Mention: UTIL Jose Pirela
Most Disappointing Player of the Year: 3B Dante Bichette Jr.
The Yankees took a lot of heat for drafting Bichette with their top pick a year ago, but he silenced the critics with a huge summer that won him my Best Pro Debut award last season. As a follow-up, the 19-year-old hit just .248/.322/.331 in 522 plate appearances with Low-A Charleston. The most shocking number is three, as in the number of homers he hit all season after clubbing four in 274 fewer trips to the plate last summer. When your calling card is right-handed power and you respond with a .083 ISO across a full season, yeah that's a major disappointment.
Dishonorable Mention: RHP Dellin Betances
Individual Level Awards (click for larger)

All-Minor League Teams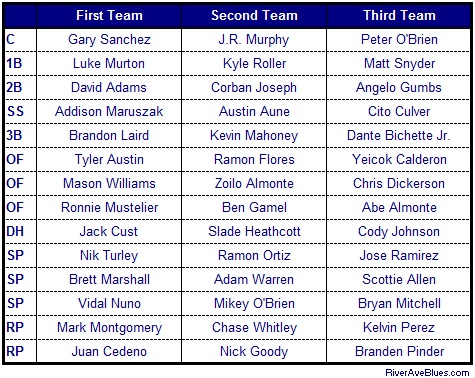 Lifetime Achievement Award
This year's Life Achievement Award recipient originally signed with the Yankees way, way back in 2003 as an international free agent. He spent several years toiling in the Dominican Summer League before finally coming stateside in 2006. Two seasons in Rookie ball, one season in Short Season ball, one season in Low-A, one season at High-A, a season and a half at Double-A, and a half-season at Triple-A followed.
The slow and deliberate climb up the leader featured a career .244/.315/.436 batting line in nearly 2,500 minor league plate appearances, plus three 19+ homer seasons, four 18+ stolen base seasons, four 20+ double seasons, and one High-A Florida State League MVP award. Following that award in 2010, this year's honoree was added to the 40-man roster so the Yankees would not risk losing him to minor league free agency. Earlier this month he was called up to the big leagues for the first time, and although he has yet to appear in a game, he's finally reached the show after nine hard years in the bush leagues. This year's Lifetime Achievement Award goes to … (drumroll) … Melky Mesa.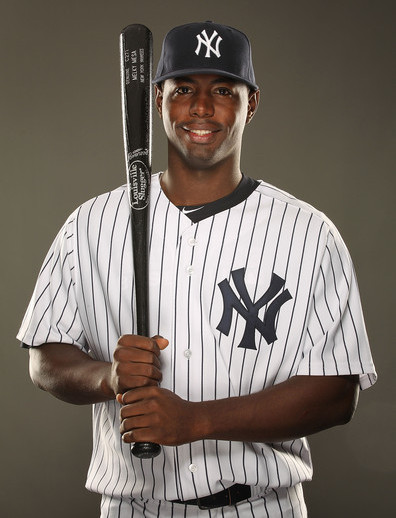 [gif of the overly excited Trenton Thunder bullpen via @_magowan]