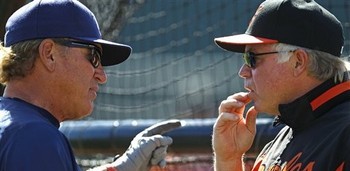 The Yankees will begin an important series against the Red Sox tonight, but another really important series will open some 400 miles south as well. The second place Orioles are hosting the third place Rays for three games this week, a series that will have a big impact on the AL East race one way or the other. Those clubs will also end the season with three games against each other in St. Pete. As I mentioned yesterday, both teams can't win those games, and that's good for New York.
Under the old playoff system, I probably would have rooting for either the Rays or Orioles to sweep all those games. It really wouldn't have mattered who, the important thing would have been creating separation between the top two teams and the third team in the division. There wasn't a significant enough advantage to winning the division over skating into the postseason as the wildcard under the old system, so just getting in was the focus. Clinch a postseason berth then worry about the division title was the annual mindset.
That isn't the case anymore. Capturing that AL East crown is so much more important under the two wildcard system because no one wants to play a do-or-die, win or go home game to decide the season. That means the Yankees absolutely want both the Rays and O's as far back as possible. Since both teams can't sweep, the best thing for the Bombers would be for one of those two clubs to take two of three this week. Since Baltimore is one game back and Tampa two, it seems that the Rays taking two would help the Yankees the most. However, since most of us consider Joe Maddon's club to be the bigger threat, maybe it would be better if the Orioles won the series. There's no clear right answer here.
Either way, this is all predicated on the Yankees taking care of the Red Sox and everyone else they play from here on out. They have to start winning games consistently to maintain their slim lead. It just so happens that their top two competitors play more than one-quarter of their remaining games against each other, and they'll theoretically hold each other back for the top spot in the division. The Yankees can only focus on winning their games, but us scoreboard watchers should be hoping that the neither the Rays or Orioles decides to whoop the other this week.