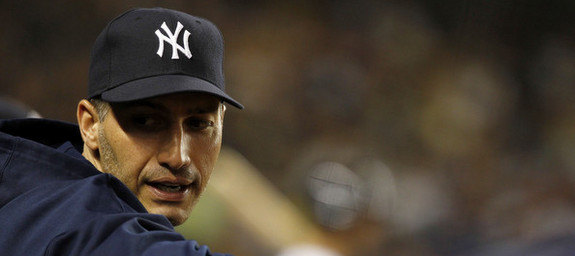 The Yankees are two games under .500 in the second half despite winning five of their first six games after the All-Star break, and it's been nearly a month since they last won consecutive games. Injuries have played a part in the second half slide, most notably long-ish term problems for Alex Rodriguez (hand) and now Mark Teixeira (calf). That's two important middle of the order bats missing and a big reason why the Bombers are hitting just .232/.312/.371 as a team since the start of the White Sox series in Chicago.
The good news is that A-Rod is back and has hit the snot out of the ball since coming off the DL (last night notwithstanding), and Teixeira should return before the end of the season. Mariano Rivera isn't coming back, but Andy Pettitte continues to inch closer to a return. Doctors cleared him to begin running on Monday, and today he'll throw his third and longest simulated game since Casey Kotchman fractured his leg with a comebacker. The club has hinted at bringing Pettitte back before he's fully stretched out to 90+ pitches, something Joe Girardi reiterated yesterday.
"It depends on how his leg feels after 60 pitches (today),'' said the skipper when asked how soon Andy could return to the rotation. "If we feel he can move around and compete enough in a game, it's conceivable.''
The "moving around" part is often overlooked but very important. The Yankees don't want to bring Pettitte back only to have him be unable to field his position when the other team inevitably tests the leg with some bunts. That said, the reason they're even considering rushing him back before he's fully stretched out is because the guys currently in the rotation aren't getting the job done. David Phelps has struggled lately and Freddy Garcia can't even complete five innings of work these days. Phil Hughes has pitched well and keeps his team in the game more often than not, but he always seems to be on a brink of disaster given his homer problem.
"It's just a matter of what they want to do," said Pettitte. "I want to pitch and help, but it's not up to me … It's up to them to make the decision. I want to pitch.''
Ivan Nova is fresh off the DL and it seems all but certain that he'll make Garcia's next start, but he hardly inspires confidence given how he was pitching before he got hurt. Still, it's likely to be an upgrade the same way a not fully stretched out Pettitte will be an upgrade over Phelps. Counting on a 40-year-old to recover from a broken leg to pitch effectively in a race for the division crown is a lot to ask, but at this point the Yankees really don't have any other choice. As long as the offense continues to underwhelm, upgrading the pitching staff is their best way to improve down the stretch. Even if it's only 70-80 pitches at a time.