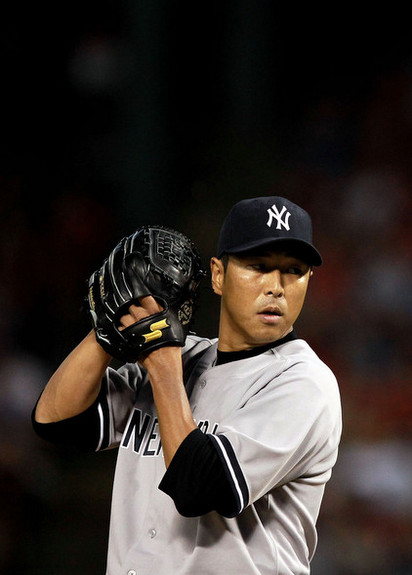 From Opening Day through Game 162, Hiroki Kuroda was the Yankees' best and most consistent starting pitcher this year. He served as the staff ace for a big chunk of the summer while CC Sabathia and Andy Pettitte were on the DL, and he didn't just get the title by default. From late-May through mid-August, a span of 16 starts and 113.2 innings, Kuroda pitched to a 2.22 ERA and a 2.78 FIP. Overall, his season included a 3.32 ERA and a 3.86 FIP in a career-high 219.2 innings this season.
That workload appeared to be an issue coming down the stretch, as the 37-year-old right-hander began to look fatigued during his starts, particularly in the later innings. He closed the season out with a dynamite seven-inning, two-run outing against the woeful Red Sox, but prior to that he'd allowed 22 total runs in his previous six starts and 37.2 innings. Eight of those 22 runs were scored after the fifth inning in those starts. As expected though, Kuroda said fatigue was not an issue while speaking with reporters on a conference call yesterday.
"I really haven't thought anything about (being worn down)," he said. "You know, I don't really feel fatigued, or I don't think I can afford to think like that because I always prepare myself for the next game, and that's what I'm doing right now."
The Yankees slightly juggled their rotation for the ALDS in an effort to not only give Kuroda extra rest, but to also make sure Andy Pettitte didn't get too much rest and lose his rhythm. Pettitte allowed three runs in seven innings in Game Two on eight days' rest while Kuroda will get the ball in Game Three tonight on seven days' rest. Had he started Game Two, which seemed to be the plan basically all season, he would have been on normal rest.
Like basically every pitcher ever, Kuroda has pitched better with an extra day or two of rest both this year and throughout his career. In 15 starts with normal rest this year, he posted a 3.56 ERA (3.68 FIP) while averaging 6.2 innings per start. With at least one extra day of rest, he pitched to a 3.14 ERA (3.82 FIP) while averaging exactly seven innings per start. If Kuroda did tire down the stretch, it didn't show in his fastball velocity, which actually ticked up late in the season. If the fatigue showed up anywhere, it was in his command.
Tonight's game is, obviously, the most important game of the season to date. The difference between being up 2-1 or being down 2-1 in a best-of-five series is enormous, and Kuroda's playoff history is short and spotty. He twirled two gems with the 2008 Dodgers (6.1 scoreless in the NLDS, six-innings of two-run ball in the NLCS) before allowing six runs in 1.1 innings in the 2009 NLCS after an injury kept him out of the NLDS.
"In '09, I didn't have all my stuff and I wasn't feeling good," added Kuroda on the conference call. "I had an injury to my neck and I couldn't throw in the divisional series … Until now, I haven't really thought about '09. I'm focused on now."
The Yankees signed Kuroda to little fanfare this offseason mostly because the deal happened on the same day of the Michael Pineda-Jesus Montero trade, and nothing was stealing attention from that. He went on to serve as the team's most reliable starter all summer, cranking out quality outing after quality outing. The Yankees are going to need that kind of effort from Kuroda again in Game Three tonight, if not something better given their struggles against Miguel Gonzalez this season.