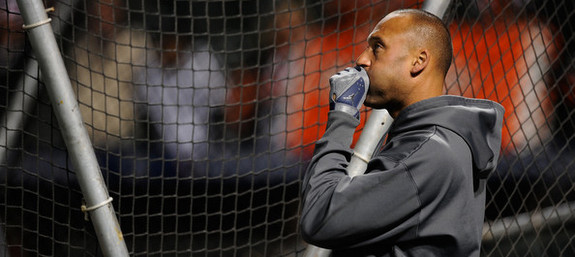 This goes without saying, but tonight's game is monumentally important. The Yankees and Orioles have split the first two games of their ALDS matchup down in Baltimore, and now they're in the Bronx to wrap this thing up one way or the other. Playing the next few games in Yankee Stadium is advantage Yankees even though the O's won six of nine there this season, simply because the Bombers are a better team at home than on the road.
By my unofficial count, 26 of the 64 total ALDS series from 1995-2011 were tied at one after the first two games. Of those 26 series, the team that won Game Three went on to win the series 21 times. The Yankees have been on both sides of that ledger, both the winning and losing. That 21-5 series record for Game Three winners doesn't guarantee anything for anyone going forward, but it goes to show how much of a boost a Game Three win will be for whoever gets it.
Beyond the numbers, just look at how much more difficult things will be for the loser of tonight's game. If the Yankees do drop the game, they would have to seriously consider starting CC Sabathia on three days' rest in Game Four tomorrow rather than run Phil Hughes out there with the season on the line. No offense to Phil, but you have to start your ace out in a win or go home situation if at all possible. Sabathia has been on a roll of late and we all know he can handle starting on short rest. That would bump Hughes to a potential Game Five, but you have to win Game Four before worrying about that.
Furthermore, if the series winds up going five games, the winner will have to use their fifth starter in Game Two of the ALCS because there is no off-day between rounds this year. That's really just a minor nuisance compared to having your season end this week, but at this point of the series you can afford to look ahead and think yourself "that's something I really want to avoid." The most important game is the next game, but as fans we can't help but peek ahead and hope this series wraps up as soon as possible.
The Yankees and Orioles have been neck-and-neck since early-September, except now a trip to the ALCS is on the line rather than a division title. Baltimore is just not going to go away quietly as much as I wish they would, so Joe Girardi & Co. are going to have to hope Hiroki Kuroda is on point tonight while the offense actually capitalizes on some opportunities. Game Three is the most important game of the season, at least until Game Four tomorrow. I hope that game can be a little less stressful thanks to a win tonight.