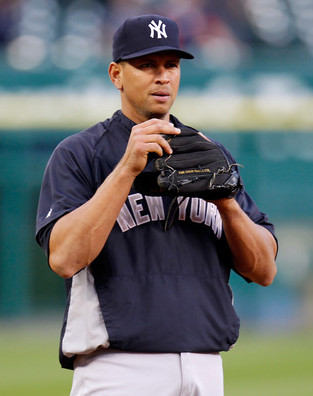 The season is not yet over but it likely will be at some point in the next few days. The Yankees are down three games to none in the best-of-seven ALCS, and winning four consecutive games at any point of the season is tough, nevermind against a good team in the postseason with your back up against the wall. As soon as the Yankees are eliminated, the focus will shift to the offseason and potential roster moves because hey, that's what everyone likes to talk about.
Based on the last two weeks, this offseason looks poised to be headlined by Alex Rodriguez and his future with the team. Yesterday we heard that the Yankees may or may not have engaged in trade talks with the Marlins about the third baseman, and on the field he's lost playing time — either by being benched or pinch-hit for in the late innings — to Eric Chavez and Raul Ibanez. Add in the various gossip stories, particularly the NY Post report that he asked a pair of women for their phone numbers during Game One of the ALCS, and you've got the most polarizing player on the Yankees and perhaps in all of baseball. That's nothing new though, it's A-Rod.
Both Joe Girardi and Brian Cashman held court with the media yesterday, emphasizing that the decision to sit Alex against Detroit's hard-throwing right-handers was purely a baseball decision. A-Rod is 0-for-18 with a dozen strikeouts against righties in the postseason (and has looked completely overmatched as well), so it's very tough to argue their logic. To his credit, A-Rod has said all the right things when asked about being de-emphasized in the postseason. Chad Jennings has a great recap of yesterday's media scrum with all three parties, so make sure you check that out.
The conspiracy theorists among us believe that benching Alex is intended to embarrass him and essentially help push him out the door this offseason. I don't necessarily buy it but Alex Belth does, and you're welcome to feel however you want. Intentional or not, there's no doubt A-Rod's confidence and pride has taken a shot these last two weeks. It's human nature. Whether that's enough to make him want him to leave the Yankees is another matter entirely. You can easily make the case either way.
Trading A-Rod will be very difficult given his mammoth contract — which still has five years and $114M remaining — and declining performance. He'll go down as one of the greatest players ever, but he's no longer that guy. The Yankees would undoubtedly have to eat a big chunk of that contract to facilitate a trade, and there is a point where eating so much money is counterproductive and hurts the team more than just keeping him would. I have no idea what that point is ($50M? $75M? $110M?), but it definitely exists. A-Rod's ten-and-five rights give him full no-trade protection, another obstacle for a deal. He gets to pick his next team.
I have no idea how strained the relationship between Alex and the rest of the organization is, or if it is beyond repair. None of us do, so don't even bother acting like you know what's going on there. I have no doubt the team will look to unload him just because he's a declining player owed a lot of money and teams typically look to unload those players, but it just may not be realistic. The Yankees made their bed by signing A-Rod to that historic contract and it seems like a safe bet that they'll try to avoid sleeping in it.
Will the Yankees trade A-Rod this offseason?