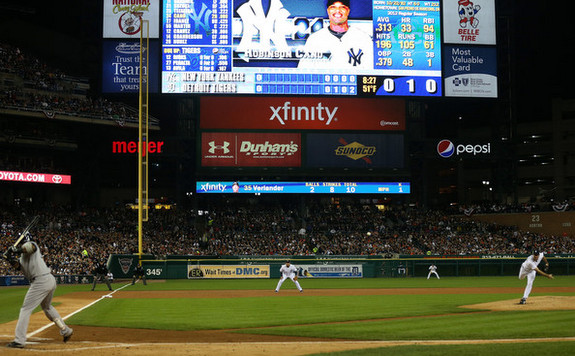 The season ain't over, but it might as well be. The Yankees are down three games to none in the best-of-seven ALCS even though all three games were pretty winnable in my opinion. It's not like they've been getting clobbered every night. This series would look an awful lot different if the Bombers got even a league average performance from there hitters, but I suppose the same is true of Tigers. They haven't been tearing the cover off the ball either. Miracles do happen, but I won't be holding my breath.
1. It's incredibly annoying that Delmon Young continues to beat the Yankees in the playoffs. He went 6-for-19 (.316) with three homers in the ALDS last year and is 4-for-13 (.308) with two homers in this series. It's like they spend all of their preparation time trying to figure out how to contain Miguel Cabrera and Prince Fielder — they're a combined 6-for-23 (.261) in the series, by the way — and forget about Delmon. He barely qualifies as a league average hitter (career 96 wRC+) and owns a sub-.300 OBP in over 1,100 plate appearances over the last two seasons. It's a little too late now, but Young is exactly the kind of under-the-radar guy who always seems to pop-up and hurt the Yankees.
2. I have no idea what to think of Phil Hughes at this point. He had a solid regular season despite his massive homer problem, but in all likelihood he finished the year hurt after leaving last night's game with a stiff back. Phil made a quick trip to the DL late last season with a sore back and I can't help but wonder if the two are related. That would be scary. I'm happy he was able to get over the 200-inning plateau (201 counting the playoffs) this year but injuries continue to be an issue. He's going to be a free agent after next season and there are reasons for the team to approach him about a multi-year contract extension this winter, but I really wanted to see at least one full and effective year without any kind of injury problem first. That obviously won't happen now.
3. I don't think there will be much of an issue going forward but I am curious to see how this whole Alex Rodriguez thing plays out. He's obviously struggling big time at the moment and is rightfully sitting against right-handers, but do they treat him as a regular next season? Or will they look at him as a guy who needs to sit against at least tough righties going forward? I don't think there will be any problem (at least publicly) between him and Joe Girardi, and I suspect he'll open next season with a clean slate and as the everyday third baseman thanks in part to his contract. Alex had a 114 wRC+ this season, so it's not like he's completely fallen off a cliff. I honestly don't believe this current version is the new A-Rod, he's just in a horrible slump.
4. The pitching staff has been absolutely unbelievable in the postseason, which is a complete 180° from the mid-aughts when all they did was hit and not pitch. Here is my first-rate graphic representation of the Yankees slowly sliding from an all-hitting to an all-pitching postseason team…

You see what I'm saying here? The Yankees have gone from one extreme to the next and I'm very comfortable saying that all pitching is far less enjoyable that all hitting. I appreciate a great pitchers' duel as much as anyone, but there is nothing more unbearable than a team that can't score or even get men on-base. This playoff season has been very frustrating to watch as a Yankees fan.