Johnny Damon. Hideki Matsui. Carlos Pena. Vlad Guerrero. Magglio Ordonez. After the Yankees traded Jesus Montero in mid-January and created an opening at DH, that was the lot of free agent solutions. All offered name value and track records, but instead the club went in a different direction. They signed Raul Ibanez to guaranteed contract.
The move was met with plenty of skepticism — how could they pass up Damon and Matsui?!? — and for most of Spring Training, it sure appeared as though the Yankees got the wrong guy. Ibanez, who turned 40 in June, went 9-for-60 (.150) with 14 strikeouts and just three walks in camp, and only a brief homer binge in the final week of March made him look like a competent big league hitter. The Yankees stick with their guys though (just ask 2010 Marcus Thames), and Ibanez opened the season as the left-handed half of the DH platoon despite his brutal spring showing.
On Opening Day, Raul made the club look pretty smart. He drove in New York's first run of the season with an RBI ground out in his first at-bat of 2012, and one inning later he turned a 4-3 deficit into a 6-4 lead with a three-run homer off Jamie Shields. Four days later plated the go-ahead run with a ground rule double against the Orioles in the 12th inning — who knew one-run wins in extra innings against Baltimore would be such a big deal at the time? — and five days after that he walloped a two-run homer off Jason Isringhausen that very nearly made the upper deck in right field. It was a bomb.
By the end of April, Ibanez had proven his worth by providing a number of big hits during the first few weeks of the season, but more importantly he had a new position. Brett Gardner went down with an elbow injury in the 11th game of the season, forcing Ibanez into left field on a semi-regular basis. He was still platooning with Andruw Jones at the time, so it wasn't an everyday thing just yet. As funny as it sounded at the time, the Yankees signed Ibanez over guys like Damon, Matsui, and Vlad because of his defense. Not because he had more range or anything like that, but because he was more physically equipped to play the outfield on an everyday basis if need be.
Raul has a reputation of being a very streaky player, and after topping out at .268/.318/.543 on May 30th, he fell into a long and prolonged slump that saw him hit .191/.278/.330 in his next 234 plate appearances. It appeared as though all the extra time in the outfield had worn him down a bit, and it didn't help that Gardner was hurt or that Jones cratered in the second half. The Yankees didn't have many alternatives, so Ibanez continued to play left field for most of the summer despite being a two-way liability — on defense and in the batter's box.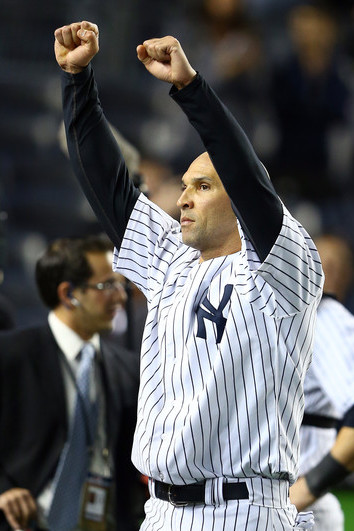 That 234 plate appearance slump dropped his season line to .222/.294/.415 with 14 games to go in the season. That's when Ibanez turned things around and got hot. Very hot. And very clutch. Despite not starting against the Athletics on September 22nd, he came off the bench to hit a pinch-hit homer in the fifth before tying the game with a monster two-run homer in the 13th to complete the four-run comeback. He hit another huge game-tying two-run homer in Game 161, this one in the ninth inning against the Red Sox. He later won that game with a walk-off single (against a lefty!). The Orioles had already won that day, so a loss would have moved the Yankees into a tie with Baltimore for first place in the AL East heading into the final day of the season.
The Bombers won the division (and finished with the best record in the league) and Ibanez closed the season on a 15-for-47 (.405) hot streak that included four homers, including the pair of game-tying two-run shots. That was just the beginning though. Raul upped his clutch game in October, starting with Game Three of the ALDS. He came off the bench to pinch-hit for Alex Rodriguez down a run in the ninth, and hit a game-tying solo homer off Orioles super-closer Jim Johnson. A few innings later, he clubbed another solo homer, this one the game-winning walk-off shot against Brian Matusz (a lefty!). That gave New York the Game Three win and a 2-1 series lead. In Game One of the ALCS, he hit a(nother) game-tying two-run homer, this one off Jose Valverde in the ninth to cap off the four-run comeback. True Yankee™ had been achieved.
All told, Ibanez hit .240/.308/.453 with 19 homers in 425 plate appearances this season, doing most of his damage against righties (.248/.319/.492). Those four game-tying homers in September and October went down as the team's four biggest hits of the season by WPA, which really doesn't do them justice. They were enormous, season-defining shots. Ibanez also started 76 games in the outfield while Gardner was out, which was what, 70 more than expected? His defense won't get any praise from me, but I will give Raul credit for stepping up and stepping in to help the club when (and where) needed.
Damon and Matsui hooked on with the Indians and Rays, respectively, but were released by midseason due to poor performance. Pena stuck with Tampa all year but hit just .197/.330/.354. No team even bothered to sign Vlad or Magglio. The Yankees chose the unpopular DH solution prior to season and were rewarded many times over. Ibanez was the team's second best hitter behind Derek Jeter in April and he piled up enough jaw-droppingly clutch homers down the stretch to last a baseball lifetime. One-year contracts worth about a million bucks don't get much better.