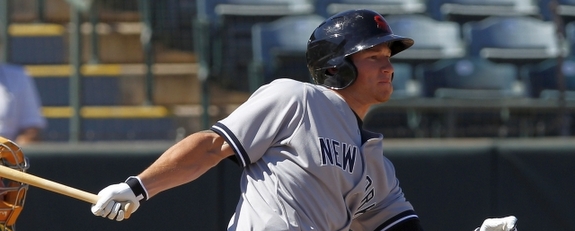 Baseball America published their list of the top ten Yankees prospects today, and the list is free for all. The scouting reports, however, are not. You need a subscription for them. The four names atop the list shouldn't be a surprise (the order might), but things do get a little wacky after that. Let's break it down…
OF Mason Williams
OF Slade Heathcott
C Gary Sanchez
OF Tyler Austin
RHP Jose Campos
RHP Brett Marshall
2B Angelo Gumbs
LHP Manny Banuelos
RHP Ty Hensley
RHP Rafael DePaula
Two things stand out about the list. First, the Yankees are suddenly very top heavy with position player prospects, particularly outfielders. Outside of Jesus Montero, their recent top tens were mostly dominated by upper level arms. The Yankees are going to need that infusion of young bats and relatively soon, but Heathcott is only position player on the list who I think will open next year at Double-A. Austin has a chance, but it would surprise me a bit.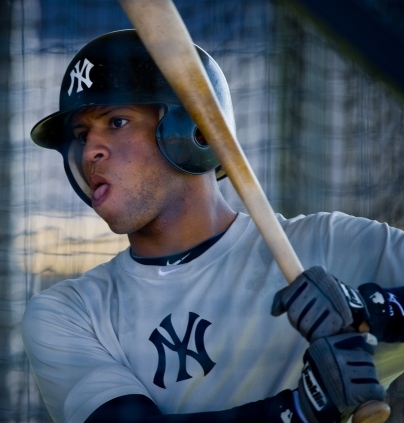 Secondly, everyone's hurt. Five of those ten guys missed significant time this season due to injury, and that doesn't include Hensley's shoulder "abnormality" or the month Austin missed with a mild concussion. Heathcott (shoulder) obviously came back healthy and Gumbs (elbow) has as well (based on the fact that he's playing winter ball), plus Williams (shoulder) was just cleared to resume workouts. Banuelos will miss all of next season with Tommy John surgery though, and a club official said Campos (elbow) will "hopefully" be ready for Spring Training in the subscriber-only write-up. That doesn't sound promising, but what can you do.
The write-ups include scouting grades (on the 20-80 scale) for each team's top prospect and the grades for Williams are just insane — 60 hit, 60 power, 70 speed, 70 defense, 50 arm. That's four above-average tools and one average one. Those are future grades and not present — they think he'll grow into a 60 hitter, not that he is one today — but they still seem a little optimistic, particularly the power. A 60/60 bat is a .290-.300 hitter with 25 or so homers. Add the 70 speed and 70 defense and you've got 30+ steals and near Gold Glove defense. That's a star player, it's Grady Sizemore in his prime, but again the grades strike me as optimistic based on everything we've heard about Williams to this point.
Elsewhere in the write-up they note that Heathcott offers "explosive tools" — yesterday Keith Law said Heathcott has louder tools than Williams, though Mason is more refined — and that while Sanchez doesn't stack up to Montero offensively, he has a much better chance of sticking behind the plate. Campos was "electric" before getting hurt while Banuelos was still struggling to command his fastball. They call DePaula the biggest x-factor in the system and say his "ceiling is as high as any Yankees minor league pitcher." He'll make the big jump to High-A Tampa next year.
With Banuelos essentially out for the season, the only top ten prospect who figures to spend significant time at Triple-A next year will be Marshall. The Yankees will have Adam Warren and maybe a veteran signing or two ahead of him on the call-up depth chart, possibly even Dellin Betances if things break right. The talent gap that has been slowly climbing the ladder in recent years has hit Triple-A, meaning the Bombers will have to make sure they bring in some depth pieces via free agency to shore up potential holes on the big league roster. The team's top prospects just aren't in a position to help next year, and maybe not in 2014 as well.