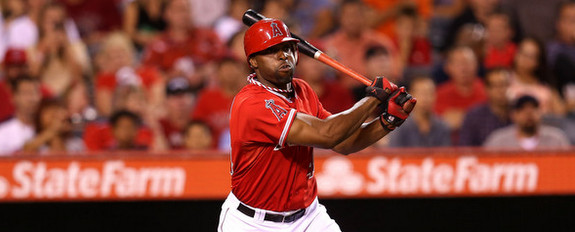 The Yankees have a number of holes to fill this offseason, perhaps none bigger on the position player side than right field. Nick Swisher was incredibly productive there both in 2012 (128 wRC+) and throughout his four years in New York (also 128 wRC+), but he will almost certainly head elsewhere as the free agent this winter. Outside of dropping nine-figures on Josh Hamilton, it's tough to see how the Bombers won't downgrade at the position this offseason.
Even before free agency officially opened for business, we heard that the Yankees had some interest in Torii Hunter. It's unclear if they've spoken to his agent already, but it wouldn't be surprising if they hadn't at this stage of the offseason. With the 2014 payroll plan looming and no obvious long-term solutions available, it makes sense that they would target a veteran who is likely to sign a one-year contract. It also makes sense that they would target a right-handed hitter since both Brett Gardner and Curtis Granderson swing it from the left side of the dish. Let's breakdown the long-time Twin and Angel…
The Pros
It's been nine years since Hunter was a below-average hitter and seven years since he was less than 10% better than the league average. His .313/.365/.451 batting line in 2012 was good for a 130 wRC+, and he hit .340/.403/.465 against left-handers. Over the last three years it's a .292/.371/.469 line against southpaws.
Although most of his power is to the pull side, Hunter is an all-fields hitter — here's his spray chart from 2012 as well as 2010-2012. His 191 wRC+ to the opposite field ranked fourth among all right-handed hitters in 2012, trailing only Mike Morse, Derek Jeter, and Miguel Cabrera.
Hunter was never as amazing defensively as he was made out to be, but he was always above-average and the move to right field has helped him remain that way later in his career. He's a very smart and instinctive defensive player who, for the most part, is fundamentally sound (throws to the correct base, etc.).
His durability is a plus, as Hunter has played at least 140 games in each of the last three years and in six of the last seven years. He hasn't come to the plate fewer than 500 times since 2005.
The Yankees value strong makeup and character, and Hunter is extremely well-respected throughout the game. He also has plenty of postseason experience, though almost all of it involves series losses to New York.
The Angels did not make Hunter a qualifying offer, so he won't require any kind of draft pick compensation to sign.
The Cons
At age 37, Hunter just had the best offseason of his career thanks to absurdly high .389 BABIP that is far out of line with his career average (.307). Hitting between Mike Trout and Albert Pujols would lead you believe he saw more fastballs in 2012, possibly explaining the increased production, but PitchFX disproves that theory — Hunter saw 65.6% fastballs in 2012 after seeing 64.4% from 2010-2011. Negligible difference.
Although he fared well against righties this year (.303/.351/.446), Hunter has had a a pretty sizable platoon split over the last three years. He's put a .282/.343/.439 line against righties since 2010, but it was .271/.339/.436 from 2010-2011. That's solid, but he's not as productive against same-side pitchers.
Hunter hit the ball on the ground more than any other point his career this season (52.0%), which is not uncommon for older players. He dipped below 20 homers (he hit 16) for the first time since 2000, not counting his injury-shortened 2005 campaign. He's always been double play prone as well.
Hunter's strikeout rate (22.8%) this year was the worst full-season mark of his career, and his walk rate (6.5%) was his lowest since 2007. Coincidentally enough, that was his last walk year. Both rates were worst than the league average.
Keith Law recently wrote that Hunter has been "losing bat speed for the past few years and compensated this season by being much more aggressive earlier in the count," and the data backs it up. His 3.57 pitches per plate appearance in 2012 was (by far) his lowest in the last four seasons, hence the low walk rate.
This isn't a huge deal, but Hunter isn't all that fast despite this year's 9-for-10 in stolen base attempts. He was 14-for-33 in the two years prior to that, and he's taken the extra base 47% of the time since 2010. That's above-average but nothing special in the grand scheme of things.
Earlier this year, Hunter said the only teams he would consider playing for are the Angels and Dodgers (to stay in Southern California), the Rangers (he lives in the Dallas suburbs), or the Yankees. All four are contenders (at least in theory) but the Yankees are at the geographical disadvantage. The Bombers have had some success getting guys to come out of their comfort zone in recent years though (specifically Hiroki Kuroda, Ichiro Suzuki, and Lance Berkman), thanks in part to their veteran clubhouse. I don't think selling Hunter on New York would be that big of the deal as long as the contract offer is reasonable.
Anyway, any team considering Hunter has to understand that he's very unlikely to repeat his 2012 performance. There are a lot of red flags there with his average on balls in play and increased ground ball rate, plus his age in general makes him a decline risk. A return to his 2011 level of performance — .262/.336/.429 OBP and 114 wRC+, which was his worst season of the last four years — seems like a more realistic expectation, and that's still enough to make him an above-average corner outfielder as long as his defense skills don't completely vanish. Hunter won't add the kind of contact skills I've been talking about for the last few weeks, though that's hardly any kind of mandate.
The Angels offered Hunter a one-year deal with a massive pay cut from his $18M salary, though the outfielder is reportedly seeking a two-year deal. That's not terribly surprising, everyone wants multiple years. I don't think a one-year deal in the $4-5M range is realistic at all and frankly it shouldn't be. Hunter is a better player than that. A one-year deal worth $10-12M might be more in line with the market, and really it's just the one-year part that is important to the Yankees. I doubt they want to sign a 38-year-old to a two-year deal with the 2014 payroll plan looming. Either way, it'll be tough to find a more productive outfielder than Hunter on a one-year contract this offseason.