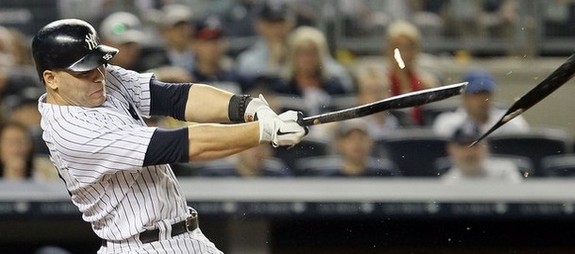 For more than a decade, Yankees fans were very spoiled by Jorge Posada. The switch-hitting backstop was a premium offensive catcher who more than made up for his shoddy defense with his bat. A borderline Hall of Famer, Posada hit .288/.381/.497 from 2006-2010, his age 34-38 seasons. Catchers are supposed to turn into pumpkins at that age. The Yankees replaced Jorge behind the plate with free agent pickup Russell Martin last year, and he had a solid first year in pinstripes. Year two was not as kind.
Martin, 29, spent the vast majority of the season below the Mendoza line. He went deep just four times in the team's first 50 games, so the power wasn't there either. The only thing that kept Russ from being a total drain on the offense was his plate discipline, which allowed him the draw nine walks in the team's first nine games and 22 walks in the first 50 games. Immediately prior to the All-Star break, Martin battled through an ugly 0-for-30 slump. He snapped out of it with a double in his second to last at-bat before the break.
Russ carried a hideous .178/.300/.348 batting line into the second half, which was awful production even considering the low standards at the position. Martin was solid on defense as always, but the Yankees thrive on getting above-average production from up-the-middle positions and he certainly wasn't providing it. After all the years of enjoying Posada's offense, fans were annoyed and hoping the club would bring in some catching help at the trade deadline. Instead, none came.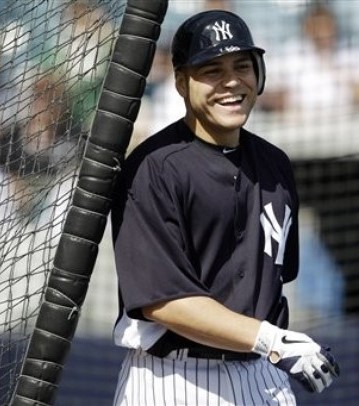 The Yankees stuck with Martin in part because they love his defense, but also because the rest of the lineup was strong enough to carry his noodle bat at the bottom of the lineup. His second half started decently, with two homers in his first six games and three homers in his first 11 games, but on July 28th, the date of New York's 100th game of the season, Martin was hitting just .182/.300/.364 in 283 plate appearances. Add in the fact that he hit just .223/.311/.362 in his final 410 plate appearances of last season, all of the good will he built up in April 2011 was gone. It looked like a mirage.
Now, no matter how much you may dislike a player, I think we can all agree it's unlikely that someone with Martin's track record had suddenly transformed into a true talent sub-Mendoza Line hitter. It's certainly possible, but it seems unlikely. He was still drawing walks (12.4%) and he wasn't striking out a ton (19.1%) during those first 100 games, so it wasn't like he was completely overmatched at the plate. Martin did, however, put up a measly .186 BABIP during that stretch, which is so extreme that bad luck absolutely played a part. He isn't fleet of foot and he does hit a lot of weak ground balls, which is conducive to a low BABIP, but not that low.
The question for the Yankees became this: when will Martin's luck turn around? It wasn't guaranteed to happen in 2012. It's also worth noting that an extremely low BABIP like won't necessarily be met with an extremely high BABIP when it does correct either. He could have just produced to his true talent level — he had a .275 BABIP in over 1,400 plate appearances from 2009-2011 — and that might not have been good enough to help the team either. Given the lack of deadline activity, the Yankees had faith in their catcher's ability to maybe not turn things all the way around, but at least contribute more than he had been down the stretch,
Martin did have a signature moment or two in the first half the season — the walk-off homer against the Mets (video) or the game-winning single against the Angels (video) for example — but for the most part he was a non-factor at the plate. With those 100 ugly games under his belt, his season batting line was beyond saving. The Yankees were watching the Orioles draw closer as the division race got tight at this point of the season, and their starting catcher's lack of production was a big reason why.