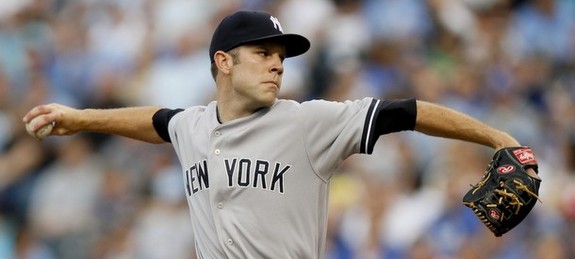 Even after unloading A.J. Burnett on the Pirates, the Yankees went into Spring Training with six starters for five spots plus an all-prospect rotation slated for Triple-A. They had more pitching depth than they've had at any other point in recent years, but as we know, these things tend to work themselves out. Michael Pineda hurt his shoulder in camp, which pushed Freddy Garcia into the rotation and left the long reliever gig up for grabs.
The Yankees had three viable candidates for the job in right-handers Adam Warren, D.J. Mitchell, and David Phelps. The three competed for the spot in camp but Warren (eight runs in 15 innings) quickly fell out of contention. Mitchell kept runs off the board (2.60 ERA) but he also walked (nine) nearly as many as he struck out (13). Phelps was the only one of the three to really stand out (2.08 ERA with 14/4 K/BB in 17.1 innings), plus he was showing newfound velocity, so he was rewarded by breaking camp with the team as the last guy out of the bullpen.
The 26-year-old Phelps made his big league debut in the team's third game of the season, as Joe Girardi brought him out of the bullpen with men on first and second with one out in the eighth inning of a three-run game. He struck out the first man he faced (Elliot Johnson) on four pitches, then completed the escape job by coaxing a two-pitch ground out from Reid Brignac. Not exactly the toughest competition, but it was an impressive showing for a kid making his first career appearance as a Major Leaguer.
Phelps threw 2.1 scoreless and hitless innings of relief against the Orioles two days later, then tossed 5.1 innings of one-run and one-hit ball against the Angels in his Yankee Stadium debut four days later. The first run he allowed in the show was a Vernon Wells solo homer. Phelps pitched to a 3.57 ERA (5.64 FIP) in 17.2 innings across six April relief outings, but the Yankees needed him in the rotation because Garcia had been brutal. In his first career start on May 3rd, the day Mariano Rivera blew out his knee, Phelps allowed two runs in four innings against the Royals while being held to a strict pitch count.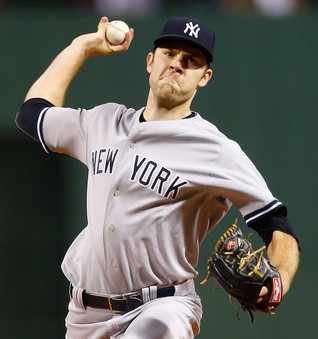 His next start six days later went much better (4.2 shutout innings against the Rays), but Andy Pettitte had been deemed ready and Phelps was sent back to the bullpen. He allowed two earned runs in 7.1 innings across his next five appearances, then was optioned all the way down to High-A Tampa when David Robertson came off the DL in early-June. The Yankees wanted to stretch Phelps back out into a starter, but he made only two minor league appearances before being recalled later in the month. They needed him to be the long man behind Warren, who was scheduled to make his big league debut in place of an injured CC Sabathia.
Phelps piggy-backed with Warren against the White Sox on June 29th then made a start against the Athletics five days later (one run in 4.1 innings).  The Yankees sent him down to Double-A after that to stretch back out, and he made two dominant minor league starts (no runs with 18 strikeouts in 13.1 innings) before rejoining the big league squad for good in mid-July. He threw 10.2 scoreless innings in his seven appearances then moved back into the rotation when Ivan Nova hit the DL with a bum shoulder. Phelps made seven starts (four good, three not good) before moving back into the bullpen in mid-September.
His final appearance of the regular season came in Game 161, when the Yankees were still fighting with the Orioles for the AL East crown. They entrusted him with the start over the ineffective Nova, and he held the post-blockbuster Red Sox to two runs in 5.2 innings in the eventual win. Phelps was, by far, the team's worst pitcher in the postseason, allowing at least one run in each of his three outings. He took the extra-innings loss in both ALDS Game Four and ALCS Game One, then allowed the Tigers to score an insurance run that turned out to the be the margin of victory in ALCS Game Three. It was a bitter end to an otherwise strong season.
All told, Phelps pitched to a 3.34 ERA (4.32 FIP) in 99.2 big league innings spread across eleven starts and 22 relief appearances this year. He showed that he could miss bats (8.67 K/9 and 23.2 K%) at the big league level even as a starter (8.48 K/9 and 22.4 K%). The walk rate wasn't great (3.43 BB/9 and 9.2 BB%) and he was homer prone (1.26 HR/9 and 13.6% HR/FB), but that's not completely unexpected for a rookie in the AL East. Phelps became just the fifth Yankees pitcher to throw at least 80 innings with a sub-4.00 ERA in his first full season since Mariano Rivera and Andy Pettitte in 1996*, joining 2006 Chien-Ming Wang, 2008 Joba Chamberlain, 2009 Al Aceves, and 2011 Nova.
Pineda blew out his shoulder and Nova took a step back while Mitchell was traded, Manny Banuelos blew out his elbow, Dellin Betances couldn't find the strike zone, and Warren seemed to pitch his way out of the team's plans with that one disastrous start against the ChiSox. Phelps was the team's only young, upper-level pitcher to actually improve his stock in 2012, which he did by mixing four (really five) pitches, missing bats, and proving his versatility by bouncing back and forth between the rotation and the bullpen. He stepped up and was an important swingman for the Yankees this summer, setting himself up to assume some more responsibility going forward.
* Not counting 1998 Orlando Hernandez. He was a long-time Cuban vet and was (supposedly) 32 when he made his debut that year. I don't count him as a kid in this instance.