A year ago, the Yankees somewhat surprisingly won 97 games and a division title despite featuring a patchwork rotation behind CC Sabathia. Rookie Ivan Nova was given a rotation spot and excelled, but behind him you had a struggling/injured Phil Hughes, a junkball specialist in Freddy Garcia, and the definition of a retread in Bartolo Colon. He hadn't thrown more than 80 innings in a big league season since 2007. Yet the Yankees won and won a lot with that starting staff.
When the offseason came, Brian Cashman & Co. set out to improve that patchwork rotation. They brought Garcia back for depth but otherwise waited the market out. And waited. And waited some more. Then, in one fell swoop, the Yankees swung a four-player trade for Michael Pineda and signed Hiroki Kuroda to a one-year contract. News of the two moves broke within about an hour of each other, and just like that the rotation was fixed. At least in theory. Kuroda was fantastic this season, but things hardly went according to plan for Pineda.
* * *
Pineda, who turned 23 a few days after the trade, was coming off an All-Star season with the Mariners in which he became the first rookie in baseball history (!) to record a 9.0+ K/9 with a sub-3.0 BB/9 while qualifying for the ERA title. His fastball lived in the 94-96 range and his mid-80s slider generated a swing-and-miss nearly 40% of the time (38.5%, to be exact). He needed to work on his changeup and the Yankees knew that, but pitchers that young who can miss bats and limit walks are rare breeds. With the 2014 payroll plan looming and the club in desperate need of a young, high-end arm, Pineda seemed like exactly what the Yankees needed.
With the media circus circling like vultures and waiting for any slip-up, Pineda came to Spring Training overweight. He said it was ten pounds but Brian Cashman said it was 20. For a kid that big (listed at 6-foot-7, 265 lbs.) gaining 10-20 pounds isn't a huge deal but it wasn't a good first impression. The club griped about Seattle's unconventional offseason workout regime — their pitchers don't start throwing until a few weeks before Spring Training — but that was mostly just frustration being vented. Pineda did his work and set out to lose the weight.
When the Grapefruit League schedule opened a few weeks later and Pineda made his first start, his trademark fastball was in the 88-91 range. First start of Spring Training? Not a huge deal. Next time out he hit 93 on the gun, but in his third start he was back around 90-91. After three starts you're expecting to see some improvement as the arm strength builds and the cobwebs are shaken off, but it wasn't happening for Pineda. His fourth and fifth starts featured more of the same, and what was supposed to be his sixth and final start of Spring Training wound up being his final start of 2012.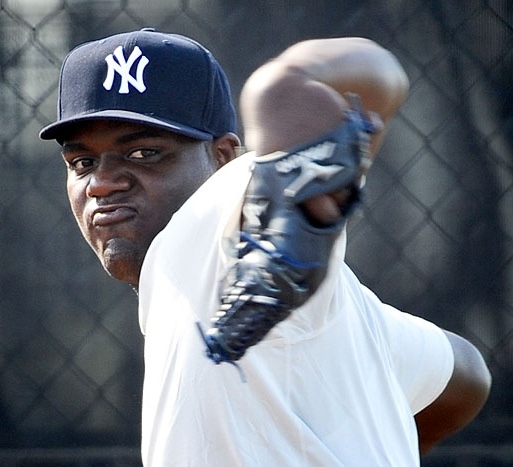 The Phillies pounded Pineda (six runs in 2.2 innings) on March 30th and after the game the right-hander complained of soreness in the back of his right shoulder. He had felt it before the game but declined to tell anyone. The Yankees sent Pineda for an MRI, which revealed only shoulder tendinitis and no structural damage to his labrum or rotator cuff. He was to be shut down for 10-15 days and placed on the DL. Pineda gradually worked his way back, first playing catch, then playing long-toss, then throwing a bullpen session, then throwing to hitters in an Extended Spring Training. He felt weakness in his shoulder during that ExST game was shutdown after one inning.
The Yankees sent Pineda back to New York for another MRI and two doctor's examinations — one by the team doctor and one by a doctor of Pineda's (and his agent's) choice per league rules. Both exams revealed the same thing: he had an anterior labral tear and would need arthroscopic surgery. It wasn't the kiss of death SLAP tear (a full labrum tear, all the way around), but the surgery would cause him to miss then entire season and the start of next season as well. Pineda had his surgery on May 1st.
The Yankees moved on without Pineda and were fine, they won 95 games and another division title. His rehab progressed slowly down in Tampa and various check-ups came back positive, but on August 20th, less than four months after his surgery, Pineda was arrested for driving under the influence down in Tampa. We haven't heard anything about his sentencing or punishment, but that could still be pending. That really doesn't matter though, DUI is an inexcusable crime in my book and it reflects terribly on him.
Reports indicated that Pineda was scheduled to start throwing around September and Cashman recently confirmed that Pineda has in fact been throwing off flat ground. Earlier this week the right-hander was cleared to continue his throwing program following another check-up, so his shoulder rehab appears to be going well. He still has a very long way to go though. Cashman said he doesn't expect him back until June, so he's not even halfway through the process yet.
Regardless of what happens going forward, Pineda's first year in pinstripes was a disaster. Within his first eight months as a Yankee he showed up to camp overweight, hid an arm injury, and was arrested, plus he still has to come back from the shoulder surgery. The Yankees don't know what they'll get out of him going forward and there's a chance he'll never be the pitcher he was in 2011 again. The injury could sap velocity, command, or both. We won't know until he gets back on a mound in a game situation. Jesus Montero's disappointing year (90 wRC+) might have softened the blow a little bit, but you can't sugarcoat it. This year was pretty much the worst case scenario for Pineda.