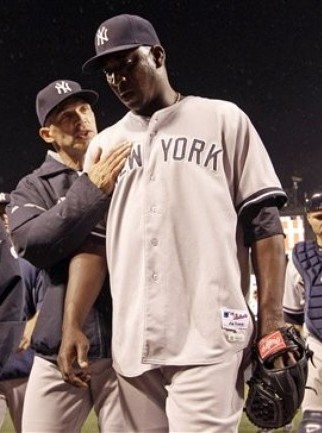 As expected, Rafael Soriano opted out of the final year of his contract with the Yankees on Wednesday afternoon. He'll try to parlay his big season as Mariano Rivera's injury replacement into another fat multi-year contract, like the one the club's ownership gave him two winters ago. Unless Mo retires or something really crazy happens, the two sides will part ways after one decent and one really good year.
Soriano, 32, pitched to a 2.94 ERA (3.56 FIP) in 107 innings with the Yankees over the last two years. Thirty-nine and one-third of those innings came last year (4.12 ERA and 3.97 FIP), when he struggled for a few weeks before missing more than two months with the fifth elbow injury of his career. The other 67.2 innings came this year when he was brilliant (2.26 ERA and 3.32 FIP), stepping in for Rivera and going 42-for-46 in save chances. The ninth inning stability he provided in place of Mo was enormous as well, that was a situation that could have easily spiraled out of control.
Like many others, I trashed Soriano's contract when the deal was announced. The silly opt-out clauses meant the Yankees carried all the risk, which wasn't ideal since his history of elbow trouble meant he was riskier than most players in general. If he got hurt and/or stunk, they were stuck with him. If he pitched well, they wouldn't get to keep him. Heck, the only reason Soriano was with the team this season was because he got hurt and kinda stunk last year, enough so that he couldn't get more money on the open market. Now that he had a great year, he's gone. The Yankees still got to enjoy that great year of course, but considering that Rivera is still flirting with retirement, wouldn't it be nice to have Soriano around for another year? Instead, he and Scott Boras held all the cards.
Considering everything involved, Soriano's time in pinstripes went about as well as possible. He was overpaid but so is basically every free agent reliever, it comes with the territory. The Yankees managed to squeeze one elite year out of him and got lucky in the sense that his 2011 elbow problem didn't turn into something more serious, something serious enough to turn him and his contract into an albatross. The Yankees rolled the dice and were ultimately rewarded, but I really hope they don't make a habit out of letting players control future roster spots and payroll with opt-out clauses like this.