The Reds finished this season with the second best record in baseball, but their World Series hopes came to a crashing halt when they blew a two games-to-none series lead over the eventual World Champion Giants in the NLDS. Their core remains very much intact though, so they'll look to retool and improve what they already have rather than conduct some kind of rebuild. Should they decide to explore the trade market, they have some pieces who could be of interest to the Yankees.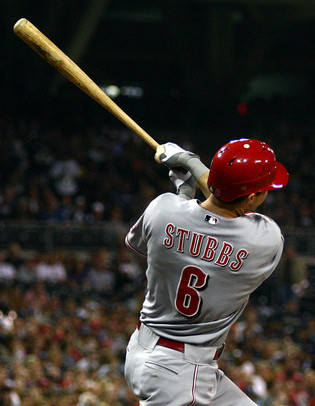 Drew Stubbs
Stubbs, 28, is a true four-tool player and that's a problem because the one tool he doesn't have is the most important: the ability to make contact. He owns a career 29.3% strikeout rate and posted a career-worst 30.5% mark this year, leading to a .213/.277/.333 (64 wRC+) batting line in 544 plate appearances. Look at his various year-to-year graphs and you'll see that he's trending the wrong way in basically every significant offensive category. So, after all that, why would the Yankees want him? Because of those four other tools.
Stubbs has stolen 30+ bases in each of his three full seasons and is an above-average defender in center with a strong and accurate arm. Here, look. He's hit at least 14 homers in his three full seasons with a solid 8.7% walk rate. Oh, and he's a right-handed batter who mashes southpaws. Despite his miserable overall numbers this year, Stubbs still tagged lefties for a .283/.324/.464 (111 wRC+) line. He's hit .275/.335/.448 (121 wRC+) against lefties since 2010, which is better than popular free target Scott Hairston (.263/.308/.464, 110 wRC+). Then you've got the stolen bases on top of it.
Stubbs has fallen so out of favor with the Reds that there was talk they would non-tender him prior to last week's deadline, but they decided to hold onto him instead. MLBTR projects him to earn $2.9M next year (less than Hairston figures to get) and he'll remain under team control through 2015. Stubbs is going to strike out a ton* and that's just the way it's going to be, but he can hit lefties while also contributing quite a bit both on the bases and in the field. This is a major buy-low candidate who can help a lot if he's platooned properly going forward.
* It's worth noting that while his strikeout rate is getting worse, his contact rate is actually getting better. He still swings and misses a lot, but a big part of his problem is that he's taking more called strike threes than ever before.
Chris Heisey
Cincinnati's other right-handed hitting outfielder, you might remember the 27-year-old Heisey from his three-homer game against the Yankees a few years ago (video). He's a .259/.315/.438 (102 wRC+) career hitter with a reverse split, though that's a small sample size issue rather than an accurate representation of his skills. Heisey owns a .214/.272/.376 (71 wRC+) line in 255 plate appearances against southpaws since breaking into the show three years ago. He's rated as an average defender in the three outfield spots (though again, sample size) and doesn't offer much speed either. Heisey is under team control through 2016 and should settle in as a right-handed platoon bat if used properly and given the opportunity.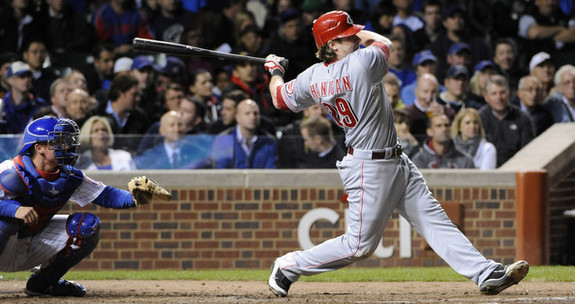 Ryan Hanigan & Devin Mesoraco
The Reds have two starting-caliber catchers, at least in theory. Manager Dusty Baker has been known to distrust young players, so the 24-year-old Mesoraco quickly fell out of favor this year when he didn't hit (.212/.288/.352, 67 wRC+). Hanigan, 32, continued to serve as the team's starter with a .274/.365/.338 (87 wRC+) batting line. He rated very well in 2012 catcher defense rankings and has more unintentional walks (92) than strikeouts (90) over the last three years.
Mesoraco is the big hotshot prospect (Baseball America ranked him 16th on their Top 100 List his year) while Hanigan is the reliable and generally underrated veteran. It's worth noting that Hanigan is signed for just $2.05M next season and will remain under team control as an arbitration-eligible player in 2014 as well. Mesoraco still has five years of team control left. If the Reds decide to commit to one as their starting guy going forward, the Yankees should have interest in acquiring the other regardless of who it is. Both Mesoraco and Hanigan make sense for New York.
* * *
The Yankees now have a need at third base given Alex Rodriguez's new hip injury and New Jersey native Todd Frasier sure would look nice in pinstripes, but he seems entrenched as Cincinnati's third baseman of at least the present and most likely the future as well. I wouldn't count on that happening despite the obvious fit.
The Reds are set in the rotation — their five main starters combined for 161 starts last year and now they're now moving Aroldis Chapman into the rotation — and at most positions, but they are actively seeking a leadoff hitting outfielder. They were in on Denard Span before he was traded to the Nationals and they don't really have the financial wherewithal to sign Michael Bourn. They've been linked to the more affordable Shane Victorino of late and were said to be considering Juan Pierre once upon a time.
The Yankees have a leadoff hitting outfielder to offer in Brett Gardner, but they are short on outfielders in general. They would be able to replace Gardner's speed and defense by re-signing Ichiro Suzuki though, so he shouldn't be completely off limits. My trade proposal sucks, but I think the Yankees would be better off in 2013 and 2014 if they could work out a Gardner plus prospect(s) for Stubbs plus one of the catchers trade while then re-signing Ichiro. Depends on the prospect(s) and which catcher of course, plus the team's willingness to have zero starting outfielders under contract beyond 2013.