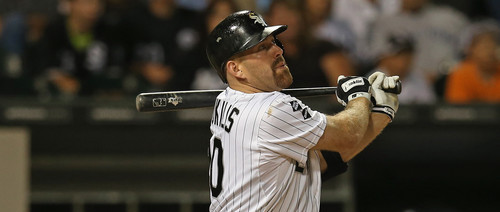 The Yankees have imported a lot of former Red Sox players through the years, including a bunch of guys were on the decline and in the twilight of their careers. Roger Clemens, Johnny Damon, and Wade Boggs jump to mind and that's just during my lifetime. All three helped New York to a World Championship and proved they had more in the tank than Boston seemed to believe.
Thanks to Alex Rodriguez's latest hip surgery, the Yankees now have their eyes on another former Red Sox player, corner infielder Kevin Youkilis. Brian Cashman confirmed meeting with the 33-year-old's representatives during the Winter Meetings earlier this week, and earlier this morning we learned the team offered him a one-year deal worth $12M. The Indians are also said to be in the mix, and the Terry Francona factor should not be overlooked. I'm sure a number of other unknown clubs are as well. With the Yankees in rather desperate need of third base help, let's see what Youkilis has to offer.
The Pros
Youkilis is one year removed from a .258/.373/.459 (126 wRC+) performance with the bat. He punished left-handers to the tune of .275/.386/.492 (135 wRC+) this year and .323/.436/.598 (174 wRC+) over the last three seasons. No player in baseball has been more productive against southpaws since 2010.
By know you know about the whole Greek God of Walks thing, and Youkilis has drawn a free pass in 12.1% of his plate appearances over the last three years (10.0% in 2012). He's seen an average of 4.27 pitches per plate appearances since 2010, which is among the highest rates in baseball.
Youkilis offers some versatility, having started 220 games at third and 116 games at first over the last three seasons. The various defensive metrics says he's about average at both positions, down from his Gold Glove days a few years ago.
This goes without saying, but Youkilis has plenty of experience in big games and in those brutal late-season AL East matchups. He's played in the postseason, done the Yankees-Red Sox thing, the whole nine. The whole idea of being able to handle New York is a non-issue.
Youkilis was not eligible for a qualifying offer because he was traded at midseason, so it will not require surrendering a draft pick to sign him.
The Cons
Although he destroys lefties, Youkilis hit just .220/.316/.377 (89 wRC+) against righties this year and .242/.346/.424 (109 wRC+) over the last three years. Just look at his year-to-year graphs page and you'll see that he's steadily declining in every significant offensive category. Batting average, walk rate, strikeout rate, power numbers, everything is going in the wrong direction. His ground ball rate has been higher than his fly ball rate in recent years, which is a classic symptom is an aging hitter losing bat speed.
Youkilis isn't exactly an iron man, and in fact he's played in fewer games over the last three seasons (344) than A-Rod (358). He's been on the DL five times in the last four years, including a lengthy stint for thumb surgery and multiple stints for back strains. The injuries have his defense on the decline just like his offense.
I hate his face and his whiny act at the plate. Every called strike makes him look like Rasheed Wallace getting fouled. Not sure where they keep these stats on FanGraphs, sorry.
Youkilis didn't become a full-time big leaguer until his age 27 season, but he's had a very classic career arc. He started out pretty well and continuously improved until peaking at age 29-30, then he gradually started to decline at age 31. Injuries have set in as well. All the tell-tale signs for age-related decline are there, from the plate discipline numbers to the batted ball profile to the just the overall production. It's all there and spelled out in plain English.
Now does that mean Youkilis is a bad player? Of course not, it just means he's on the decline and he's not what he once was. The same was true of Clemens and Boggs and Damon once upon a time as well. The question is how much does Youkilis have left in the tank, and is it worthwhile for the Yankees to pursue him as a third base fill in for A-Rod? I worry about the sharp increase in strikeout rate and increasingly poor production about righties, plus the fact that he's a dead pull right-handed batter in a stadium unkind to those types of hitters. He could be left on the short-end of the platoon stick as soon as this year. Youkilis is an okay player whose worth is inflated by his status as a former Red Sox.