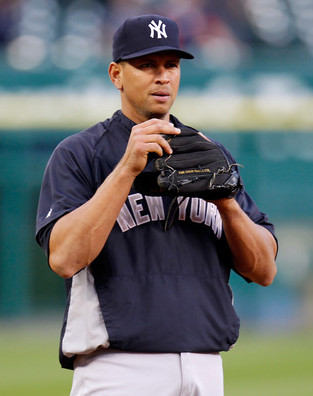 Although the calendar just flipped to 2013, I think we're all looking ahead to 2014 as far as the Yankees' payroll is concerned. The club plans to get under the $189M luxury tax threshold one year from now, and because of the way the tax is calculated, they'll have to stay under that amount for the entire 2014 season. The Yankees haven't finished a season with a sub-$189M payroll in about ten years, so it's a significant cut o matter how much ownership and the front office try to downplay it.
The luxury tax is based on the average annual value of contracts* on the 40-man roster and is basically adjusted daily, meaning the "tax hit" for players who don't spend the entire season on the 40-man (called up late, traded, etc.) is pro-rated. Bonuses count as well, as does the team's portion of the league's player benefits. Players benefit costs are shared equally by the 30 teams and will be valued at a touch less than $10.8M in 2013, but they are expected to go up to about $12M for 2014. Just like that, the $189M is really $177M as far as what can actually be spent on players.
Obviously a whole lot is going to change over the next 22 months, but the Yankees have started to plan for 2014 by going heavy on one-year contracts this offseason. Here is where the current 40-man roster stands with regards to the 2014 payroll…
Under Contract For 2014 ($80.9M): Alex Rodriguez ($27.5M), CC Sabathia ($24.4M), Mark Teixeira ($22.5M), Ichiro Suzuki ($6.5M)
Contract Options For 2014: Derek Jeter ($9.5M player option)
Arbitration-Eligible In 2014: Brett Gardner (third time), David Robertson (third time), Frankie Cervelli (first time), Chris Dickerson (first time), Ivan Nova (first time), Michael Pineda (first time), Clay Rapada (first time), Chris Stewart (first time)
Pre-Arbitration In 2014: David Adams, Zoilo Almonte, Manny Banuelos, Dellin Betances, Cesar Cabral, Cody Eppley, Ramon Flores, Corban Joseph, Brett Marshall, Melky Mesa, Eduardo Nunez, David Phelps, Jose Ramirez, Austin Romine, Francisco Rondon, Nik Turley, Adam Warren
Potential Bonuses For 2014 ($37.5M): A-Rod ($6M each for 660, 714, 755, 762, and 763  career homers), Jeter (up to $7.5M based on awards)
Free Agents After 2013: David Aardsma, Robinson Cano, Joba Chamberlain, Curtis Granderson, Phil Hughes, Hiroki Kuroda, Boone Logan, Andy Pettitte, Mariano Rivera, Kevin Youkilis
The Yankees have just four players under contract for 2014, but those four soak up 42.8% (!) of the $189M limit, or 45.7% of the $177M limit, if you prefer. There's a decent chance two of those players (A-Rod and Ichiro) will be non-playable and need some kind of replacement. It seems like a safe bet that Jeter will exercise his player option, though I suppose he could decline the option and demand a multi-year contract if he has a huge year. That would be something.
Obviously A-Rod won't hit all five of those homer milestones in 2014. He's sitting on 647 career homers right now and will miss about half of 2013 due to his hip injury, and you know what? It would be pretty great for 2014 payroll purposes if he managed to hit 13 homers next season to take care of that first milestone. He'd need to have a monster campaign in 2014 to trigger the 714th homer bonus, which is unlikely to happen at this point. Even A-Rod in his prime would have trouble hitting enough homers to trigger that bonus. Saving that $6M would be pretty big in the grand scheme of things, think of it as the ability to acquire a $17-18M player at the trade deadline.
Nova would need to spend about four months in the minors next season to avoid being arbitration-eligible in 2014, which doesn't seem all that unrealistic if he continues to pitch the way he did in the second half. Pineda would need to spend about three months in the minors to delay arbitration, but remember, he will collect service time while on the DL at the start of the season. He'd have to be activated off the DL when healthy in May or June, then be optioned down and basically spend the rest of the season in Triple-A. I could see the Yankees sending Pineda down for the two or three weeks to delay free agency a year, but not three months to delay arbitration, especially if he's healthy and throwing well.
Ten players who project to be full-time big leaguers in 2013 are due to hit free agency next winter, including three starting pitchers and half the bullpen. Cano's free agency is the elephant in the room, as he's expected to command a nine-figure contract in an age when so many teams have so much money to spend. You don't have to try all that hard to envision the Tigers, Dodgers, Angels, Red Sox, Nationals, Rangers, Mariners, Cubs, or Giants making a run at him. I expect the Yankees to re-sign him to a huge contract, and if it's worth say $23M annually (eight years, $184M?), the Yankees will be left with $73.1M to spend on 35 (!) 40-man roster spots during all of 2014. Doable for sure, but it won't be easy given the current market.
* I get questions about this every single day. The luxury tax is based on the average annual value of the contracts. Front-loading, back-loading, side-loading, or whatever else you can think of won't help. MLB will also step in should there be any blatant luxury tax circumvention, such as signing Cano to a one-year, $5M deal for 2014 with a nine-year, $200M player option. It won't help at all.