Got five questions for you this week. The Submit A Tip box (in the sidebar) is the best way to send us stuff.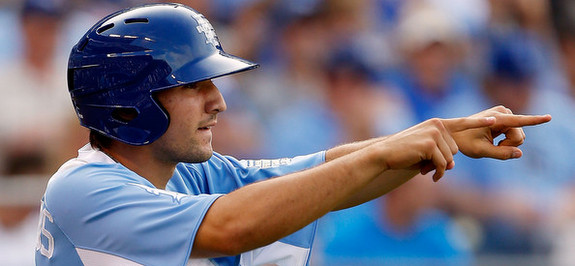 Conor asks: Would trading one of Tyler Austin, Mason Williams or Slade Heathcott for Nick Castellanos make sense for both teams? The Tigers are going to have him move to right field since they have Miguel Cabrera and Prince Fielder at the infield corners. Seems that trading him for a player whose already demonstrated he can play the outfield is a better idea.
Now that's interesting. Castellanos is a one of the best prospects in baseball — Baseball America ranked him 11th overall while Keith Law ranked him 18th in their midseason updates — thanks to a career .316/.367/.443 batting line with 17 homers in 276 minor league games. Baseball America recently ranked him as Detroit's top prospect, saying he's "[o]ne of the best pure hitters in the minor leagues" in their subscriber-only scouting report. Since Cabrera, Fielder, and Victor Martinez are clogging the infield corners and DH spot, the Tigers shifted Castellanos from third base to right field this past July. Baseball America said "he could be an average outfielder" with experience.
The Yankees have plenty of high-end outfield prospects as you mentioned, as both Williams (#28) and Austin (#39) cracked Baseball America's midseason update (Williams made Law's, which was only 25 players deep). New York would probably have to kick in a little something extra, but a Castellanos-for-Williams trade (for example) isn't outrageous at all. Both have their own red flags (Williams is coming off shoulder surgery, Castellanos strikes out a lot for a guy who hasn't shown much power yet), but Castellanos doesn't have an obvious spot with the Tigers while Williams would be coming from a position of depth. Prospect-for-prospect trades rarely happen because every team loves their prospects more than everyone else's, but I do think a swap like this makes some sense for both clubs.
Jason asks: Just wondering what you would think of a possible Phil Hughes, Ivan Nova, or David Phelps trade to the Rockies for either Michael Cuddyer or Jordan Pacheco. I think Pacheco fits perfectly with NYYs needs. Right-handed outfielder and third basemen and can even fake catcher at times. The Rockies need starting pitching badly.
I wouldn't touch Cuddyer. He's 33 years old and he was just barely a league average hitter (102 wRC+) in Coors Field last season. Plus he spent nearly half the year on the DL and isn't anything special on defense despite the supposed versatility. The Rockies can have fun with that $21M he's owed over the next two seasons, no way would I want the Yankees to give up something of value for that.
Pacheco, on the other hand, makes some sense. He turns 27 later this month and is a .306/.338/.413 career hitter in 593 plate appearances. Don't get too excited, that's only a 91 wRC+ because Coors has turned back into a launching pad. Pacheco always had strong walk rates in the minors (10%+), but it's dipped to just 4.2% in the show. I'm not sure what that's about. He can play the three non-shortstop infield spots adequately and catch in an emergency, plus he's under team control for another five years. I'm not giving up Hughes, Nova, or Phelps for a bench player though, Colorado would have to be willing to take something less.

John asks: Since the Yankees need a cost controlled right-handed outfield bat for 2013 (and 2014) does it makes sense to target someone like Justin Maxwell? He has power and is slightly above average defensively. Sure he doesn't take a walk and his contact rate isn't that good but a relatively young, arbitration-eligible (until 2017) 4th outfielder/platoon bat with some decent speed, defense and power doesn't seem like a bad idea to me…your thoughts?
The Yankees had the 29-year-old Maxwell in camp last season, but he was out of minor league options and they lost him on waivers to the Astros at the end of Spring Training. He put together a 107 wRC+ overall with Houston, but was especially tough on southpaws: .272/.387/.505 (144 wRC+). Maxwell has some Andruw Jones in him (the old version, not the Braves version) because he hits for big power (.232 ISO), will draw a walk (9.1%), and can strike out with the best of 'em (32.4%). Andruw actually has more favorable rates, but Maxwell will steal the occasional base and is better on defense.
Clearly the Yankees should have dumped Jones and kept Maxwell last year, but that's a pure hindsight statement. Maxwell is a platoon player on the short-end of the playing time stick and should be treated as such. The Yankees shouldn't have to overpay to get him back just because. If the Astros will take a Grade-B prospect, sure. I wouldn't go much higher, we're not talking about Mike Trout here. Maxwell is under team control for another few years and that's nice, but I don't focus too much on years of control when talking about bench guys (and relievers). They rarely stick around that long anyway.
Anonymous asks: Given that college baseballs apparently travel less in the air and have higher seams (which make breaking balls more effective), how would you evaluate college players in light of this? Would you downgrade fly ball pitchers and/or pitchers with less velocity (i.e., more reliant on breaking balls)? Would you give extra credit to hitters who had success against breaking balls?
It's not just college balls, the balls they use in the minors are different than the ones they use in the big leagues as well. Craig Hansen and Bryce Cox were two guys who threw vicious breaking balls in school but couldn't get the ball to move the same way as a professional, so they flamed out. Teams are obviously aware of this and I don't really know how they address it. I'm guessing each club does it a different way. Preferably you'd see a pitcher several times (high school, college, summer league, private workout, etc.) before the draft, giving you plenty of chances (with different balls) to evaluate him. Hitters who can hit breaking balls tend to grade out well anyway, but I'm not sure if you'd give him extra credit for doing it against a college ball. I don't really know the answer to this question, but the difference in balls (this applies to Japan and Korea as well) is something teams must consider when evaluating a player.
Chris asks: Would you consider new aged sabermetrics a "performance-enhancer"? 25 years ago players were judged based on simple stats which were visible and tangible to the fan. RBI, HR, AVG etc. Now advanced metrics allow us to judge players on a whole new level. Wouldn't you agree that certain platoon players would have not found jobs 25 years ago but do today because certain metrics say they can still hit lefties or are victims of bad ball in play luck?
"Performance-enchancer" implies that they're helping the player perform better than they normally would. A player getting a job because some front office executive used stats to determine he was being undervalued doesn't really qualify to me. Maybe if the player was using stats to improve his performance they would be considered a "performance-enhancer," but I'm not sure how that would work. It's not like a pitcher could independently focus on lowering his HR/FB% or something. Looking at stats is the same as looking at scouting reports for me.
Just as an aside: The term "performance-enhancer" itself bugs me because it carries far too many connotations. I wish they'd just stick to calling them banned substances. No need to automatically tag them as performance-enchancing when we don't know how much they really help. Trust me, there have been plenty of players who improperly used PEDs and wound up hurting themselves more than they helped.