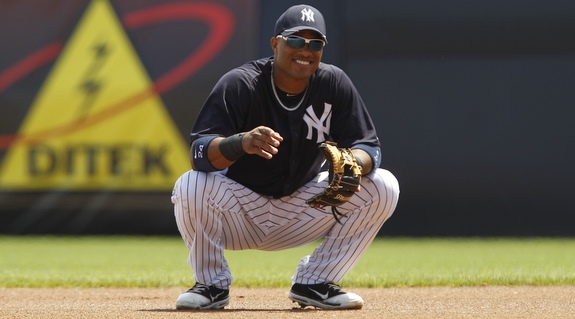 Robinson Cano's impending free agency is going to be the rain cloud hovering over the Yankees' heads this season. Sorta like CC Sabathia's opt-out clause two seasons ago, how it was always looming in the back of everyone's mind. The club's situation is much less dire two years ago though. We all knew the Yankees were going to go all-out to re-sign their ace when he did use — or in reality, threatened to use — the opt-out. If Sabathia signed elsewhere, it would not have been due to a lack of effort on the team's part.
The calculus has changed quite a bit in those two years. The Collective Bargaining Agreement put in place last winter offers (substantial) rewards for staying under the luxury tax and the Yankees are doing all they can to take advantage, even though it harms their ability to contend. Hal Steinbrenner has a knack for saying they will continue to field a championship-caliber team, but actions speak louder than words. The current catching situation is not championship-caliber. The bench is not championship-caliber. Wilfully slashing payroll for the sake of maximizing profit is not something someone committed to fielding a championship-caliber team does.
Anyway, that desire to spend less on the team will impact the Yankees' ability to retain Cano next offseason. Robbie hired Scott Boras two years ago and players do not hire Boras that close to free agency unless they're looking for a huge payday. Cano is a star and he will want to be paid like one. It's only fair. With the free-spending Dodgers looming and other contenders like the Tigers and Cardinals potentially in need of second base help, Boras shouldn't have much trouble finding suitors for his client.
The Yankees know as well as anyone that long-term contracts to players on the wrong side of 30 have a tendency to go sour in a hurry. All they have to do is look at Alex Rodriguez for the worst case scenario, but Jason Giambi — who was more productive in pinstripes than he gets credit for — is a cautionary tale as well. Just look around the league and you'll see scary long-term commitments to 30-somethings either going wrong or on the verge of going wrong. Albert Pujols, Ryan Howard, Alfonso Soriano … those clubs would like a do-over on every one of those contracts.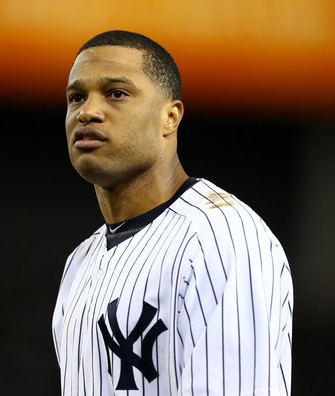 Cano, who turned 30 in October, is theoretically at even greater risk of sharp decline because of his position. Second baseman take a pounding at the bag due to the blind double play pivot, something that "is even reflected in the number of uniforms their clubs have to buy for them" according to former Dodgers GM Dan Evans. To Cano's credit, he has been extremely durable, playing in no fewer than 159 games in each of the last six seasons. We have to remember that A-Rod was once just as durable, playing in 154+ games in seven straight years before starting to break down in 2008.
According to bWAR, Robbie has been not only the most valuable position player in baseball over the last three years, but also the most valuable player period, including pitchers. His career 34.8 bWAR is the tenth highest in history among second basemen through their age 29 season. He's been brilliant these last few years, no doubt about it, but his next contract won't be paying him for past performance. It'll be paying him for expected future performance, and that's where it gets tricky.
There have been a total of 20 non-first base infielders to post between 30-40 bWAR through their age 29 season. There are 13 40+ bWAR guys and they're all all-time greats (A-Rod, Cal Ripken Jr., Joe Morgan, Mike Schmidt, etc.), but I want to look at players similar to Cano. Two of those 30-40 bWAR guys (Dustin Pedroia and David Wright) are too young to tell us anything, but here are how the others performed before their age 30 season, during their age 30 season, and then after their age 30s season.
| | <30 WAR | Age 30 WAR | 31+ WAR |
| --- | --- | --- | --- |
| Rod Carew | 39.8 | 6.5 | 30.3 |
| Nomar Garciaparra | 39.7 | 1.1 | 1.2 |
| Chuck Knoblauch | 38.9 | 3.3 | -0.2 |
| Bobby Grich | 38.8 | 5.7 | 22.8 |
| Derek Jeter | 38.7 | 4.1 | 26.5 |
| Adrian Beltre | 38.4 | 3.0 | 19.7 |
| Lou Whitaker | 37.3 | 3.5 | 30.6 |
| Willie Randolph | 37.2 | 3.8 | 22.0 |
| Chipper Jones | 36.9 | 5.5 | 39.1 |
| Ryne Sandberg | 36.0 | 6.9 | 22.0 |
| Sal Brado | 35.6 | 4.5 | 17.0 |
| Barry Larkin | 33.5 | 3.8 | 29.8 |
| Chase Utley | 33.0 | 8.0 | 12.3 |
| Eric Chavez | 32.9 | 0.1 | 1.0 |
| Rico Petrocelli | 32.6 | 2.3 | 0.8 |
| Jimmy Rollins | 32.0 | 1.6 | 6.7 |
| Robin Ventura | 31.4 | 5.5 | 15.4 |
The majority of those guys actually held their value well beyond their age 30 season. There will always been some decline, that's inevitable, but for the most part they've been solid. There are some complete collapses — Nomar, Knoblauch, Chavez, and Petrocelli — in there to serve as the harsh reminder of what could happen as well.
Looking specifically at the second baseman, Carew had begun the transition to first base during his age 29 season and was playing there full-time by 30. Knoblauch was done as a second baseman at 31. Grich, Whitaker, Randolph, and Sandberg all stayed at the position full-time until the end of their careers. Utley, 33, is breaking down but still a full-time second baseman. Roberto Alomar, who was slightly above my arbitrary 40 bWAR cutoff point, was a star up until age 33 before completely cratering. He was a full-time second baseman the entire time.
There is nothing we can to do to predict how Cano will age. We can look at aging curves and compare him to similar players and all sorts of stuff, but there's just no way to know. He could prosper (Whitaker), he could turn into a pumpkin (Knoblauch), he could do something in the middle (Randolph), or he could do something else entirely. Cano's durability is reassuring … until you consider all the wear-and-tear could manifest itself in an instant. The uncertainty is what makes a potential long-term deal so scary.
Back in August 2011, I spit-balled the idea of a six-year, $120M-ish contract extension that covered the 2012-2017 seasons, or Robbie's age 29-34 seasons. I have a hard time seeing Cano and Boras accepting those terms right now. The new CBA changed the marketplace, specifically by limiting spending on amateur players and therefore pumping more money in the big league marketplace. Add in the Dodgers factor and Robbie could be looking at Prince Fielder money (nine years, $214M) with a 2013 season that resembles his 2010-2012 efforts. That is a scary thought.
Cano is an elite player and he will be paid accordingly next winter. That's not much of a question. The real question is how long will he remain an elite player? How long will he stay at second? One more season? Two? Four? No one knows. The Yankees already have two big albatross contracts on their hands in A-Rod and Mark Teixeira, and it's likely only a matter of time before Sabathia joins them. Adding a fourth albatross could be crippling, especially if ownership won't budge from their plan to stay under the luxury tax threshold. I have no reason to believe they will.
As great as Cano is right now, the Yankees need to avoid repeating history and shooting themselves in the foot with another big contract for a declining player on the wrong side of 30. The Cardinals are doing just fine without Pujols, just like the Rays are doing just fine without Carl Crawford. Texas doesn't miss Teixeira at all. There is a price at which the Yankees should be willing to keep Cano — four years, $100M? five years, $130M? — but in this new age of "fiscal responsibility," the Yankees can't act like they used too. Hard and potentially unpopular decisions will have to be made.