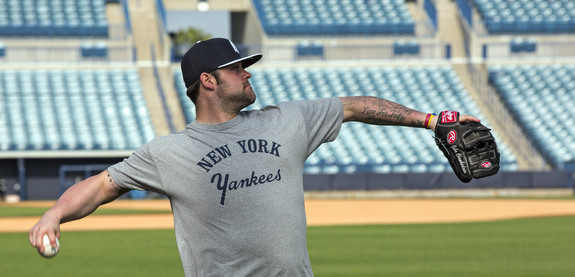 I thought we were beyond this. The whole "should Joba Chamberlain be a starter or reliever?" debate died a slow and ugly death a few years back, after the Yankees took matters into their own hands and officially declared the young right-hander a full-time reliever. There would be no more bouncing back and forth, no more Joba Rules, no more pitch counts, nothing. He will be a reliever and that's what he's done since.
Yesterday, despite not being asked any questions about the topic, Joba told reporters he still believes he has what it takes to be a starter in this league. Here is his full quote, courtesy of Mark Feinsand…
"This is probably going to spark a bunch of stuff and (PR director Jason Zillo) is going to be mad at me, but it's one of those things where it's like, do you think you have the capability to start? Yes. Do I have four pitches that I can throw for a strike? Yes. Do I have two plus pitches in the bullpen that I can throw at any time? Yes.

"I guess I'm trying to have my cake and eat it, too. I feel like I'm good enough to do both. I've proven that I can do both. Whatever it is, if I close, I want to be one or the other. I've been in the role of in the bullpen for a while, but am I confident that if I got the chance to start again somewhere – wherever that's at – I could do it? Without a doubt. I just have to focus on this year and what I can do to improve to help this team win, continue to try to win ballgames for them."
There are two things going on here, the first of which is pretty simple: of course Joba thinks he can start. Pretty much every reliever thinks he can start, especially relievers who are still a few years away from their 30th birthday. He's confident in his talent and believes he can handle a more important role, which is perfectly normal. It would be a little disappointing if Joba came out and said he's content as a reliever and doesn't think he's capable of pitching in someone's rotation. You always want your players striving for more, to be better.
Secondly, free agency is looming and starters make an awful lot more money than their bullpen brethren. It's not close either. The biggest free agent reliever contract in baseball history (Jonathan Papelbon) is nearly identical to the third largest free agent starter contract given out this past winter (Edwin Jackson), nevermind in baseball history. Being a starter pays much more because they're simply more important. You know this, I know this, Joba and his agent knows this.
With the obvious caveat that there is still eight months worth of baseball to be played between now and free agency, it seems very unlikely Chamberlain will be re-signing with New York after the season. That makes me sad. He's made it very obvious we wants to start and the Yankees won't give him that opportunity. That last part is very clear. Ivan Nova and his 4.41 ERA in 62 career starts is in camp competing for a rotation spot this spring while Joba and his 4.18 ERA in 43 career starts is not. Think about that. Nova has gotten 19 more starts (and counting!) to prove himself than Joba.
Anyway, some team is going to give Chamberlain a chance to start next year. He's still young enough (only 27) with good stuff and former top prospect shine, which is the kind of package that typically has fans clamoring for their team to swoop in. I'm guessing Joba will get a contract like Carlos Villanueva's (two years, $10M) with the promise that he'll compete for a rotation spot in camp with the bullpen as a fallback option. Maybe his quasi-hometown Royals will give him that deal, or maybe it'll be Padres and their big ballpark. I could see the Rays pulling off a move like that, the Rangers as well. Either way, Joba's days with the Yankees are numbered because there is still, six years later, a difference of opinion about his role.