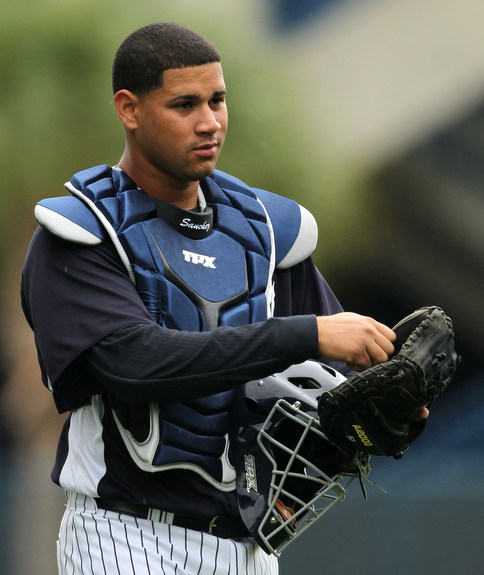 Baseball America published their annual (and long-awaited) list of the best 100 prospects in baseball today, a list that is predictably topped by Rangers SS Jurickson Profar. Unlike last year, when their were two legitimate number one candidates in Mike Trout and Bryce Harper, Profar is the clear top prospect this year. Orioles RHP Dylan Bundy and Cardinals OF Oscar Taveras round out the top three.
Like last year, the Yankees placed four players on the top 100. OF Mason Williams ranked the highest at #32, and was followed by C Gary Sanchez (#57), OF Slade Heathcott (#63), and OF Tyler Austin (#77). Those four were ranked #35, #18, #57, and #52, respectively, by Keith Law earlier this month, so Baseball America isn't quite as high on them. Here is the publication's top ten prospects list for reference.
The crew at Baseball America slapped 20-80 scouting scale grades on each of the top 100 prospects in a subscriber-only feature, which is nice and easy for the Yankees since they're all position players.
| | Bat | Power | Speed | Defense | Arm |
| --- | --- | --- | --- | --- | --- |
| Williams | 60 | 60 | 70 | 70 | 50 |
| Sanchez | 50 | 65 | 30 | 45 | 60 |
| Heathcott | 50 | 60 | 70 | 60 | 60 |
| Austin | 65 | 50 | 50 | 50 | 60 |
Those are future grades, not present, meaning the players are expected to grow into that kind of power, etc. down the line. Three of the four project to have five average-or-better tools down the line, which is pretty amazing. Baseball America may be high on Austin's right field defense and speed and a little low on Sanchez's bat, but they're the experts. Still a nice collection of tools, especially in the hit and power departments.
The Yankees ranked 11th in Baseball America's preliminary farm system rankings back in January, and the official list will be released in the coming weeks. There haven't been many big farm system-altering trades since the preliminary rankings came out, so I don't expect them to change much. As I wrote in my Top 30 List a few weeks ago, the Yankees have a top-heavy farm system with quite a big drop-off between these four and everyone else. Four top-100 guys is still pretty strong though, not many organizations can match that.