Our season preview series continues this week with the starting rotation, though the format will change just slightly. Since there's no clear starter/backup/depth lineage when it comes to starting pitchers, we'll instead look at each type of pitcher — ace, number two, back-end, etc. — at different levels.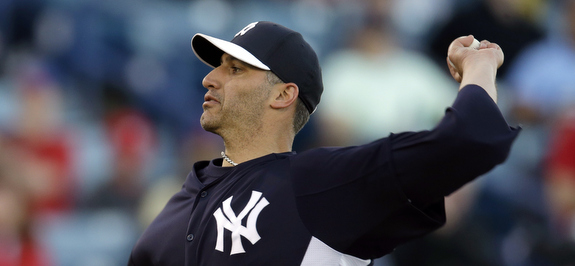 In the lexicon of numbered rotation slots, number three starters probably generate the least amount of conversation. We argue whether numbers twos are really aces (and vice versa), whether number fives are really numbers fours, but number threes are just kinda there. Since they're right smack in the middle of the five-man rotation, you'd think a league-average starter qualifies as a number three. That's not really the case though, the distribution of talent is not balanced. There are way more back-end guys than aces, so a number three should really be an above-average starter.
Ol' Reliable
I can't believe I'm writing a season preview post about Andy Pettitte in 2013. His comeback from a one-year retirement was a smashing success in 2012, at least when he was actually on the mound — a hard-hit ground ball fractured his leg in late-June and it kept him on the shelf until mid-September. Pettitte was stellar in the 12 starts he did make though, pitching to a 2.87 ERA (3.48 FIP) in 75.1 innings with career-highs in strikeout (22.8%) and ground ball (56.3%) rates. Andy pitched like an ace when healthy.
Less than three months from his 41st birthday, Pettitte returns again for what the Yankees hope will be his first full season in four years. Injuries limited him to 21 starts and 129 innings in 2010, so he hasn't made 30 starts or thrown even 150 innings since helping the club win the 2009 World Series. We all know Pettitte has the stuff, the command, and the pitching smarts to navigate a full season, but the question is his durability. That doesn't necessarily mean staying off the DL either, he could simply run out of gas in say, mid-August. It's going to be something the team will have to constantly monitor.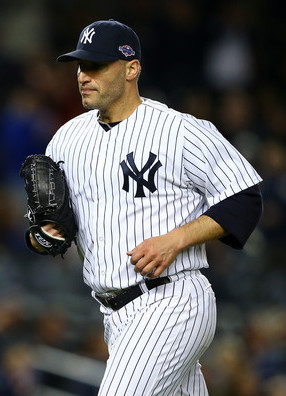 As amazing as those 12 starts were last year, I don't think it's at all reasonable to expect a similar performance in 2013. I'd take it in a heartbeat obviously, but I'm not expecting it. What I am expecting is regular ol' Andy Pettitte, which means a low-4.00s ERA — maybe less because of the decreased offensive environment — and lots of wiggling out of jams. If he manages to hold up and take the ball every five days, he should be among the best number three starters in baseball. Pettitte entered "you know what you're going to get" territory a long time ago, which of course is something that doesn't really exist. It just feels like we know exactly what he'll do over the course of the season.
Since the Yankees do have six viable big league starters, I do think they should be cognizant of Pettitte's workload during the course of the summer. That could mean using an off-day to skip his turn or giving him an extra day of rest between starts with some kind of modified six-man rotation. It's a tough thing to do because you want him to make as many starts as possible but not burn him out before things heat up late in the season. You also don't want to keep him from finding a rhythm. There's also the train of thought that all the time off from 2011-2012 did Pettitte's arm and body some good and he's as fresh as ever. Who knows. I'll be keeping an eye on the workload though, that's for sure.
Knocking on the Door
I'm not the biggest Brett Marshall fan in the world — ranked him 13th on my preseason top 30 prospects list — but the 22-year-old right-hander is slated to open the season with Triple-A Scranton and he has the tools to be a number three-type starter down the road. That includes a true four-pitch mix highlighted by the best sinker in the organization, a heavy low-90s offering that bores into right-handed hitters. A low-80s changeup is Marshall's second best pitch, and he'll also throw sliders and curveballs. My biggest concern is that he has struggled to miss bats as a professional, with a career 6.97 K/9 (18.3 K%) in full season ball and 6.82 K/9 (18.1 K%) in Double-A last year. Marshall would have to boost the strikeout rate a bit to reach that number three starter ceiling, which is something he could do as he further refines the two breaking balls. Either way, he hasn't missed a start since having Tommy John surgery in 2009 and has the workhorse part down pat. Marshall is on the 40-man roster and there's a pretty good chance we'll see him in the big leagues at some point this summer, but he does have a few guys ahead of him on the depth chart.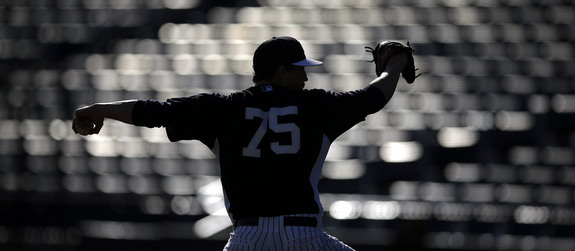 The Top Prospect
Two spots before Marshall on my preseason top 30 was left-hander Nik Turley, who is expected to open the season with Double-A Trenton. The 23-year-old has climbed the ladder deliberately since being a 50th round pick in 2008, though he has since emerged as one of the organization's better pitching prospects. Turley resides in the upper-80s/low-90s with his fastball even though his frame — listed at 6-foot-6 and 240 lbs. — makes you think he could crank it up into the mid-90s. A big overhand curveball is his most consistent offspeed pitch, but his changeup is solid and flashes more out-pitch potential. Unlike Marshall, Turley has had no trouble missing bats since getting to full season ball (8.88 K/9 and 23.5 K%). The Yankees added the big southpaw to the 40-man roster this past winter, though I do expect him to spend pretty much the entire year with the Thunder. If he makes his MLB debut in 2013, it means something has gone either unexpectedly excellent or horribly wrong.
The Deep Sleeper
I'm a very big fan (almost certainly too big) of 20-year-old left-hander Daniel Camarena. The Yankees bought him away from a commitment to San Diego with a $335k bonus as their 20th round pick in 2011, but a minor arm issue limited him to 17.2 rookie ball innings during his pro debut last summer. They were 17.2 really awesome innings — 15 strikeouts and no walks — but my fandom is based on his ability to throw strikes with three pitches. Camarena sits in the upper-80s/low-90s with his fastball and backs it up with a curveball and changeup, plus it all plays up because he commands everything well and knows how to set hitters up. When the Yankees drafted him, I half-jokingly said they were getting a college pitcher (in terms of polish) in a high school pitcher's body. He obviously has a long way to go before having a big league impact, but Camarena has everything needed to fill a mid-rotation slot down the road.
* * *
Pettitte is the number three starter in terms of where he expect him to slot into the rotation, though I think most fans consider him something more than that in terms of expected performance. I'm hedging my bets a bit because he hasn't thrown a full season in a while, but I wouldn't put repeating last year's performance past him. Pettitte has a knack for exceeding expectations and like the rest of his rotation-mates, he will be counted on heavily this summer. Youngsters like Marshall and Turley give the Yankees some nearly big league ready arms who project to fill a mid-rotation slot in the long-term.