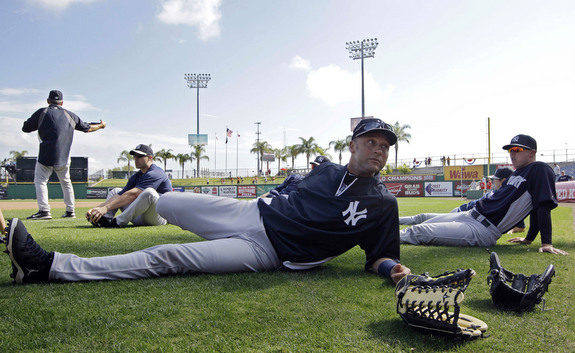 Derek Jeter is not playing against the Red Sox this afternoon, but that's not much of a surprise. He was scratched from yesterday's lineup with what was deemed mild left ankle inflammation, and given his importance to the team, it's obvious they were going to proceed with caution. I suppose he could return tomorrow night against the Twins, but if not he may not return to the lineup until Saturday since the Yankees are on the road Thursday and Friday. Either way, they're wise to play it safe in mid-March. Here's the starting nine…
LF Brett Gardner
SS Eduardo Nunez
3B Kevin Youkilis
1B Juan Rivera
RF Ben Francisco
2B Jayson Nix
C Chris Stewart
DH Thomas Neal
CF Melky Mesa
And on the mound is the lefty from San Diego, Vidal Nuno. CC Sabathia is throwing in a minor league game across the street. Here is the day's second string, courtesy of Chad Jennings.
Available Pitchers: RHP David Robertson, RHP Joba Chamberlain, RHP Cody Eppley, RHP Mark Montgomery, and LHP Josh Spence. Joba is scheduled to throw back-to-back days for the first time this spring.
Available Position Players: C Bobby Wilson, 1B Dan Johnson, 2B Corban Joseph, SS Gil Velazquez, 3B Jose Pirela, LF Ronnier Mustelier, CF Mason Williams, and RF Addison Maruszak are all coming off the bench. This will be Williams' first appearance in big league camp this spring.
There's some rain in the forecast this afternoon, but it's not supposed to start for another few hours. The game is scheduled to start a little after 1pm ET and can be seen on YES, ESPN, and MLB.tv (no local blackouts). Enjoy.