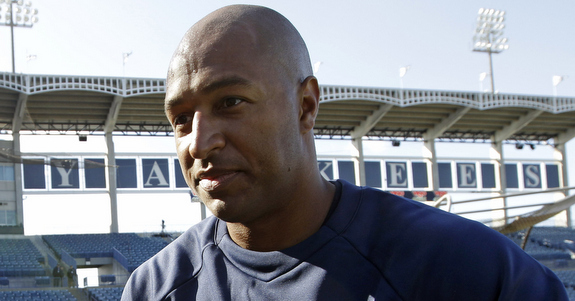 The Yankees and Astros played to a tie on Tuesday night. CC Sabathia allowed four runs in five innings, his final tune-up start before Opening Day. Mariano Rivera, David Robertson, Joba Chamberlain, Boone Logan, and Vidal Nuno all following with scoreless innings.
Brett Gardner and Travis Hafner did all the heavy lifting on offense, combining for three singles, a double, a triple, and a walk in eight plate appearances. Hafner was hitting the ball especially hard — Dan Barbarisi says he recently abandoned some changes he was trying to make to his swing — so maybe he's having a little 2012 Raul Ibanez-esque spring to life at the end of camp. Kevin Youkilis also doubled while Eduardo Nunez stole a base. Vernon Wells and Lyle Overbay went a combined 0-for-4 in their Yankees debuts. Here's the box score and here's the rest from Tampa…
The Yankees had until noon on Tuesday to either release Juan Rivera, add him to the 40-man roster, or pay him $100k and keep him on a minor league contract. They haven't made any sort of announcement and he worked out with the club before the game, so I'm guessing they paid him the $100k and he remains with the team as a non-40-man guy. Rivera is now competing with Overbay to fill in for Mark Teixeira at first base.
X-rays show that Curtis Granderson's fractured forearm is healing well, and he is scheduled for another checkup this week. He ran and stretched with the team today but is still a ways off from resuming baseball activities. Granderson will stay behind in Tampa once the season begins. [Meredith Marakovits]
Mark Teixeira is scheduled to have his injured right wrist examined on Monday. If everything checks out okay, he'll shed the brace he's been wearing and begin strengthening exercises. There's still a while to go before he returns, however. [Marakovits]
Derek Jeter said it is "disappointing" he won't be ready in time for Opening Day and acknowledged he may have pushed himself too hard during his rehab. Sound familiar? The Cap'n is unsure of his schedule going forward, he's just receiving treatment right now. [Bryan Hoch, David Lennon & Marakovits]
Phil Hughes is scheduled to pitch in a minor league game tomorrow. He is stretching out after missing a few weeks with a bulging disk in his back, but the Yankees are keeping him out of Grapefruit League games so they can back-date his DL stint if he won't be ready in time for the start of the season. That seems likely. [Chad Jennings]
Clay Rapada threw off a flat ground using his regular pitching delivery, which is apparently different than just playing catch. He is working his way back from shoulder bursitis and will start the season on the DL, Brian Cashman already confirmed. [Jennings]
Cesar Cabral threw live batting practice today and faced hitters for the first time since fracturing his elbow last spring. He had been on the same rehab schedule as Michael Pineda, who will face hitters in two weeks, but is now ahead because he doesn't need to get stretched out as a reliever. [Jennings]
Dellin Betances hurt his ankle — at first it looked like he was hit by a comebacker, but apparently he just rolled it — in a minor league game this afternoon and limped off the field. No word on the extent of his injury or how much time he'll miss, but he was on track to start Opening Day for Triple-A Scranton. [Donnie Collins]
Apparently Alabama head football coach Nick Saban was at the complex today to give a little pep talk to both the major and minor leaguers. So yeah.
The Yankees will be in Sarasota to play the Orioles tomorrow night. David Phelps gets the start while projected big leaguers Robinson Cano, Jayson Nix, Brennan Boesch, Gardner, and Nunez join him on the trip. That game will be broadcast on MLB Network and MLB.tv (no local blackouts) but not YES.