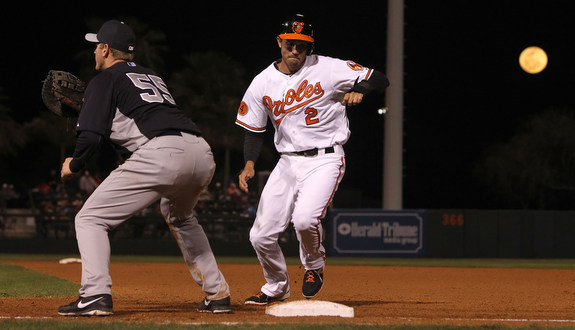 The Yankees beat up on the Orioles on Wednesday night thanks to two hits apiece from Eduardo Nunez, Lyle Overbay, and Ben Francisco. Brennan Boesch and Francisco hit a set of back-to-back homers while Mason Williams and Melky Mesa chipped in doubles. Thomas Neal singled, walked twice, and stole a base.
David Phelps allowed three runs in 5.1 innings in his final start of the Grapefruit League season, with all three runs coming in the fifth inning. He has a tendency to run into trouble in the fifth, so maybe it's a third time through the order thing. Branden Pinder (four runs, two outs) was the only real eyesore out of the parade of minor league relievers. Here's the box score and here's the rest from Tampa…
Derek Jeter won't resume any kind of activity until Monday at the earliest. They want to make sure he and his bum ankle get enough time to rest and heal before jumping back into things. The April 6th return date sure seems optimistic since they want him to play back-to-back nine-inning games before returning. [Bryan Hoch]
Ivan Nova got rocked in his minor league game this afternoon, allowing seven runs in five innings. Afterwards he called his spring "not good," which is usually what people say when they allow 17 runs in 24.1 innings. [Hoch]
Robinson Cano was held out of tonight's lineup with a stomach bug, but it's not a big deal and he'll play tomorrow. Ronnie Mustelier, meanwhile, was scratched from tonight's lineup after his knee "cracked" during pregame warmups. He'll be sent for tests tomorrow. [Sweeny Murti, Erik Boland & Andy McCullough]
This is weird, but apparently Joe Girardi indicated David Aardsma might not make the team. The 31-year-old missed a few days with a groin problem a few weeks ago but has otherwise pitched well in Grapefruit League action — three runs, one walk, seven strikeouts in seven innings — so I don't know what that's about. [Dan Barbarisi & Mark Feinsand]
Dellin Betances did some flat-ground work and fielding drills today after leaving yesterday's minor league start with some kind of ankle injury. He seems to be fine after that little scare and remains on track to start Opening Day for Triple-A Scranton. [Josh Norris]
The Yankees have apparently traded minor league infielder Jose Mojica to the Phillies for an unknown return. The 24-year-old hit .226/.265/.305 (61 wRC+) in 379 plate appearances for High-A Tampa last year. Can't imagine the return was anything special. [Norris]
The Yankees will play their final Grapefruit League game of the year on Thursday when the Pirates come to Tampa for a matinee. Hiroki Kuroda will get that start and the game will not be televised.