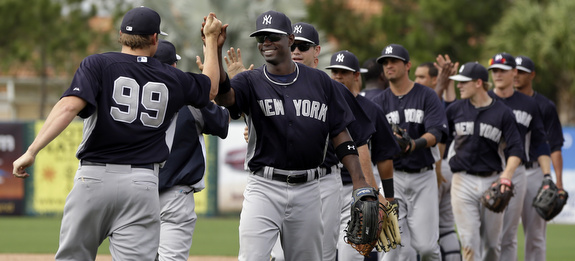 The Yankees beat the Twins this afternoon, but Ivan Nova didn't pitch all that well (five runs in 5.1 innings). After David Phelps got knocked around last night, I guess it was only fair for Nova to return the favor and keep the fifth starter's competition close. Eduardo Nunez, Corban Joseph, and Thomas Neal all had two hits while Ronnie Mustelier had three. Robinson Cano and Chris Stewart both doubled as well. Here's the box score and here's the rest from Tampa…
Derek Jeter took batting practice on the field this morning and his surgically repaired/cortisone shot ankle came through just fine. "It's a day-to-day thing. Today was here. We'll see what happens tomorrow," said the Cap'n. He doesn't know what the next step is, but Brian Cashman indicated he could play in a minor league game as soon as tomorrow. [Meredith Marakovits, Chad Jennings & Andy McCullough]
Hiroki Kuroda threw 88 pitches in seven shutout innings in a minor league game this afternoon, the team announced. Phil Hughes threw 57 pitches in three innings of three-run ball in a separate minor league game, in case you missed it.
Brennan Boesch was scratched from this afternoon's lineup with what is officially being called a "stiff left ribcage." He missed about two weeks with the Tigers earlier in camp because of a right oblique problem, which may or may not mean something. Cashman said Boesch was removed from the lineup as a precaution and won't play until Sunday at the earliest. [Evan Drellich, McCullough & Bryan Hoch]
Alex Rodriguez is still doing physical therapy following left hip surgery and hasn't resumed baseball activities. That's not much of a surprise. "I think he is doing a lot of work in the pool,'' said Joe Girardi while Cashman added: "I am not sure when his actual rehab to field activity will take place … Once he does baseball activity we will get him (to Tampa).'' [George King]
The Yankees will be in Lakeland tomorrow to play the Tigers. Andy Pettitte will get that start, and he'll be joined by projected big leaguers Stewart, Travis Hafner, Jayson Nix, Nunez, Brett Gardner, Juan Rivera, and Ichiro Suzuki on the road trip. That game will not be broadcast anywhere, unfortunately.
Here is your open thread for the evenings. The Knicks and Islanders are both playing, plus MLB Network is airing some Spring Training games. Talk about all of that stuff and more. Enjoy.