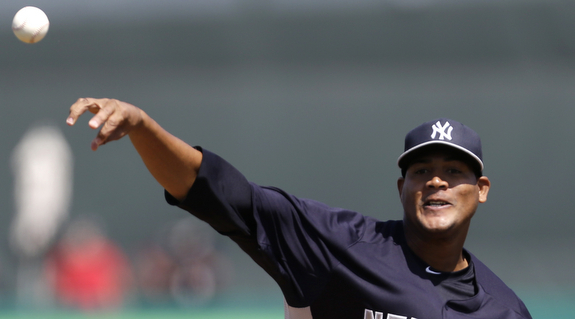 The Yankees lost to the Cardinals (via walk-off hit) this afternoon and believe it or not, Brett Gardner was actually held hitless. Chris Stewart and J.R. Murphy doubled while Ramon Flores, Ichiro Suzuki, Dan Johnson (first hit of spring!), Frankie Cervelli, Matt Diaz, Thomas Neal, Austin Romine, Ronnie Mustelier, and Addison Maruszak all singled. Cervelli and Mustelier also stole bases while Diaz was thrown out.
Ivan Nova allowed one run on three hits and a walk in his three innings of work, and even though it's only been two outings, he's already pitching better than he had last spring. He got crushed in camp last year but everyone was too busy paying attention to Michael Pineda's velocity. Brett Marshall got hit around a bit, surrendering three runs on five hits in four innings, including a pair of homers. Here's the box score and here's the rest from Tampa…
Here is your open thread for the night. All three hockey locals plus the Knicks are in action, and you've also got the World Baseball Classic on MLB Network. Robinson Cano's Dominican Republic team is facing Venezuela. Talk about any of those guys or anything else here. Enjoy.