Starting this week and continuing through the end of the Spring Training, we're going to preview the Yankees position-by-position and on a couple of different levels.
For the first time since 2003, the Yankees figure to have someone other than Alex Rodriguez play the majority of their games at third base this season. A-Rod is recovering from a(nother) hip surgery and will be out until midseason, leaving the team without one of its most potent right-handed hitters following an offseason that saw a few too many power bats depart via free agency.
The Starter(s)
It was supposed to be A-Rod, but the surgery will keep him on the sidelines until the All-Star break if not longer. The Yankees replaced him by signed Kevin Youkilis to a one-year deal worth $12M, and suddenly he's become a very important part of the offense now that Curtis Granderson and Mark Teixeira will open the year on the DL.
Youkilis, who turns 34 one week from today, put up a .235/.336/.409 (102 wRC+) batting line in 509 plate appearances for the Red Sox and White Sox last summer. He did go deep 19 times and drew his usually high amount of walks (10.0%), but his game has been on a steady decline for years now. Just look at his graphs page on FanGraphs, everything is heading in the wrong direction. Youkilis is hitting more and more ground balls with each passing year, which is a classic symptom of an older player losing bat speed. To his credit, he worked with hitting coach Kevin Long in the offseason to shorten his stride and compensate.
Despite that decline, Youkilis is still a useful player. He absolutely annihilates left-handers, tagging them for a .275/.386/.492 (135 wRC+) line last year and a .323/.436/.598 (174 wRC+) line over the last three seasons. No hitter in baseball has been more productive (by wRC+) against southpaws since 2010. His defense at the hot corner is below-average but not a disaster, plus he can slide over to first base without a problem. Youkilis is injury prone, having visited the DL in each of the last three seasons (thumb, back, hernia). The Yankees need him to stay on the field in 2013, especially early in the season.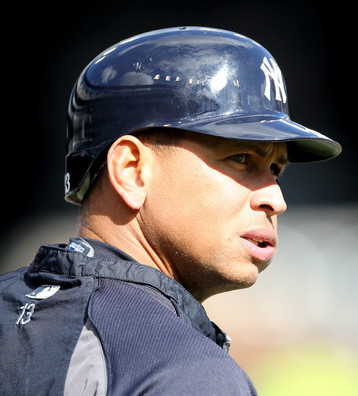 Of course, Youkilis is only the third baseman because A-Rod will miss the first half of the season. He's visited the DL every year since signing his $275M scarlet letter prior to the 2008 season, but this injury is the most serious: a torn left hip labrum, a bone impingement, and a cyst. The doctors say he will make a full recovery but the Alex of old is long gone. His .272/.353/.430 (114 wRC+) performance in 2012 was solidly above-average but far below his career norms. Like Youkilis, almost everything on A-Rod's graphs page is going in the wrong direction.
For all intents and purposes, the Yankees have to proceed under the assumption that Rodriguez will not be back this season. They can't count on him for anything, let alone to ride in on a white horse to save the offense in the second half. It's unclear how the new hip procedure will impact his swing — he was unable to use his lower half as much following the right hip surgery in 2009, and that injury was less severe — or his defense or his mobility. Anything the club gets out of Alex in 2013 is total gravy. Youkilis will be counted on as the starter until his contract expires as far as I'm concerned.
The Backup
With the Yankees continuing to groom Eduardo Nunez as a shortstop and Dan Johnson both failing his Spring Training hot corner audition and being needed at first base in the wake of Teixeira's injury, the backup third baseman is Jayson Nix. The 30-year-old is a versatile little player who does almost all of his offensive damage against lefties (97 wRC+ in 2012 and 94 career) and has surprising pop (career .157 ISO). Unless the Yankees swing an unexpected trade before the season begins, Nix will be Youkilis' primary backup at the hot corner and he could play pretty much full-time against southpaws if Johnson takes over at first.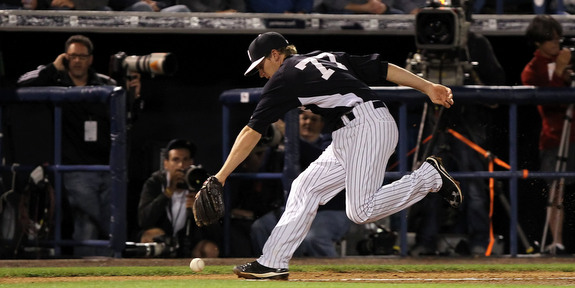 Knocking on the Door
The Bombers do have some third base depth in Triple-A Scranton. David Adams and Corban Joseph are both second basemen by trade, but the 25-year-old Adams shifted over to third late last year while the 24-year-old Joseph has played the position quite a bit in the spring. Outside of one being a right-handed hitter (Adams) and the other being a lefty (Joseph), the two players are very similar. They are both willing to take a walk and can hit for doubles power, though their glovework leaves something to be desired. Joseph in general has trouble making the long throw across the diamond. He's expected to open the year at second base in Triple-A while Adams mans third, but both will surely get reps at each position to stay fresh.
It's worth mentioning 28-year-old Ronnie Mustelier here, who played third base in yesterday's Grapefruit League game — Joe Girardi said that was planned before Teixeira's injury — and has played 26 games at the position in the minors since signing two years ago. The Yankees have moved him down the defensive spectrum from second to third to left in the last 20 months or so, but it's fair to wonder if they'll give him a longer look at third in the coming weeks. Mustelier can hit a fastball and put the ball in play, but the defense is a question. I don't think he's a legitimate third base candidate at the big league level but we shouldn't rule it out.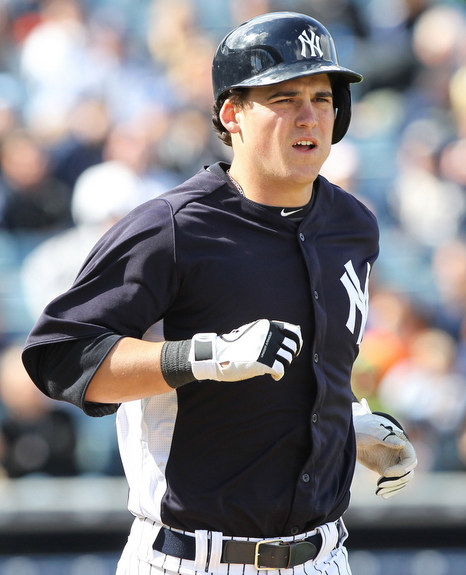 The Top Prospect
There's a pretty strong case to be made that the team's best third base prospect is an outfielder. Tyler Austin — who ranked third on my preseason top 30 prospects list — moved off the hot corner last year in deference to 2011 first rounder Dante Bichette Jr., and he mashed (.322/.400/.559 and ~163 wRC+) his way up to Double-A Trenton while settling into right field. The Yankees have considered moving him back to third base, but as far as we know that won't happen. It's not like the club has a long-term right fielder in place, so no big deal. He'll open the year back with Trenton and we shouldn't rule him out as a big league factor for 2013, but it's unlikely. Boy can he hit though.
Outside of Austin and multi-position infielders Adams and Joseph, the Yankees' top true third base prospect is Bichette. I ranked him 27th on my preseason top 30 for a few reasons, most notably because he fell back into some bad swing habits and had a miserable season with Low-A Charleston (.248/.322/.331 and 85 wRC+). Bichette was named the MVP of the rookie level Gulf Coast League Yankees after signing in 2011 because he made some adjustments at the plate, but he has to get back to being that guy if he wants to avoid becoming a non-prospect less than three years after being drafted. The Yankees will return him to the River Dogs this year and he's a long way from being a big league factor.
The Deep Sleeper
New York spent $750k to sign 18-year-old Miguel Andujar out of the Dominican Republic back in 2011, then he hit .232/.288/.299 (80 wRC+) in 191 plate appearances for the rookie level GCL club in his pro debut last summer. Disappointing performance aside, Andujar is the team's best lower level third base prospect because he's a solid all-around player with no carrying tool but no real weakness. He has good pop and hitting ability from the right side to go along with strong defense at the position. If he grows into some more power or suddenly becomes a much more adept defender, Andujar will raise his profile quite a bit. He'll open the year back in Extended Spring Training before joining Short Season Staten Island in June, though he doesn't have a ton of breakout potential.
* * *
The Yankees have a decent amount of third base depth at the upper levels, but they lack a true impact player at the position. I suppose Youkilis could surprise and revert to his 2008-2010 ways, but he's a deal pull right-handed hitter who will no longer have the advantage of the Green Monster. Despite its general hitter friendliness, Yankee Stadium is not kind to pull-happy righties. Nix, Adams, Joseph and even Mustelier are decent alternatives and emergency options, but the front office should keep their eyes peeled for corner infield help while Teixeira is out, even if it means acquiring a new starting third baseman with Youkilis sliding over to first.
Other Previews: Catchers, First Basemen, Second Basemen, Shortstops