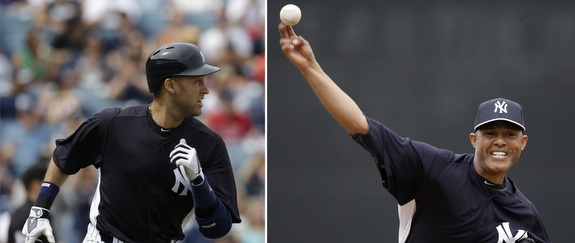 The Yankees lost to the Braves this afternoon, but the outcome of the game was secondary to the return of Mariano Rivera and Derek Jeter. Mo struck out two in a perfect inning while the Cap'n singled and grounded out in his two at-bats as the DH. Both guys were making their Grapefruit League debuts, as you know.
Other than that, Jose Ramirez was a star of the game, allowing one hit and zero walks in four scoreless innings. He struck out four and was very, very sharp. Ichiro Suzuki singled twice while Ronnie Mustelier had an opposite field triple, which pretty much sums up the offense. The Yankees have scored zero or one run more times this spring (six) than they have three or more runs (five). That should (hopefully) correct itself once all the regulars start playing in the same lineup together. Here's the box score and here's the rest from Tampa…
Phil Hughes (back), David Robertson (shoulder), and David Aardsma (groin) all threw bullpen sessions this morning and everything went fine. There were no issues. Hooray for that. [Chad Jennings]
Right-handers Tommy Kahnle and Kelvin Perez were both reassigned to a minor league camp. By my unofficial count, the Yankees still have 64 players in big league camp. [Jennings]
The Yankees will be in Dunedin to face the Blue Jays tomorrow afternoon. David Phelps gets the start and Frankie Cervelli, Dan Johnson, Jayson Nix, Kevin Youkilis, and Brett Gardner are the projected big leaguers making the trip. That game will be on MLB.tv only.
Here is tonight's open thread. The Devils, Knicks, and Nets are all playing, plus you'll have USA vs. Italy in World Baseball Classic on MLB Network at 9pm ET. If USA loses, they're as good as eliminated. Talk about those games or anything else here. Enjoy.