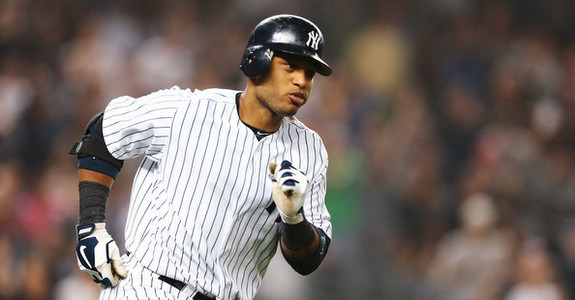 The Tigers and Giants signed their franchise players to long-term contract extensions last week, now it looks like the Yankees are about to do the same. During a recent ESPN Radio interview, agent Scott Boras confirmed the Yankees and second baseman Robinson Cano are on the verge of a "historic" contract extension. Here's the money quote, pun intended:
"Mr. Steinbrenner and the Yankees have made it very clear they want Robinson to remain a Yankee for the rest of his career … We are finalizing a historic contract that will make the Robinson the highest-paid player in baseball and keep him in New York for the next 12 years and the duration of his career. Both sides are pleased with the progress we've made in recent weeks and expect an official announcement soon."
Boras went on to say the contract is "heavily front-loaded" and indicated the last few years of the deal would have a low base salary. It sure sounds like the two sides agreed to tack on some extra years at a dirt cheap salary to drag down the average annual value for luxury tax purposes. Cano and Boras get to say they got a historic contract while the Yankees presumably maintain payroll flexibility for their plan to get under the $189M luxury tax threshold by 2014. Seems like a win-win.
Brian Cashman confirmed the Yankees made Cano (and Boras) a "significant offer" late last month, and it appears the two sides continued to negotiate through Spring Training. Robbie had been scheduled to become a free agent after this season. There's no word on the money yet, but the whole "highest-paid player in baseball" thing suggests the contract could be in excess of the $275M deal Alex Rodriguez signed prior to the 2008 season.
Obviously it will be very interesting to see the terms and structure of the contract. If the two sides did agree to low salaries in years 8-12 or 11-12 or whatever, MLB might get involved because it would qualify as blatant luxury tax circumvention. The NHL had an issue with similar contract structures in recent years before stepping in, so I'm sure this is something on MLB's radar. Especially since the Yankees have been so vocal about getting under that luxury tax threshold going forward. We'll see. Obviously we'll have much more in the coming days.
Now, just to be clear, this is absolutely, 100% an April Fool's joke. Literally nothing about the post is true. Not the radio interview, not the quote, not the 12-year contract term, nothing. It's all completely made up and an attempt to have some fun on the eve of Opening Day. Pretty convenient timing this year, I must say. Hope you enjoyed the post, and if not, well then too bad. The Yankees season starts in 13 hours, so cheer up.