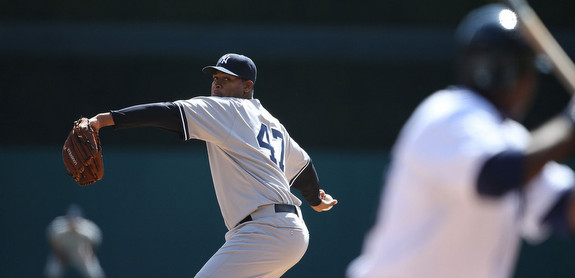 We all knew the Yankees were going to rely on their pitching staff this year, especially early in the season. That's why it was bummer to watch the starters allow a combined 15 runs in 23 innings during the first five games of the year (5.87 R/9). They've rebounded to allow just 11 runs in 39.1 innings in the last six games (2.52 R/9), but none of those last six starts were made by Ivan Nova.
Nova, 26, nibbled his way to four runs in 4.2 innings against the Tigers last week, putting himself in hitter's counts and long at-bats all afternoon. The Yankees used last week's rainouts to skip his turn, a move that wasn't unjustified given not only his first start of the season, but also his second half a year ago. Nova was pretty dreadful down the stretch, remember. He will get the ball tonight in the series opener against the Diamondbacks on nine days rest.
"I always worry about starters the first time through to begin a season," said Joe Girardi to Mark Feinsand following Nova's first start. "I think they can get a little excited, they can get a little hyped up. Position players go through it for one day; for a pitcher, if you're the second starter, it builds up a couple days. Third starter, it's more, fourth starter it's even more. I don't judge them too quickly on their first starts, because that's a concern. For him, it's consistency down in the zone."
Regardless of whether it's consistency down in the zone or strike-throwing in general or something else entirely, Nova might be starting to run out of rope. He allowed 55 runs in his final 72 innings last summer (6.88 R/9) and by the time late September rolled around, Girardi went from not giving him a chance to work out jams (2.1 and 4.2 innings in his final two starts) to not giving him the ball entirely, skipping Ivan in favor of David Phelps in Game 161 with the division title on the line. Add it all together and it doesn't seem like the team has a ton of faith in him at the moment.
"I have to look at it like a regular start … If I start doing anything differently, I'll be in trouble," said Nova to Dan Martin. "It's tough when you're not pitching good and you don't get a chance to go out there for a lot of days. It's a little bit frustrating … But I have to fight. I don't think they're worried about me and I don't think they should be worried about me."
Nova threw an extended bullpen session on Friday in an effort to stay sharp, but his issues extend beyond just staying sharp. His stuff is plenty good, but adjustments have to be made and his command needs to be refined. Perhaps working backwards and using the breaking ball earlier in counts would help, who knows? Given how CC Sabathia and Hiroki Kuroda have rebounded while Phil Hughes struggles and Andy Pettitte is sidelined with old man back, Nova is suddenly an important part of the rotation. Getting things straight and soon, as in tonight, is very important for the Yankees going forward.