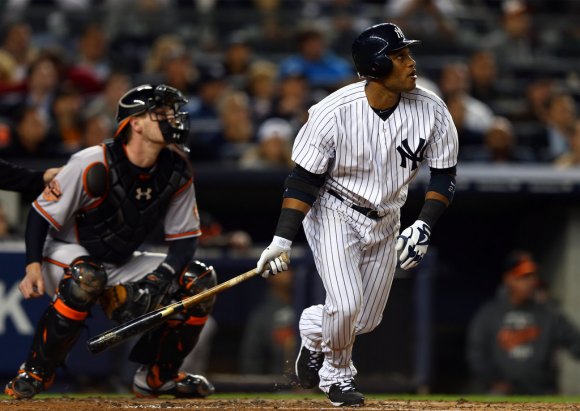 Perhaps the policy had been in place previously, but the first time I remember Brian Cashman mentioning it was during the spring of 2007. In camp that year the Yankees had two important players who were set to hit free agency following the season: Jorge Posada and Mariano Rivera (plus A-Rod's looming opt-out situation). Instead of talking contract with them before the season and therefore keeping them out of the free agent picture, the Yankees instead opted to wait, saying it was policy to not extend contracts before free agency.
At the time the policy was sensible enough. It allowed them to remain flexible. If a player got hurt before the end of a contract, they weren't on the hook for any additional years and dollars. Once the players did hit free agency, the Yankees had a whole pool of players from which they could choose. At a time when many small and mid market teams let their best players hit free agency, the Yankees stood to take great advantage.
In the past six years the situation has changed quite a bit. Those small and mid market teams have bigger budgets now, thanks in part to the revenue sharing program. They're using those dollars to lock up their best players to long-term deals. Here is a list of significant extensions in recent seasons. (Free agency dates in terms of, would be a free agent following the XXXX season; option years in parenthesis.)
| Player | Orig. FA | New FA |
| --- | --- | --- |
| Joey Votto | 2013 | 2023 (24) |
| Felix Hernandez | 2014 | 2020 |
| Buster Posey | 2016 | 2021 (22) |
| Cole Hamels | 2012 | 2018 (19) |
| Justin Verlander | 2014 | 2019 (20) |
| David Wright | 2013 | 2020 |
| Matt Cain | 2013 | 2017 (18) |
| Ryan Zimmerman | 2013 | 2019 (20) |
| Adam Wainwright | 2013 | 2018 |
That just covers the $100-million-plus extensions. Adam Jones, Andre Ethier, Ian Kinsler, Yadier Molina, Starlin Castro, Miguel Montero, Andrew McCutchen, Gio Gonzalez, Alex Gordon, and Madison Bumgarner, among others, also got extensions that take them past their original free agency dates. Given the rash of recent extensions, the younger of that group could see further extensions before they reach that already delayed free agency date.
Another name will soon join the $100-million-plus club: Elvis Andrus. This morning Jon Heyman reported that the Rangers and Andrus were nearing an eight year extension worth $120 million, which will keep Andrus under contract for the next 10 years at $131 million total. This comes when the Rangers still have two years left on Andrus's current contract and also have baseball's No. 1 prospect Jurickson Profar waiting for a chance. There goes another player the Yankees can't acquire via free agency.
The days of acquiring superstar talent via free agency seem like a distant past. This past off-season there was little superstar talent freely available. It was essentially Josh Hamilton, and he went to the Angels with all of his flaws. If you look at next year's top free agents you'll notice that one of them is already off the board, and the rest have plenty of downside. After Cano there are injury risks and older players, but generally there isn't a superstar present. It's Cano by his lonesome. The 2015 free agent list looks bleak as well. There's Clayton Kershaw, but he appears to be nearing a mammoth extension. The only player that looks halfway useful for the Yanks is Asdrubal Cabrera, but even the Indians appear willing to spend money these days.
The old policy doesn't work in the new world. Teams simply aren't letting their best players reach the point of free agency. They're offering security in exchange for some level of savings from full market price, and the players are jumping at the opportunities. When the Yankees let their own players hit free agency, they're not longer creating flexible situations. They're essentially driving up those players' prices. Unless they have an in-house replacement, chances are they're going to lose production in the deal if they don't re-sign the player.
All of this, of course, goes back to Robinson Cano. The Yankees have apparently thrown out their policy and have made a significant offer to Cano, but apparently it's not enough to get the deal done. With Scott Boras that's expected, but then again Andrus is a Boras client. There remains a small chance the Yankees can work out something with Cano before November, but given his status as the league's best second baseman, combined with possible interest from the newly rich Dodgers, it doesn't seem like a strong possibility.
Hindsight suggests that the Yankees should have started working on an extension for Cano after the 2010 season. Unfortunately, that's also when Cano hired Boras as his agent. Boras did come to the Yankees with the idea of ripping up Cano's current contract and negotiating a new one, and at this point that appears to be an option the Yankees should have considered. They now face losing not only their best player, but their only star player — one who has no apparent successor. (As a superstar, not as a second baseman.)
Where will the Yankees be next year if they lose Cano? They're then back to relying on Mark Teixeira and Alex Rodriguez to be their superstars. Much as I like both of them and appreciate what they contributed to the 2009 World Series team, it has become apparent that their lineup-carrying days are over. The free agency market is bare. Teams aren't willing to trade premium talent for prospects any longer. If the Yankees want to continue having a star in their everyday lineup, it will mean ponying up huge dollars, and probably nine or 10 years, for Cano.
Perhaps in a few years the situation will change and star players will either hit free agency or get dealt to a big market team that offers an extension. For the time being, the emphasis is on developing premium talent in the minor leagues. The Yankees are greatly disadvantaged here, given their annual draft position. But that's a topic for a different post.