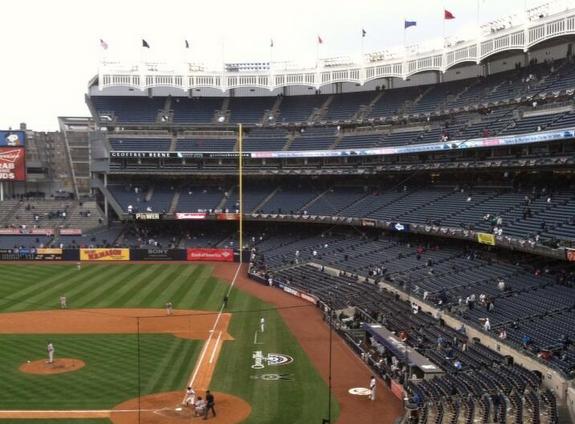 The Yankees kicked off the season yesterday afternoon with a game that was basically the sum of all fears: an ineffective offense, a diminished CC Sabathia following elbow surgery, and sketchy bullpen work aside from Mariano Rivera and David Robertson. It wasn't an ugly loss, per se, but it was a flat and uninteresting game. Add in weather that got increasingly cold, wet, and windy as the afternoon went on, and it's no surprise the stands looked like the above photo by the ninth inning. Oh well, it's only one game. Still 99.4% of the season left to play.
1. It didn't hit me how vulnerable the Yankees are against left-handed pitching until I saw yesterday's lineup. Eduardo Nunez hitting second? Jayson Nix and Ben Francisco in the lineup? That is weak. At least against righties they'll have Travis Hafner and Lyle Overbay. The against-lefties lineup will improve when Derek Jeter and Mark Teixeira return, but who knows when that will happen. The Yankees aren't likely to face many southpaws over the next two weeks because their upcoming opponents have righty-heavy rotations, but there are a lot of good left-handers in the AL East and they won't be able to avoid them forever.
2. Not a day goes by that I don't lament the inability to trade for Justin Upton. The Yankees desperately need that type of young impact bat, a true cornerstone type of player whose best years are (theoretically) ahead of him. Upton has that big right-handed power that plays in any park, a perfect lineup anchor for the team that could sign a lefty hitter off the street and get 20 homers out of him thanks to the short porch in right field. The Diamondbacks reportedly didn't like the prospects the Yankees had to offer, but damn. Upton would have been perfect.
3. While on the subject of offense, I would much rather watch a team that can't pitch than a team that can't hit. Especially over the course of 162 games, no question asked. Nothing is more frustrating than being unable to score runs, even blowing leads inning after inning. Also, you can get to the playoffs as an all-hit/no-pitch team. The Yankees have done that a bunch of times before, including in the not-too-distant past. No-hit/all-pitch though? It's one of the easiest ways to ensure early tee-times in October.
4. Boone Logan absolutely terrifies me right now. Between the barking elbow in camp and the league-leading workload last year and the fact that Joe Girardi will use him often since he's the only lefty … I'm nervous. He was fine in yesterday's game, but man, I feel like it's all going to blow up at some point. The Yankees have plenty of left-handed relief depth, specifically Vidal Nuno and Josh Spence in Triple-A with Cesar Cabral due to return at midseason, but I feel like Logan will have to blow up before the team dips into that depth. He feels like a grenade with the pin pulled.