Yesterday's news that right-hander Ty Hensley is likely to miss the rest of the season following hip surgery kinda got me thinking about the team's first round draft picks in recent years. Before we get into it, let's look at the actual picks…
Those are the team's first and supplemental first round selections during the Damon Oppenheimer era. He replaced long-time amateur scouting director Lin Garrett after Brian Cashman got his supposed autonomy following the 2005 season. Garrett was one of George Steinbrenner's guys and his drafts were amazingly unproductive in the early-2000s.
Anyway, the Yankees have done a miserable job of turning their early picks into big league players. This dates back a long way too, basically all the way back to when they drafted Derek Jeter in 1992. Only three of their first and supplemental first round picks since then — Eric Milton (1996), Mark Prior (1999), and Kennedy (2006) — have accumulated even 10+ WAR in the show. All three did so with other teams. Their most productive first rounders other than those three are Phil Hughes (7.6 WAR) and Joba. That's it.
More recently, their top picks under Oppenheimer have been a mess of … everything. He had a brilliant first draft in 2006, a draft that probably set expectations unrealistically high. They selected 50 players that year, signed 36, and ten reached the big leagues. Six of them are mainstays around the league (Kennedy, Joba, Zach McAllister, George Kontos, Mark Melancon, David Robertson). That's a pretty tough act to following.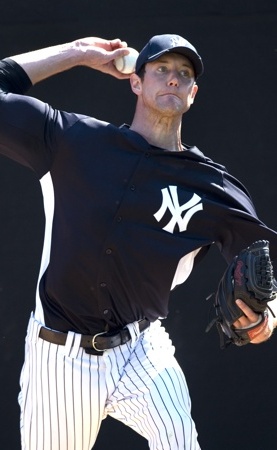 Brackman in 2007 was a classic "good pick that didn't work out." It happens. He was the highest-ceiling prospect on the board but also maybe the riskiest, especially when you consider his asking price and all that. Looks silly in hindsight, but the Yankees really shot for the moon with that pick. New York was lucky Cole slipped to them the following year, but unlucky when he decided three years at UCLA was preferable to turning pro. New York offered the prep right-hander a well-above-slot $4M bonus, so they certainly made a huge offer.
The last few years have been a little more questionable. Their top selections from 2009-2011 were all considered reaches by the publicly available consensus rankings, and so far only Heathcott has made the team look smart. He's had injury problems but is regarded as one of baseball's top 100 prospective big leaguers. Cito Culver and Dante Bichette Jr., their top picks in 2010 and 2011, have been unmitigated disasters so far. The picks were widely panned at the time of the draft and it's easy to see why. Those two haven't developed in the pro ranks and don't even have trade value at this point.
Hensley's career is just getting started, so we can't pass judgement on him yet. We definitely know what the Yankees have in their top selections from 2007-2011, and that's very little. It's Heathcott, that's it. Brackman has since been released, Cole went to school and was drafted first overall by the Pirates two years ago, and then there's Culver and Bichette trying to figure things out by repeating Low-A Charleston. Whole bunch of nothing, really.
The Yankees have three first round picks this year — three of the first 33 picks in the entire draft, the first time they can say that since 1978 — and nearly $8M worth of draft pool money at their disposal, and I think it's absolutely imperative they improve their first round results. It's not easy to do, especially when you're always picking in the back half of the first round, but this first round talent drought is nearly two decades old. They aren't even turning these picks into trade chips these days and that needs to change, especially given the club's self-imposed austerity.
I think — and this is just my opinion here — the Yankees have made some very questionable early picks the last three or four years. I think they got a little gun shy after Brackman blew up and Cole walked away, causing them to go a little more conservative with their top selections. They targeted players they knew they could sign, and while that is important, it shouldn't trump talent. These three picks this year are a golden opportunity to inject some life and impact talent into the farm system, and simply maintaining the status quo and doing what they've been doing in recent years obviously isn't good enough. There was a shift in strategy following Brackman and Cole, and now there needs to be another one after these last few drafts.