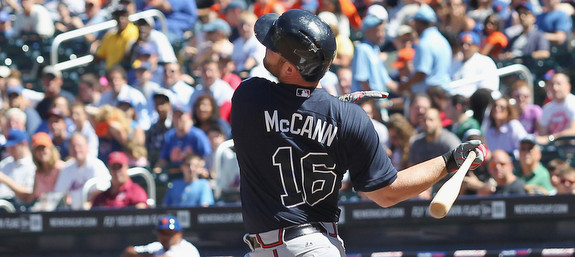 Despite yesterday's loss, I think it's fair to say the Yankees have exceeded expectations so far this year. They've won 18 of their first 30 games thanks mostly to strong pitching and timely hitting, which is exactly what the team needs to do while waiting for some of the injured guys to return. Curtis Granderson is already playing in Extended Spring Training games while Alex Rodriguez, Mark Teixeira, Kevin Youkilis, Frankie Cervelli, and Derek Jeter are heading to Tampa to continue to rehab today.
As good as things have gone so far, the Yankees still have some pretty obvious holes. Holes the team might not be able to endure until the injured guys return, holes the injured guys might not even be able to fill. That's what the trade deadline is for, and this year Brian Cashman & Co. might have to spring into action a little sooner than usual. New York tends to be patient leading up to the deadline, but their margin for error is much smaller these days because the division is so competitive. Here's a look at some holes that will need to be addressed one way or another.
Need: Catcher
Possible Targets: Nick Hundley, John Buck, Kelly Shoppach, Brian McCann
The Yankees have gotten surprisingly strong work from their catchers this year (111 wRC+), but basically all of that is Cervelli's ridiculously hot first three weeks. The team just placed him on the 60-day DL with a fractured hand last week, so he'll be out of commission until at least early-July. Given how hand/wrist/finger injuries tend to linger for weeks even once the healing process is complete, it's tough to expect him to return as the 140 wRC+ player he was before the injury. I don't think that was sustainable even if he was perfectly healthy.
Chris Stewart is no starting catcher — not for a contender, anyway — and Joe Girardi obviously has little faith in Austin Romine, so adding some help behind the plate sure seems like something that should be high on the deadline agenda. Hundley (127 wRC+) has rebounded from his miserable 2012 campaign, and the Padres could make him available once Yasmani Grandal returns from his 50-game suspension. He's under contract affordably through 2015 ($9M total) and would help both now and in coming years. Buck (139 wRC+) and Shoppach (137 wRC+) are off to nice starts and their value is probably inflated. McCann is the wildcard, since the Braves could decide move the impending free agent in favor Evan Gattis and Gerald Laird. He's coming off shoulder surgery and has yet to play this year. I wrote more about the idea of acquiring him in last week's mailbag.
Need: Right-Handed Bat
Possible Targets: Mark Reynolds, Corey Hart, Justin Ruggiano
It's no secret the Yankees have positively stunk against left-handers this year, hitting just .222/.295/.359 (75 wRC+) as a team against southpaws. Ben Francisco (39 wRC+) has been a waste of a roster spot early on and in fact, the team is already said to be looking for a righty bat. They don't need this player to play any specific position either, though some defensive competence is a plus. I don't think carrying two pure DH types (along with Travis Hafner) is a wise idea.

Reynolds (165 wRC+) and Hart (125 wRC+) are both impending free agents and would be overqualified platoon bats. The Yankees had some interest in Reynolds during the offseason and he would give them some depth on the infield corners while Hart is a first baseman/corner outfielder. Ruggiano (113 wRC) is the proverbial good player on a bad team and could be available just because he's a Marlin. His track record of success is very limited, however. Like McCann, I wrote more about him in last week's mailbag.
Need: Shortstop/Infield
Possible Targets: ???
This is the real problem area. Derek Jeter suffered his setback a few weeks ago and will be out until at least the All-Star break, and at this point you have to wonder how useful he'll be once he returns. There could be nagging soreness, regular days off, unplayable shortstop defense … all sorts of stuff that could limit his production. With Eduardo Nunez in the process of playing his way out of the organization (55 wRC+), the Yankees have to look at finding a better shortstop than what they have just in case the Cap'n can't play the position regularly.
Unfortunately, quality shortstops are in very limited supply. Even decent ones are hard to find. Maybe impending free agent Brendan Ryan will be available considering the Mariners have already benched him in favor of Robert Andino (!). Ryan can't hit a lick (career 73 wRC+) but he might be the best defensive shortstop in the world, which means he would be an upgrade over the no-hit, blah-glove Nunez. That's pretty much the state of the shortstop and the utility infield market, everyone who might become available sucks in some way. Even if the Yankees were willing to meet a big asking price for a significant upgrade, that significant upgrade just doesn't exist.
Need: Bullpen Arm
Possible Targets: Matt Belisle, Jose Veras, Scott Downs
Bullpen help is the one thing that is always in supply at the trade deadline, it's just a question of finding the right guy. Relievers are so volatile that trading for even the most dominant bullpener might not work out, so it's a sketchy proposition. A strong bullpen is a necessity though, they can't be ignored.
The Yankees have already dipped into their reliever well this year by calling up Vidal Nuno and Preston Claiborne, plus Mark Montgomery is knocking on the door as well. Joba Chamberlain is on the DL with an oblique injury and oblique problems can linger for a while, so that might take a bite out of the team's late-inning setup crew. The three possible targets I mentioned above are just impending free agents on teams who figure to fall out of race come the trade deadline, which could make them available. This need isn't as pressing as the other three mentioned in this post, but there's definitely an upgrade to be made in the bullpen.