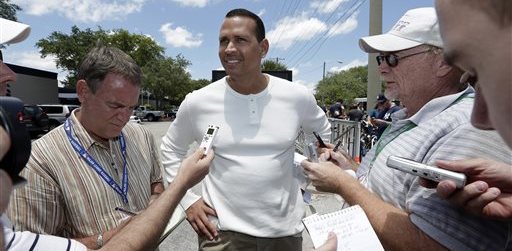 The Yankees are on their way to Colorado and will start a three-game series against the Rockies tomorrow night. The guys on the DL — you know, basically half the team — made their way to Tampa to continue rehabbing instead. Here are some updates, courtesy of the AP and Anthony McCarron.
Alex Rodriguez (hip) played catch and hit off a tee. It's his first baseball activity since having surgery in January. "(It felt) like being eight years old again when I first grabbed a bat," he said. "Pretty exciting … really looking forward to getting back."
Mark Teixeira (wrist) hit in the batting cage and took some ground balls at first base. He's expected to start taking batting practice in the field in a few days.
Curtis Granderson (forearm) played in another Extended Spring Training game today. He's been doing that since last Wednesday, so almost a full week now. I can't imagine an official minor league rehab assignment is too far away.
Michael Pineda (shoulder), Frankie Cervelli (hand), Kevin Youkilis (back), and Ivan Nova (triceps) were all at the complex as well. Derek Jeter (ankle) was not there for whatever reason. He's still in a walking boot and can't do much anyway.