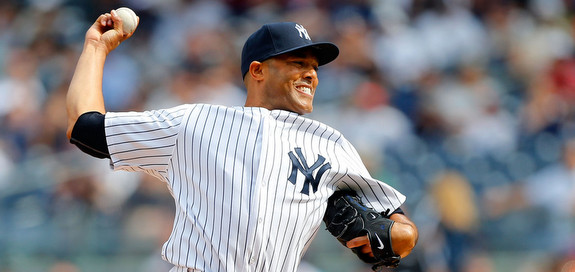 Don't look now, but the Yankees bullpen has been really good of late. Before Brett Marshall bit the bullet last night, they amassed the fifth highest cumulative WAR (1.8) in Major League Baseball — trailing only the Rockies, Tigers, White Sox, and Twins. Over 133.2 innings, the Yankees relief core has produced a 9.42 K/9 rate, surrendered only 2.53 BB/9 and 0.95 HR/9, complimented by a 3.33 ERA (3.24 FIP / 3.18 xFIP). Let's take a look at some of the big contributors.
It all begins and ends with Mo
After missing most of the 2012 campaign, Mariano has returned with a vengeance. He's already accumulated 16 saves (with no blown opportunities). His velocity has primarily sat in the 88-92 mph range, while his patented cutter continues dominate. To say right handed batters have had slightly more success against The Sandman would be true (.307 wOBA). However, to say that any batter has been generally successful overall against Mo this season would be false (.205 wOBA overall). When the ninth arrives, so does Mo, without compromise and in vintage form.
Girardi's (setup) crew
The road to Mo is also pretty well paved. David Robertson has embraced his duties as the official set up man while Joba Chamberlain has handled the seventh fairly effectively (prior to injury). I really can't get enough of Robertson either. Even though he occasionally puts me on edge with his Houdini act, his strikeout rate is certainly prolific (11.02/9). What's more, 55.6% of his first pitches are thrown for strikes, and interesting enough, batters have swung at more pitches outside of the strike zone (33.3%) then they have in the past against him (career 25.2 O-Swing%) so far. As for Joba, his 6.75 K/9 and 5.79 BB/9 peripherals aren't quite where you'd like them to be overall. However, prior to straining his right oblique, Joba had been looking increasingly comfortable on the mound. More importantly, his velocity seems to be right where it should be considering he isn't all that far removed from Tommy John surgery.
Behold! The obligatory LOOGY
After pitching in 80 (!) games last season, I was pretty confident Boone Logan was going to be toast this season. I was thinking back to the days of Joe Torre when guys like Paul Quantrill, Tanyon Sturtze, Tom Gordon and Scott Proctor had their arms basically turned into mush. Early on this season, it sure appeared to be heading in that direction too. Give old Boone credit though. He has pitched in 10.1 innings, and managed a 2.61 ERA (3.79 FIP, 2.39 xFIP) with a 10.45 K/9 rate. That'll do. Curiously, for a guy who's primary function is to get left handers out, he's actually shown more of a reverse split (.352 vs. 349 wOBA). I suspect this more of a byproduct though of a small sample size, and will probably normalize over the course of the season.

The other guys
The Yankees have also found productivity from some of the less recognizable names. Mike gave Adam Warren his due yesterday. Preston Claiborne has also done a great job on the mound in limited opportunity. Anecdotally, the kid looks composed out there, and because of it I tend to have an irrational calm every time he's pitches. He hasn't shown very much in the strike out department (5.14 K/9), but he's done a good job of not giving up free bases (no walks). Claiborne has also demonstrated a willingness to use a slider and a changeup in addition to his fastball, which I personally appreciate.
Overall, Cashman has done a pretty good job of piecing together quality bullpens over the past several seasons, which is important as it seems to be an increasingly specialized (and valued) part of the game. I think it's worth acknowledging that a fair portion of the team's success this season can also be attributed to the bullpen given the current roster construction.