Got seven questions and six answers this week, so the answers aren't crazy long. Remember to use the Submit A Tip box in the sidebar to send us whatever, whenever.
Paul: Kevin Youkilis to the OF? He's played there before (albeit only 22 games and not really recently). Any chance David Adams has been shagging fly balls during BP recently?
Oh hell no on Youkilis. Aside from what will very likely be awful defense — as you can see above, he has played left field in Yankee Stadium before, rather lolingly at that —  I'm not sure I want a 34-year-old with a history of back problems running around the outfield day after day. Stick him at third base and be done with it, no need to needlessly complicate things.
Adams has zero outfield experience as a pro and from what I can tell, he never played it in college either. I'm guessing he didn't play it in high school as well because of the unspoken "best player plays shortstop unless he throws left-handed" rule. I haven't seen any reports of him shagging fly balls lately — he has taken ground balls at shortstop, but that's not unusual — so I'm guessing the Yankees don't consider him much of an option out there. I don't see any outfield help coming until Curtis Granderson's pinky heals up.
Jeb asks: As unlikely as this is to happen, suppose that draft day is rather chaotic and there is a top-15 talent available for each of the Yankees' first round picks (e.g. Ryan Stanek, Austin Meadows, etc.). Would you select each of these high-caliber guys and not worry about how to sign them, or would you perhaps take two and then go for some guys who likely would have lower demands to ensure that you can sign your top two picks?
This is very unlikely as you said, but this is where the new draft pool system would really screw a team over. The top 15 picks are all slotted at over $2.2M apiece, so those guys were expecting large bonuses. The Yankees have a touch less than $7.96M to spend this year, which probably isn't enough to sign three top-15 guys even going super cheap with $10k senior seniors in rounds two through ten.
Given the team's need to add impact talent to the system, I'd hope they would just blow through the draft pool number and get the three players signed. It's an extreme circumstance and you can't pass up a haul like that. The Yankees can spend up to $8,753,140 before forfeiting a future first round pick (that would come with a $596,805 tax) and up to $9,151,010 before forfeiting a future first and second round pick ($1,193,610 tax). If they could add three legit top-15 guys, they'd have to grab them and get them signed. It it costs a pick next year, so be it. They never have access to those guys.
Mike asks: What could the Yankees get in a trade for Lyle Overbay when Mark Teixeira returns? Who would be a potential trading partner? The draft is on my mind, what about a competitive balance pick?
Ryan asks: With Teixeira going on a rehab assignment and very close, what teams may have a need/interest in Overbay? They will likely keep him for a little bit to make sure Tex is healthy, but what might a trade look like, what kind of a return might they get?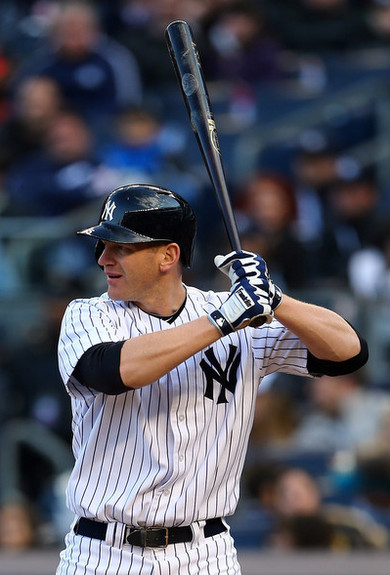 Might as well lump these two together. I do think the Yankees will hold onto Overbay for at least a few weeks while they make sure Teixeira's wrist is healthy and he's in the clear. He'd be a bench bat/part-time starter at first and DH, basically.
As good as he's been, Overbay is still just a 98 wRC+ first baseman who can't hit lefties. There usually isn't a huge market for those guys, but I could see clubs like the Marlins, Mets, Brewers, and Rockies having some interest. Obviously injuries could create more openings, and that includes the Yankees. If they could get one of those competitive balance picks — #34-39 and #69-73, and they are tradeable between now and the draft — I'd take it and run. Otherwise I think the Yankees would be lucky to get a C-prospect out of Overbay in a trade. He's been better than expected but still below-average overall. The demand just isn't that great.
Matt asks: Which Yankees FA from last offseason (Russell Martin, Nick Swisher, Eric Chavez) would you most like to have back, given their current performances and the injuries/general awfulness of their replacements?
All of the above? If I had to pick one, I'd go Swisher over Martin even though he plays the less important position because the Yankees really need offense and he's the better offensive player. I think the difference between Swisher and Ichiro Suzuki is greater than the difference between Martin and Chris Stewart. Chavez has quietly been awesome by the way (153 wRC+) — he did leave yesterday's game hurt — and I didn't think he'd do it again. Good for him.
Michael asks: Could you write a post where you explain exactly how a simulated game "plays?" For instance, are there nine fielders? Are they playing at 100% or is it simply a way for the pitcher and hitter to do their work? Are there two discrete sides playing and changing between batting and fielding? Is the pitching coach calling balls and strikes? And so on … Thanks.
It's glorified batting practice, basically. There's a pitcher (with no L-screen) and usually two batters (one lefty and one righty) alternating at-bats in simulated "innings." No fielders, and a coach will call balls and strikes and declare balls in play hits or outs or whatever. The pitcher will sit down for 15 minutes after getting three "outs" before going out for the next inning. The players are supposed to play at 100%, but you can't truly simulate the adrenaline levels of a big league game. It's just a way to get work in.
Bernie asks: How many wins do the Yankees have when trailing in the 7th or later and how many did they have all of last year? Has to be close?
I've spent more time on Baseball-Reference than I care to admit over the years, yet I always seem to be finding stats and info I didn't know they had. Win-loss records when leading after a specific inning are one of those things I discovered within the last few weeks, so I can actually this question.
The Yankees are just 3-19 (.136) when trailing after seven innings this year, which is better than the league average winning percentage (.104). Small sample size, yadda yadda yadda. Last season they went 9-58 (.134) when trailing after seven, so a negligible difference. It's basically the same pace. This year's team does, however, already have more wins when trailing after eight innings (two) than last year's team (one).