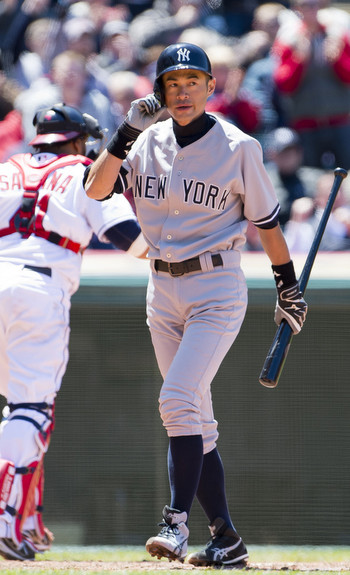 The Yankees have spent the better part of the last three months placing player after player on the DL, but they've managed to survive all those personnel losses this season. Hell, they haven't just survived, they've thrived. They currently sit atop the division by two full games and have both the most wins (25) in baseball and best overall record (25-14) in the AL. Their ragtag lineup has scored just enough runs to support a pretty excellent pitching staff, which is the formula they need to follow given the current roster.
Not everyone in that ragtag lineup is pulling their weight though. Ichiro Suzuki, the projected everyday (or thereabouts) right fielder coming into the season, has hit a punchless .246/.289/.341 (63 wRC+) in 137 plate appearances this year. That is pretty atrocious. Remember how awful Randy Winn was in 2010? How we couldn't wait until the team designated him for assignment? He had a 63 wRC+ with the Yankees that year. Chris Stewart had a 65 wRC+ last year. Ichiro, a corner outfielder, is hitting like a backup catcher.
Usually when a player performs this poorly, the team just releases them and walks away. The Yankees showed little patience with Winn, releasing him before the end of May. Ichiro isn't most players though — he's Ichiro!, a future first ballot Hall of Famer and iconic player in two hemispheres. Furthermore, the "top of the Yankees hierarchy" gave him a two-year contract that runs through 2014. Suzuki's three-week hot streak last September — which the Yankees probably don't make the postseason without — is still fresh in everyone's mind as well. It's complicated.
Curtis Granderson came off the DL yesterday, but the Yankees also lost Travis Hafner for at least a few days with shoulder tendinitis. It's one step forward, one step back with the injuries this year. Hafner's absence saves Ichiro's everyday job for the time being, only because they need a warm body to plug into the lineup. The alternatives are Ben Francisco and Alberto Gonzalez, so yeah. Ichiro continues to play.
That can't continue much longer though, not unless Suzuki gets hot and starts performing better. He did go on a nice tear for about two weeks late last month, so it's not impossible, but he has reached base just four times — all base hits, no walks or hit-by-pitches — in his last 30 plate appearances. Ichiro, the historically great hit machine, is currently riding an 0-for-16 slump, an 0-for-16 slump with a lot of ugly swings and at-bats in general. There are times he is completely non-competitive at the plate.
The poor performance this year really shouldn't be a surprise given how the last two years have played out. Ichiro hit .277/.308/.361 (84 wRC+) in nearly 1,400 plate appearances from 2011-2012, so a further decline in performance at age 39 should have been expected. He's always been a no walks, no power offensive player, and as soon as those types of hitters lose bat and foot speed, it tends to go south in a hurry. It's not often a gradual decline, it's a tumble over the cliff. Ichiro is aging like a player with his skill set should age, though his greatness allowed him to avoid that fate until well into his late-30s.
Winn hooked on with the Cardinals and was a little more productive (87 wRC+) down the stretch in 2010, and Ichiro is certainly capable of turning it around in a hurry. His iconic status and contract mean his roster spot is very safe for the time being, and indeed he does have some value defensively and on the bases. He's best suited for pinch-running and defensive replacement duties though, classic fourth outfielder stuff, which is the role he should fill with Granderson back once Hafner is healthy. The Yankees have written the book on finding productive veterans in recent years, but Ichiro looks more and more like a miss with each passing day. Unfortunately, he isn't as easily disposable as most of the other scrap heap pickups.