The Yankees were the only team in baseball with three first round picks this year thanks to the free agent defections of Nick Swisher and Rafael Soriano, and those three picks made this the team's most important draft in several years. They needed to add some serious talent to the system — their first round track record has been pretty awful for nearly two decades now — and they did that on Day One last night.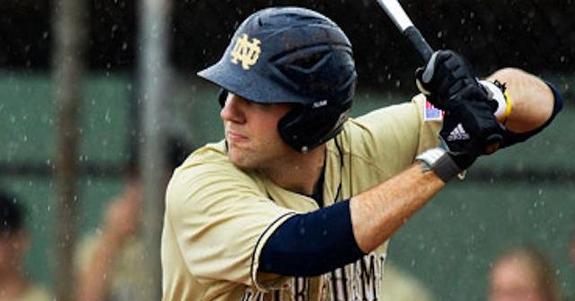 Strong & Polished
For the first time since taking Andrew Brackman with the 30th overall pick in 2007, the Yankees selected a college player with their top pick on Thursday. Notre Dame 3B Eric Jagielo got the call with the 26th overall pick, giving the Yankees one of the most polished hitters in the draft class. It wasn't until this spring that he addressed his two biggest weaknesses, specifically plate discipline and defense. He made major strides in both areas.
"Jagielo loads his hands very high and deep, creating a longer path to the ball, compensating with strong hands and forearms that allow him to make solid contact even when he has to fully extend his arms to cover the pitch low and away," wrote Keith Law (subs. req'd). "He's quick enough to keep his hands inside the ball and doesn't project to have trouble with better velocity … he's an adequate defender at third with arm strength, agile enough to stay at the position even though he's going to be among the bigger third basemen in pro ball."
The Yankees didn't shoot for the moon with pure upside with their top pick, instead opting to snag a well-rounded player at a hard-to-fill position with Jagielo. He was among the very best college hitters available — arguably the best college left-handed hitter — and his offensive polish means there isn't much tinkering to be done. They can just turn him loose in the minors and watch him climb the ladder. Nice and easy.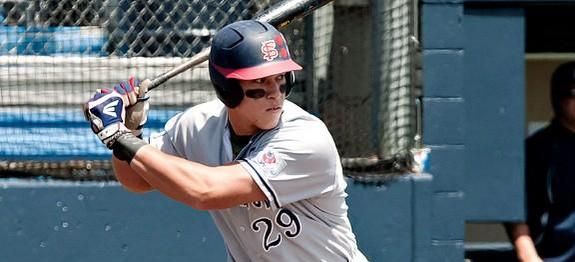 Judge, Jury & Executioner
The Yankees hadn't drafted a legitimate first round college bat in a long time, probably not since John-Ford Griffin in 2001, but they landed two last night. They selected Fresno State OF Aaron Judge with the 32nd overall pick and he's a physical freak, offering both power and speed despite packing 255 lbs. on his 6-foot-7 frame. Players that big aren't supposed to run well and be able to play center field in addition to driving he ball out of the park.
"Like a lot of taller hitters who set up high, he prefers the ball up in the zone, and the huge raw power he shows in BP doesn't always appear in games because he doesn't get under the ball enough to drive it out," wrote Law (subs. req'd) "Judge won't play center in pro ball but is an average runner who should have above-average range in either corner, with a plus arm to handle right, along the lines of Jason Heyward's defensive profile … He has 30-homer potential for a team willing to overlook what might be 150 strikeouts a year."
Judge is much more risky than the more polished Jagielo, but he offers more upside and wow potential. A 6-foot-7 outfielder crushing bombs and running down everything in the outfield just isn't something you see everyday, so we're talking about a very unique profile here. Outside of Brackman, I'm not sure scouting director Damon Oppenheimer has drafted a more fascinating player in all his years at the helm.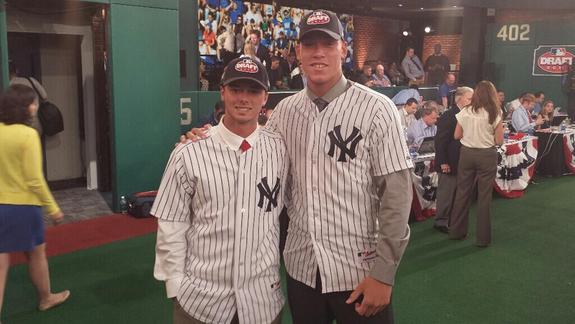 From The Left
Considering that their history is littered with high-end left-handed starters, the Yankees have had an alarmingly short supply of even decent southpaw prospects in recent years. Manny Banuelos, Nik Turley, and … that's pretty much it since Sean Henn. The last time they took a lefty in the first round was 1996, when they landed Eric Milton.
With their third first round pick (33rd overall), New York addressed that organizational hole by grabbing California HS LHP Ian Clarkin. Hilariously enough, Clarkin declared his hatred for the Yankees — "I cannot stand the Yankees, I was so happy [when they lost the 2001 World Series] — in a pre-recorded video MLB Network aired after the selection was made. Don't worry, money has a way of changing allegiances.
Anyway, more important than handedness is talent. Law (subs. req'd) said Clarkin is a "a good-sized lefty who throws hard and can spin a breaking ball" while noting the "raw material is very strong." There is still plenty of work to be done on his delivery, command, and changeup, but that's typical for a high school arm. This draft was very, very light on prep pitchers, and there's a strong case to be made Clarkin was the third best available behind Kohl Stewart (#4 to Twins) and Trey Ball (#7 to Red Sox).
* * *
The Yankees went off the board a bit with their second round selection, taking California HS 2B Gosuke Katoh with the 66th overall pick. He's a very good defender but a strong arm short of being a shortstop, and offensively he's a speedy slap-hitter who needs to fill out his wiry frame to avoid having the bat knocked out of hands by good fastballs. The two sides may have cut a pre-draft deal to save some draft pool money, but who knows. The team does have a reputation for oddball picks, of course.
"We think we had a great first day," said Oppenheimer in a statement following the first day of picks, stating the obvious. "I'm excited and the staff is excited. We feel really good about what happened for us today."
They Yankees had three first round picks and they actually chose three first round talents on Thursday, which was a very welcome change of pace from recent years. They used him to add a nice balance of polish and upside to the system, and they need to turn those selections into quality prospects sooner rather than later. I don't know if Jagielo, Judge, and Clarkin represent the most realistic best-case scenario for those top three picks, but they definitely weren't far off. No, not at all.