Thanks to the new Collective Bargaining Agreement, Day Two is the least exciting day of the draft. It covers rounds three through ten, and like many teams, the Yankees use those rounds to stock up on college seniors — who have no leverage and sign for far-below-slot bonuses — to save draft pool money. The savings then go towards over-slot bonuses in the really early and really late rounds. It's one of the few ways to game the system.
That is precisely the strategy the Yankees employed on Friday, at least to a certain extent — three of their eight Day Two selections were college seniors. Their Day Two haul started with a very familiar surname.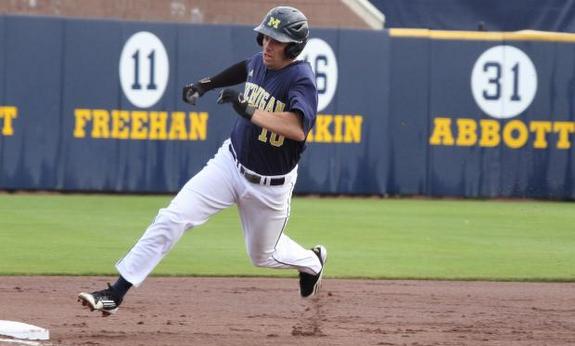 More Than Bloodlines
Three years ago, the Yankees selected OF Mike O'Neill out of an Ohio high school in the 42nd round. He didn't sign and instead followed through on his commitment to Michigan. Yesterday afternoon, they drafted him again with their third round pick.
O'Neill, of course, is the nephew of former Yankee Paul O'Neill. He is much more than a nepotism pick though, in fact he was expected to come off the board late in the second round. The Yankees nabbed him in the third following a strong year with the Wolverines. "Michael is an athletic outfielder with some hand and wrist strength at the plate … (he's) a plus runner with a fringy arm who at least should get a year or so in center in the minors to see if he can be an above-average defender or better there," wrote Keith Law (subs. req'd).
Uncle O'Neill and nephew O'Neill have very different styles of play despite a similar hard-on-themselves attitude. Michael's plate discipline is a big concern — 106/33 K/BB in 148 college games — and if he can't play center he'll be a 'tweener without enough power for a corner. Then again, we are talking about a third round pick here. There are going to be warts. While the bloodlines grab the most attention, O'Neill can hit and run a bit. He wasn't drafted as a favor.
Senior Steal
The Pirates drafted OF Brandon Thomas in the fourth round last year, but he returned to Georgia Tech for his senior season. Rather than improve his stock, he missed a whole bunch of time with mono and was very rarely at 100% for the Yellow Jackets. The Yankees nabbed him in the eighth round yesterday.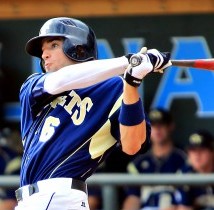 When healthy, Thomas has a contact-oriented line drive swing with enough pop to hit mistakes out of the park. He also runs well and is a capable center field defender. Thomas was considered the second best college senior in the draft class behind only first overall pick Mark Appel when the spring opened, but teams never really got to see him at full strength. New York pounced late on Day Two and walked away with a cheap college senior who is way more than the typical draft pool-saving pick.
Size & Stuff
Supplemental first rounder Aaron Judge is listed at 6-foot-7, but he is only the second tallest player the Yankees have draft this year. Howard College RHP David Palladino (5th round) is listed at 6-foot-9 and 230 lbs., and the four-pitch pitcher uses his size to pitch downhill with a low-90s fastball. His command is fine and he has enough pitches to start.
With their final pick of Day Two, the Yankees nabbed South Carolina LHP Tyler Webb (10) and his 6-foot-6, 225 lb. frame. He had Tommy John surgery in high school but spent four years as a workhorse reliever for the Gamecocks. Webb will sit in the low-90s with his fastball and throw three offspeed pitches, and he draws rave reviews his bulldog mentality and incredibly aggressive approach. It's a lefty specialist profile at best, but like Palladino he offers both size and decent stuff as a later round selection.
Growth Potential
It's no secret the Yankees have an affinity for physically large players, but they grabbed the wiry high school 2B Gosuke Katoh in the second round and doubled up with California HS SS Tyler Wade (4) on Day Two. He's listed at 6-foot-2 and 170 lbs. with a game that fits the frame: speed, contact, and defense. Wade is a pro-level defender and a rare lefty hitting shortstop, but he has zero present power. It's unclear if he'll ever grow into any either. Legit shortstops are hard to find though, and the Yankees found one in the fourth round.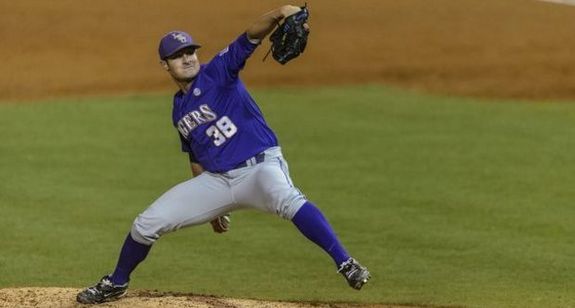 Out-Pitch
Aside from anything thrown by supplemental first rounder LHP Ian Clarkin, the best individual pitch the Yankees have drafted so far this year belongs to LSU RHP Nick Rumbelow (7). His hard curveball is a true swing-and-miss pitch, which is a pretty great starting point for a short reliever. Rumbelow's low-90s fastball is pretty straight and his rough delivery makes some think he'll spend a decent amount of time on the DL, but digging up a true out-pitch more than 220 picks into the draft is not easy to accomplish.
Impacting The Draft Pool
Sacred Heart SS John Murphy (6) and Auburn LHP Kendrick Conner (9) are the fringiest of fringe prospects who were likely selected as part of the team's draft pool-saving strategy more than anything. Murphy, a senior, has a good swing but is a utility man at best according to Nathan Rode. Conner, a junior, is a finesse college swing-man and the kind of arm New York can bounce around from role to role and level to level to fill any roster holes for a year or three. Neither will have much on-field impact, but they serve a purpose by allowing the team to manipulate its league-regulated budget.
* * *
The current draft setup doesn't really enable a team picking late in each round to land impact talent in the middle rounds — even though the Yankees had extra picks and draft pool money this year, it's not a huge amount they can legitimately spread around — so the Bombers can only do so much on Day Two of the draft. They got two nice players in O'Neill and Thomas and two interesting prospects in Wade and Rumbelow, but otherwise their Day Two selections were gearing towards optimizing the draft pool.