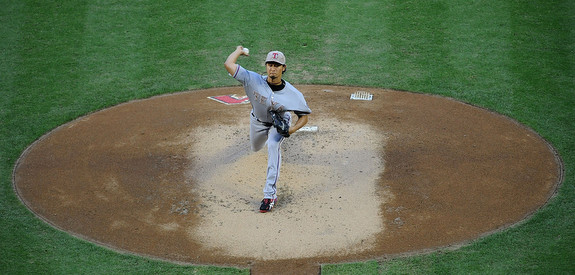 Two winters ago, the Rangers blew everyone away by bidding over $50M for the right to negotiate with right-hander Yu Darvish. The Yankees submitted a token $15M bid with the idea that they'd take him if he fell into their laps, but otherwise they weren't terribly interested because they were concerned how his stuff and makeup would translate to the big leagues. Obviously those concerns look foolish now, as the former Nippon Ham Fighters ace has handled the transition just fine. More than fine, really.
Tonight, the Yankees will face Darvish for the second time since deeming him not fit for New York some 18 months ago. He manhandled them his first time out — a ten-strikeout masterpiece in which he held the team scoreless through 8.1 innings — which was his fourth MLB start and something of a coming out party. With a much inferior lineup tonight, the Yankees will have to hope Darvish truly can't handle Yankee Stadium and the Big Apple in order to have a chance to win. Here's the starting lineup:
CF Brett Gardner
RF Ichiro Suzuki
2B Robinson Cano
DH Travis Hafner
1B Lyle Overbay
LF Zoilo Almonte
SS Jayson Nix
3B David Adams
C Chris Stewart
And on the mound is Darvish's countryman, right-hander Hiroki Kuroda. This is the 11th matchup between Japanese-born starting pitchers in baseball history. These two met last April as well, number seven out of those eleven.
It is pretty gross in New York right now — hot with just enough humidity to make everything feel sticky. Some showers are expected later tonight, but much later. Not anything that is a real threat to the game as long as they don't go into extra innings. The game is scheduled to start at 7:05pm ET, and you can watch on My9 locally and MLB Network nationally. Enjoy.
Injury Updates: Mark Teixeira (wrist) is seeing the doctor tonight and Joe Girardi said he is concerned about the lingering discomfort. They should have an update later on … Eduardo Nunez (ribcage) had some simulated at-bats while Frankie Cervelli (hand) hit off a tee and soft-toss today … Girardi also said he isn't expecting any of the team's injured players to return before the All-Star break in three weeks.