It's tough to sweep a doubleheader, but it's also tough to not get greedy and hope for that sweep after the Yankees took the first game on Wednesday afternoon. The Dodgers earned the doubleheader split on Wednesday night with a 6-0 win, a game that knocked New York's run differential down to an even zero on the season — 276 runs scored, 276 runs allowed. The surest sign of mediocrity.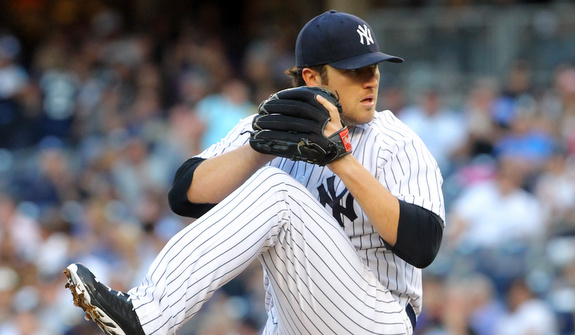 Another Dud
For the third time in four June starts, Phil Hughes failed to put up something that even resembled a good start. Your definition of a "good start" may vary, but I think we can all agree on that. The Dodgers had four hits and two runs before Phil recorded his first out, and through five innings of work he allowed five runs on ten hits (two doubles and eight singles) and 80 total pitches. Hughes went to a two-strike count on eleven of 28 hitters faced and five ended up with base hits. Three struck out. That's bad. His night ended after six innings of five-run ball.
We're pretty close to the halfway point of the season and it's clear Hughes is the weak link in the rotation. That's not exactly breaking news. Vidal Nuno is still on the Triple-A DL and Michael Pineda is a little less than three weeks away from completing his rehab assignment, so the only alternative at the moment is Ivan Nova. I guess they could pull Adam Warren out of the bullpen, but I don't really like that idea. He's fine right where he is. I have no faith in Nova — he's been good in three Triple-A starts so far, to be fair — so Phil has three weeks at the most to show he belongs in the rotation. If he shows no improvement, like real tangible improvement and not just two or three okay starts, the Yankees have to stick him in the bullpen and go with someone else, his impending free agency be damned. Hughes has made his bed and the lineup is too weak to deal with these type of performances every five days.
No Use For An Offense
After scoring six runs in each of their last two games, the Yankees got back to their roots on Wednesday night and were shut out for the sixth time this season. This was their 71st game. They were shut out six times in 162 games last summer, for comparison. That shouldn't be a surprise though, it's really hard to take this lineup seriously when it features Jayson Nix batting second, Vernon Wells batting cleanup, and Thomas Neal batting fifth. At some point the front office will show some urgency and get another bat or three. At least I hope.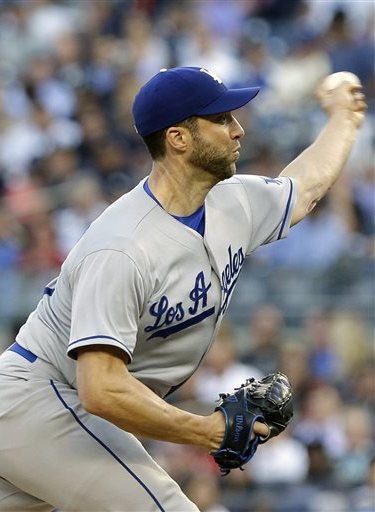 The Yankees put a total of four men on base in the entire game: a Lyle Overbay (!) infield single, a Nix infield single, and a Robinson Cano legitimate line drive single to the outfield. Robbie was thrown out trying to stretch it into the double though, so it might as well be a fly out in the box score. Nix took a pitch to the ribs with two outs in the ninth and that was it, that's the offense. Two runners managed to go beyond first base — Nix went first-to-third on Cano's single, then he took second on a defensive indifference in the ninth — and 17 of the final 18 men they sent to the plate made outs. Believe it or not, the Yankees are now averaging 3.64 runs per game at Yankee Stadium and 4.12 runs per game on the road. Half-a-run per game difference!
Leftovers
Warren was nice enough to pick up Hughes and allow the #obligatoryhomer to the first batter he faced, on the first pitch no less. On the bright side, he was the only Yankees pitcher to retire Hanley Ramirez on Wednesday. Hanley went 4-for-4 during game one and 2-for-4 in game two. Warren picked up the bullpen in the second game of the doubleheader by soaking up the final three innings. He allowed just the one run.
I'm not sure what else to put here. Wells went 0-for-3 and is down to .224/.266/.372 (70 wRC+) for the season. It's just a slump though, he'll turn it around any game now. David Adams went 0-for-2 before being lifted for a pinch-hitter and is down to .200/.220/.313 (39 wRC+) on the year. Zoilo Almonte did make his big league debut with a pinch-hitting appearance in the ninth inning, grounding out sharply to third against Brandon League. Welcome to the show, kid.
Box Score, WPA Graph & Standings
Go to MLB.com for the box score and video highlights, FanGraphs for the nerd store, and ESPN the updated standings. The Orioles and Blue Jays won while the Rays beat the Red Sox, so the Yankees are two back of Boston, one back of Baltimore, three up on Tampa, and four up on surging Toronto. They need to start stringing some wins together.

Source: FanGraphs
Up Next
The Rays are coming to town for a four-game weekend series starting Thursday night, when Andy Pettitte matches up against fellow left-hander Matt Moore. Check out RAB Tickets if you want to catch the game. Plenty of seats available.